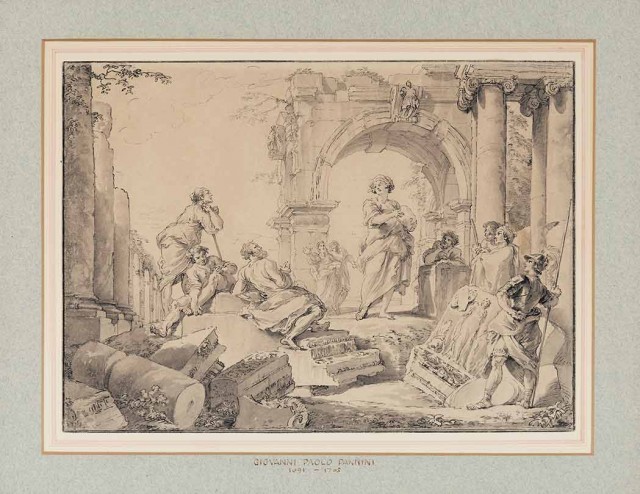 The Eileen and Herbert C. Bernard Collection of Old Master Paintings and Drawings gives testimony to the couple's astute scholarly interest in, and great love of, the fine art of Europe from the 16th through the 19th centuries. One early gem is the Portrait of a Young Man in Profile attributed to Tommaso di Stefano Lunetti, called Tommaso Fiorentino (Lot 82). This rare artist, who was active in Florence from before 1520 until his death in 1564, worked in the circle of such masters as Lorenzo di Credi, Andrea del Sarto and Jacopo da Pontormo. This particular painting dates to the years before 1520, a period when profile images, established as the aristocratic mode of presentation in the late 15th century by such artists as Piero Della Francesca and Domenico Ghirlandaio, were giving way to three-quarter views of the head inspired by the innovative portraits of Leonardo da Vinci.
The Bernard Collection also includes some remarkable Italian drawings. One of these, Figures Among Roman Ruins, by the 18th century Roman artist Giovanni Paolo Panini (Lot 87), possibly a sketch for a proposed oil painting, exemplifies the artist's characteristic composition of contemporary people standing amid and admiring the evocative remains of Italy's great imperial past. Such works were painted not only for Roman noblemen, but also made their way north in the trunks of affluent English travelers, who loved these souvenirs of their visits to Rome.
Other works from 18th century Italy are two cunning caricatures of men seen from behind by Giovanni Battista Tiepolo (Lot 92 and Lot 98). Tieoplo, in his own day recognized throughout Europe as the greatest contemporary painter of palace walls and ceilings, was also highly esteemed as a draftsman. His remarkable powers of invention and technical facility expressed themselves not only in magnificent studies for his paintings, but also in humorous drawings such as these, which were avidly bought by sophisticated Italian collectors. These seem to have been created during the 1750s, after the artist's return to his native city from a long sojourn in Germany, where he had been painting the monumental staircase hall and Imperial salon in the palace of the Bishops of Wurzburg. These two comic figures were formerly in the collection of the Counts Valmarana of Vicenza, who appear to have owned a large number of Tiepolo's caricatures, distinguished today by their cut corners--as seen here--presumably for mounting in albums.
Another particularly fine Venetian work is the sparkling Grand Canal, Venice, Looking Toward Santa Maria della Salute (Lot 116), by a close follower of Bernardo Bellotto. Here we can see the daily life of the great commercial city in all of its energetic activity and vivid detail, set out like a feast in brilliant sunlight. As 18th century Venetian view-painters typically did, the artist has described the palaces, boat landings and churches in his panorama with loving exactitude. One could easily step into this scene in Venice today.
Besides these striking examples, the Bernard Collection also comprises a number of fascinating small treasures: an affecting ink drawing of an old man seated on the steps leading to a colonnade attributed to the 17th century Italian artist Giovanni Batista Passeri (Lot 93); a wonderfully immediate black and white chalk sketch of a drinker by the Dutch 17th century genre painter Cornelis Bega (Lot 119); a crisply drawn red chalk figure of a swordsman attributed to the 17th century French draftsman and printmaker Jacques Callot, bearing the personal collector's stamp of Tsar Paul I of Russia (Lot 115); and a ravishing study of hands in red chalk by an unknown French 18th century master (Lot 107). These are only a few of the discoveries to be made in this unusual and wide-ranging group of works, a delight to both the mind and the eye.
Old Master Paintings and Drawings from The Eileen and Herbert C. Bernard Collection comprises lots 82 through 131 in the January 25, 2017 auction of Old Master Paintings & Drawings and English & Continental Furniture & Decorative Arts.