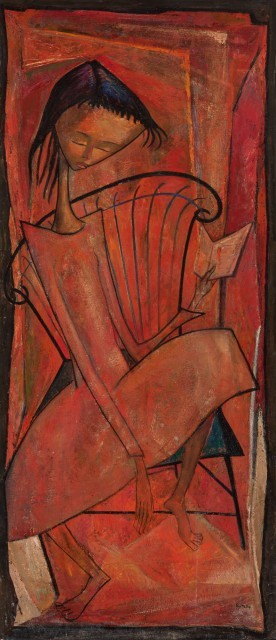 NEW YORK, NY -- In the July 24, 1940 issue of The New York Times, readers could find the headline "ART IS SHOWN HERE OF LATIN AMERICA". The accompanying article announced an exhibition of Contemporary Latin American art at the Riverside Museum under the sponsorship of the United States New York World's Fair Commission. The exhibition catalogue included a supportive note from President Roosevelt stating, "All cultural efforts to promote the mutual understanding of the Americas have my interest and hearty support." On the same page was an ad for Duncan Aikman's book The All-American Front. The tagline read, "America's Question No. 1 about Latin America: If we get into trouble with the Nazis, will those people down there be with us or against us?" This juxtaposition of messages highlighted the rapidly developing geopolitical situation in North America during WWII. With tensions escalating across the Atlantic, US relations with its neighbors to the South was an important matter of national security. If there was any skepticism surrounding rapprochement between the United States and Latin American nations, however, it seems the art world was prepared to embrace a Pan-American "front" and open cultural exchange.
Among the artists whose work was included in the "Latin American Art Exposition" at the Riverside Museum was Angel Botello Barros, a Spanish-born artist who at the time was living in Santo Domingo in the Dominican Republic. Born in the Galicia region of Spain, he and his family eventually moved to France as a result of the economic recession in their native country. In Bordeaux, Botello studied architecture at the École des Beaux-Arts, where he discovered a love for painting in the art courses that were required to complete his degree. The artist had some of his first exhibitions in the Bordeaux area. He returned to Spain on scholarship to further pursue his art studies at the Real Academia de Bellas Artes de San Fernando in Madrid, which were disrupted when the country broke into civil war in 1936. The artist enlisted in the Republican army as a cartographer, but by 1939 the Nationalists and General Franco proclaimed victory and Botello rejoined his family in France to escape persecution. With the help of the ousted Spanish government, he and his family left Europe for Santo Domingo, where they were warmly welcomed by exiled Spanish artists and the local art community. After achieving some commercial success with his painting, Botello and his family lived for extended periods in Cuba and Haiti and for more than thirty years in Puerto Rico. It was in these countries that he and his family were finally able to find refuge and a home away from home.
Botello's arrival in the Caribbean was a major watershed in his life, and the sights and sounds of the countries where he lived exerted a powerful influence on the development of his distinctive style. Inspired by his tropical surroundings, the rhythms of island life and the spirited cultures he encountered, Botello began to work with the simplified forms, rich color and strong outlines that would come to characterize his art, predominantly in figuration, but also in landscape and still life. A celebration of island life, its people and his family's place among them forms the basis of Botello's pictorial language in all of his work in painting, sculpture and printmaking.
Botello frequently depicted women and children, inspired not just by those in the local communities that welcomed him throughout the Caribbean, but also by the strength he found in the women and children in his own life. The depiction of a known historical figure, however, is seldom seen in his work. In a circa 1965 painting, Anne Frank is presented in Botello's signature style as an elongated figure, boldly contoured, holding her diary against a solid red, semi-abstract background. Acquired from the eponymous gallery he opened in San Juan, Anne Frank is a work that evokes the artist's own experience of being displaced. With persecutions of the Jewish population in Europe rapidly rising during the 20th century, Anne Frank's family fled Frankfurt for Amsterdam when she was a young child. She would be forced into hiding by the German occupation of the Netherlands, eventually becoming both a tragic victim of the Holocaust and a voice of truth and courage to the generations that followed. Anne Frank's story clearly resonated with Botello, who was also forced to flee persecution, but who had fortunately been given a chance to live in freedom, across an ocean, where he was reminded of the beauty of life and love for mankind. Botello, a Spanish-born citizen of the world, found his means of self-expression in a land to which he was forever grateful and which he could call his own.
Important Paintings
A highlight of the auction of Important Paintings on December 2 is Angel Botello's circa 1965 painting of Anne Frank.
Lot 27
Angel Botello
Spanish/Puerto Rican, 1913-1986
Anne Frank, circa 1965
Signed Botello (lr); inscribed No. 634 on the reverse
Tempera on panel
62 x 27 7/8 inches (157.5 x 70.8 cm)
Provenance:
Galeria Botello, San Juan, Puerto Rico, acquired there on December 30, 1965 by the present owner (as Ana Frank)
Property of a Distinguished Collector
Estimate: $30,000-40,000