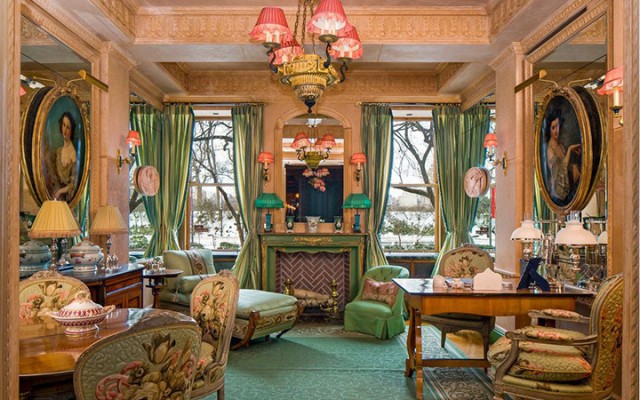 The Doyle at Home auction on February 8 offers over sixty lots of sumptuous furniture, decorations and art from a Fifth Avenue home decorated by Denning & Fourcade. For forty-five years, from 1960 until 2005, the design partnership of Denning & Fourcade created luxurious interiors for such influential tastemakers as Oscar de la Renta and Carolyne Roehm. The pair's signature style, an extravagant marriage of le goût Rothschild with its rich brocades and lavish passementerie and English floral chintz in a dizzying color palette, was uniquely their own.
Born in Paris to a prosperous and socially prominent family of bankers, Vincent Fourcade (1934-1992) learned design "by going out every evening as a young man. I went to every pretty house in France and Italy and other places too, and I remembered them all, even down to what was on each little table." He came to New York in 1957 to pursue a career in banking, which would prove short-lived, before devoting himself to design.
By contrast, Robert Denning (1927-2005) was born in the Bronx to an Eastern European immigrant milliner and his wife. Denning developed an early interest in health, and as a teen became the protégé of the Mexican homeopathic researcher and commercial photographer, Edgar de Evia. The duo lived in, and worked out of, de Evia's three-story apartment in the historic Rhinelander Mansion, now Ralph Lauren's Madison Avenue flagship store. Dubbed "a master of still life," de Evia became a sought-after photographer for a wide range of subjects, from fashion to food to interiors, his work appearing frequently in such magazines as House & Garden, Town & Country and Vogue.
Denning and Fourcade met in New York in 1959. "We were introduced by Louis Estevez, a dress designer," Denning told The New York Times years later. "Immediately we became great friends. And one day Vincent said to me, why don't we become decorators. It was just like in the movies. Within six months later everyone knew our name."
The pair began designing sumptuous interiors that combined Fourcade's knowledge of objects and showmanship with Denning's talent for composition and design. Early clients included Lazard Frères chairman Michel David-Weill and his wife Hélène, and Lillian and Ogden Phipps, for whom the pair would eventually design multiple residences. Other internationally prominent clients followed, including Bolivian tin magnate Antenor Patiño, Fiat heiress Susanna Agnelli, Henry Kissinger, Diana Ross, Jean Vanderbilt and Jayne Wrightsman. Some of the pieces in the Wrightsman Galleries for French Decorative Arts at New York's Metropolitan Museum of Art were originally acquired by Denning and Fourcade for the Wrightsman homes. They also designed both the Manhattan and Connecticut homes of Francoise and Oscar de la Renta.
In 1985, Denning and Fourcade completed their best known project, the Park Avenue duplex of fashion designer Carolyne Roehm and her then-husband, financier Henry Kravis. The interiors of this luxurious residence were so lavish that they served as inspiration for fictional bond trader Sherman McCoy's home in the film version of Tom Wolfe's novel, The Bonfire of the Vanities. The New York Times Magazine featured the couple's dining room on the cover of a special issue on entertaining.
Denning and Fourcade redefined luxurious interiors with their unique interpretation of Belle Epoque opulence. Extravagance in color, pattern and texture informed every design decision, from furniture and decorations to wallcoverings and upholstery. Chairs and sofas weren't simply upholstered, they were couture creations of billowing tufts and pleats executed in richly patterned fabrics fastened with decorative tacks in elaborate designs or trimmed in deep bullion fringe. The rich passementerie of the draperies recalled the flamboyant costumes of a grand demimondaine of the fin de siècle. Every room glowed with flattering rosy light emanating from the pair's trademark lamp shades, fantasies in silk pleats, elaborate braiding and multicolor fringe. No detail was deemed too small, no decision deemed too minor, the whole was a marvelous sum of myriad unique parts, each skillfully selected by two remarkable designers.
Property from a Fifth Avenue Home Decorated by Denning & Fourcade

A special section of the February 8 Doyle at Home auction will showcase furniture, decorations and art from a Fifth Avenue home decorated by Denning & Fourcade.