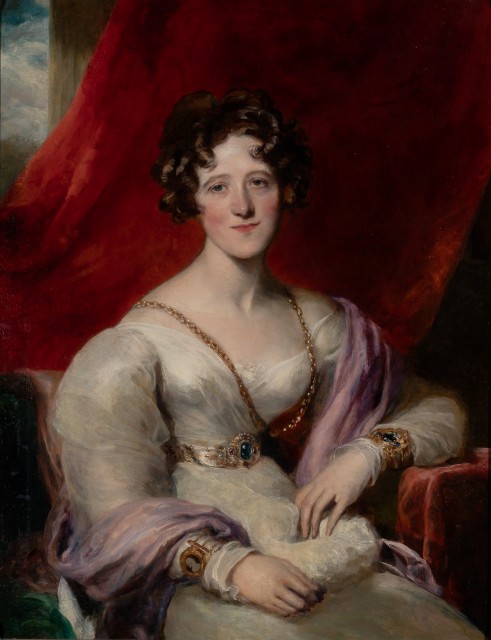 NEW YORK, NY -- The English Regency artist Thomas Lawrence (1769-1830) was one of the most remarkable child prodigies of Western art. The son of an innkeeper in Devizes, Wiltshire, at the age of 6 he was reciting passages from Milton to entertain his father's guests and earning extra money by sketching their portraits in pencil. After his father's business failed in 1779, when Lawrence was only 10, his talents as an artist became the main support of the family. When he was 13, the Lawrences moved to Bath, where Thomas was soon drawing pastel portraits of fashionable sitters for 3 guineas each—roughly the equivalent of £562.77 ($625) in today's currency, an extraordinary sum at the time. It was while he was living in Bath that he began to paint in oil.
Who were Lawrence's teachers? That question is one of the mysteries of his career. It has been suggested that he may have received some guidance from the portraitist William Hoare, who was working in Bath while the Lawrence family was living there, but we have no record of this. Shortly before his 18th birthday, in 1787, the young artist moved his parents to London, where he installed them in a house and rented a studio for himself nearby. By this time, he had mastered the oil technique well enough to make his living as an oil portraitist, and he soon began to exhibit these works at the Royal Academy. He also enrolled in classes there but dropped out after only a few months. To a large degree he seems to have been that great rarity, a self-taught artist of the highest order.
Once in London, Lawrence rose rapidly in the English art world. In 1791 he was elected an associate of the Royal Academy; the following year he was appointed painter-in-ordinary to His Majesty; in 1794 he was admitted to the Royal Academy as a full member. By 1800 he was the most fashionable painter in the country, with patrons including important political figures, members of the nobility, and the Royal Family.
Lawrence's almost uncanny gifts as a draftsman were fundamental to his approach to portraiture. According to Allan Cunningham, an early biographer, (Lives of the Most Eminent British Painters . . . 1833, vol. 6, 194-95), he first drew the sitter's head on the canvas in black chalk, carefully laying out its features and facial expression. Only at the second sitting did he begin to form the head in oil, gradually working outward to fill in the entire canvas. The portrait would finally be finished with highlights and color accents, applied with the artist's famously scintillating brushwork.
Lawrence's Portrait of Miss Mary-Anne Capel, later Lady Carrington is a fine example of the artist's work in the final years of his life. It was a commission in which he seems to have taken a particular interest. Miss Capel was the daughter of John Capel, M.P., who shortly after the painting was completed would become the second wife of Sir Codrington Edmund Carrington (1769-1849), previously Chief Justice of Ceylon. The painting was begun in 1827, but by the autumn of 1829 had not yet been finished. The artist wrote in a letter on November 29, 1829, apparently to Miss Capel's mother, to schedule the final sitting: "I had a very amiable subject, I believe an accomplished one; and was likewise stimulated by esteem and respect for two of my warmest friends [presumably Miss Capel's parents]. My servant could tell you with what fastidious care I have finished my pleasant task." The final sitting apparently took place, for Lawrence did indeed finish the portrait, less than six weeks before his sudden death, from what appears to have been a heart attack, on January 7, 1830.
Miss Capel is shown seated in a heavily upholstered chair before a dramatic red curtain. She wears an elegant white dress and lavender shawl, set off by a handsome array of jewels, including a silver belt, gold bracelets and a gold chain, each set with colored stones or cameos. Lawrence has brought his most dazzling brushwork to bear on the shimmering effects of light and reflection in this painting. Since Miss Capel was married the year after it was finished, this is almost certainly an engagement portrait. It is a lovely, hopeful evocation of a young woman at the threshold of maturity, ready to embark on a new phase of her life.
Old Master & 19th Century Paintings & Drawings

Auction Thursday, October 20, 2022
Exhibition Oct 15-17
Featured in the October 20 auction is Sir Thomas Lawrence's Portrait of Mary-Anne Capel, Later Lady Carrington.