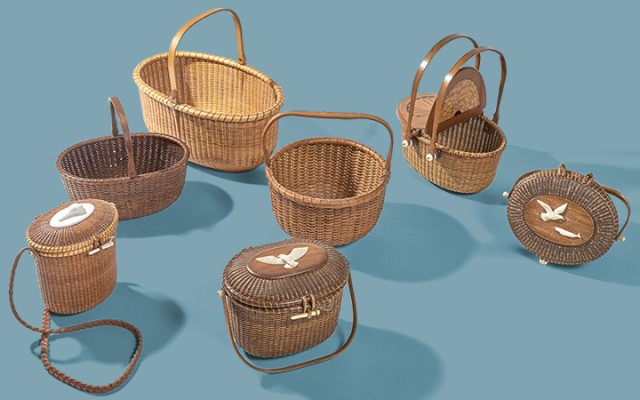 NEW YORK, NY -- Twenty-five lots of lightship baskets ranging from the late 19th through the early 21st century in the October 8 sale of the Collection of Frank and Claire Tracy Glaser weave a story of Nantucket culture and history. In the mid-19th century, using imported rattan, sailors began making baskets while in isolation on the South Shoal lightship. Lightships acted as floating lighthouses equipped with a foghorn to alert ships passing south of Nantucket. With idle hands and the right materials on the ships, the crew began crafting "lightship" baskets to give as gifts to wives and girlfriends or to sell. The early baskets were utilitarian in shape, either round or oval with a single handle. Three signature elements of the early baskets were the use of rattan, a mold for a precise shape, and a solid wooden base.
The upcoming auction offers baskets made by over ten different weavers. One of the earlier lightship basket makers was William D. Appleton, who sailed on the whaling vessel Martha Washington. He created oval form open baskets with a signature mark: the inner part of the handle where it meets the rim was curved in a stylized point. Lot 228 includes an example possibly made William D. Appleton.
An early to mid-20th century maker, Mitchell "Mitchy" Ray used the same molds created by his father Charles F. Ray, one of the original 19th century basket weavers. Mitchy made work baskets in various sizes, often with a paper label affixed to the bottom. Lot 242 includes a basket by Mitchy with remnants of the label that says, "I was made in Nantucket, I'm strong and stout. Don't lose me or burn me and I'll never wear out. Made by Mitchell Ray."
With the culture of passing down the tradition of basket making, it is no wonder that many of the weavers knew each other and taught each other the tricks of the trade. Perhaps one of the most well known basket makers, Jose Formosa Reyes, came to Nantucket from the Philippines with a knowledge of basket weaving. He befriended Mitchy Ray and began making baskets in Nantucket from 1948-1978. Reyes made over 5,000 baskets in this span and popularized the friendship basket pocketbook form well known today, with added carved decoration to the top and fastened lids to make the baskets more versatile. Reyes began calling the purses friendship baskets, and it was even a tradition for young girls to receive a basket when they graduated high school. The sale features several lots by Reyes including Lot 206, Lot 221, and Lot 240.
Paul Whitten learned the craft from Reyes and made baskets for twenty-two years. Whitten was approached by the Renwick Gallery in Washington, DC in 1974 and was asked to submit his work as part of an exhibition on the best of American craft called Craft Multiples. He was chosen out of over 1,000 finalists to be one of 133 artists represented. The Smithsonian Institution then purchased his basket to be part of their permanent collection. Lot 172 includes an open basket by Whitten with an inscription on the interior stating "Chosen by the Smithsonian Institution 1975 Paul F. Whitten Nantucket Island, Mass 1976."
Beginning in the 1980s artists wove baskets in a more formal setting. Contemporary and commercial weavers made a living by teaching, such as Bill and Judy Sayle and Michael Kane, both of whom are represented in the sale. Harry Hilbert started basket making in 1970 and although he sold his baskets on Main Street in Nantucket at Wayne Pratt Antiques, he made the baskets in Wilton, Connecticut, in the Nantucket tradition. He used intricate inlays and turnings as well as rare and exotic woods. The sale includes many baskets by Hilbert, including a nest of eight baskets from 1998 Lot 224, and a group of three baskets with marquetry inlaid lids, Lot 202.
A hybrid union of skills, materials, and design shows the personality of each maker in the baskets. When looking for a basket, take note of the size, shape, finish, top, and tight weave. Whether a collector looking for a new size, maker, or design for your collection, or if you want to use the basket for storage or as a pocketbook, the sale has something for everyone.
American Paintings, Furniture & Decorative Arts
Auction October 8, 2019 at 10am
Exhibition October 4 - 6
A special section of the October 8 auction is devoted to property from The Collection of Claire Tracy and Frank Glaser.