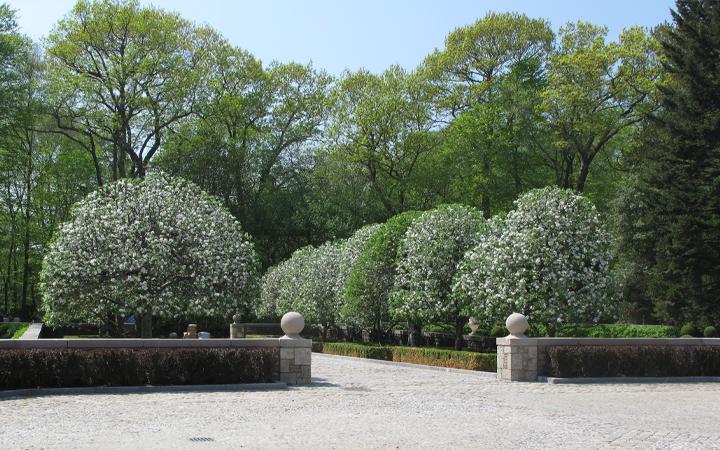 NEW YORK, NY -- My first memories of entering Chateau Ridge on a spring morning were of a magical, almost dreamlike experience: driving through an allée of flowering apple trees between Renaissance style knot gardens to arrive in a cobblestone courtyard in front of a red-tiled stone house designed in the manner of a French chateau. Built in 1927 in Greenwich, Connecticut, the residence was originally called Ream Chateau. This elegant house was the setting for a royal visit during a 1967 tour of the Americas by King Umberto II of Italy. In the 1980s, the chateau was reimagined by famed architect and designer Anthony Ingrao, who has a legendary reputation for quality, design and connoisseurship. Over a five-year period the house and gardens were transformed into a lavish venue for entertaining on a grand scale. Ingrao sourced exceptional furnishings at auction and through prominent dealers in London, Rome, Florence and especially, Paris.
Upon entering the house, I felt as though I were in a European decorative arts museum. Examples of French, English, Italian and Russian furniture, giltwood, painted and upholstered in the most luxurious fabrics and textiles were in various settings: the vaulted living room ceiling with fiber optic stars, a frescoed dining room, an oval sitting room with painted neoclassical decoration and a marble-lined dressing room with parcel-gilt boiserie. The upcoming sale of property from Chateau Ridge is a panoply of beautiful examples of Louis XV and Louis XVI seating furniture, French armoires, richly-upholstered sofas, gilt-bronze wall lights and exquisite draperies.
As a specialist, I know that each sale includes its own special objects, surprises and personal favorites. A finely-carved Louis XV giltwood console from the mid-18th century was situated at the foot of a glamorous gilt and wrought-iron staircase, seemingly transported from a Parisian hôtel particulier. Conceived in the rococo style, it has a serpentine marble top and is all carved scrolls, rocailles, flowers and swags, a perfect example of mid-18th century French taste.
A pair of South European Baroque terracotta-painted architectural niches, with silvered highlights, was dramatically positioned in the Chateau's entry hall. Exemplifying the exuberance of that period in Spanish design, the niches would have contained statues.
The house is replete with examples of 18th and 19th century French lighting. A pair of Louis XVI ormolu two-branch wall lights perfectly captures the late 18th century fashion for neoclassicism that was inspired by designs found in the excavation at Pompeii starting in 1748, almost completely untouched for 2000 years.
An English entry in the collection is a pair of Victorian doors lined with book spines, once an architectural fitment, that were repurposed at Chateau Ridge as a wall decoration. These kinds of secret doors were a popular feature in English houses. Known as 'jib-doors', the disguised doors were made flush with the walls of the room. They were fitted with real leather books spines separated by a length of board, which gave the illusion of a shelf. The real titles of the book spines were often integrated with tongue-in-cheek, often bawdy, titles that make some reference to some of the people or events at the time. When visiting houses in the UK, it can be an amusing pastime to examine the titles of book spines on these types of doors and gauge the sense of humor/naughtiness of the owner.
The upcoming auction offers the rare opportunity to acquire exceptional furnishings, decorations and art assembled by Anthony Ingrao for one of his first important commissions -- Chateau Ridge in Greenwich, Connecticut.
Property from Chateau Ridge, Greenwich
Auction Wednesday, February 24, 2021 at 10am
Exhibition on view Sat, Feb 20 - Mon, Feb 22, Noon - 5pm and by appointment