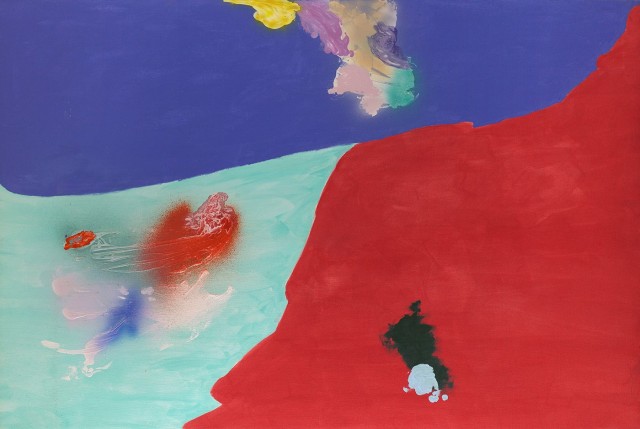 NEW YORK, NY -- On view through December 22, 2017 at Berry Campbell Gallery is "Albert Stadler: Studies in Color." This exhibition presents twenty-one works dated from 1973-1986. "Studies in Color" is the second one-person show of Stadler's paintings held at Berry Campbell; the first, which ran from September 11 through October 11, 2014, featured Stadler's works from the 1960s. The two shows juxtaposed show an evolution in technique and palette range with a constant devotion to color.
Across the long history of the plastic arts, color has played an important role. Pigments have been discovered, techniques have progressed, tube paints have become readily available, and the role of color has changed. The Impressionists and Post-Impressionists used color to model form. Scientific observations of light, how it breaks down into color components, and the ways the human eye perceives light have led artists to develop new ways of painting. Moreover, modern concepts in psychology opened doors toward artists infusing colors and their combinations with an emotional charge that had a powerful impact on the viewer. As a more non-objective abstraction evolved artists were offered an opportunity to pursue a more analytical approach to color.
At the end of the Second World War Abstract Expressionism emerged as the leading voice in contemporary art. Abstract Expressionism was more a state of mind than a particular style, and was described as having two disciplines: Action Painting, and Color Field. In the Color Field camp, artist's Clyfford Still, Mark Rothko, Barnett Newman and others created large fields of color divided or fractured in various ways. Most importantly, color and not gesture was the focus.
In 1952, a young painter in New York, Helen Frankenthaler began pouring thinned paints onto un-primed canvas. This technique, called Stain Painting, was not possible before the creation of acrylics and durable water-based media. These works had a powerful impact on two D.C. artists who, after visiting Frankenthaler's studio, quickly began employing variations of her technique in their own work. Their work gave rise to a separate Color Field movement based in D.C., the Washington Color School.
Art Critic Clement Greenberg, who coined the phrase "Color Field," curated a landmark exhibition at the Los Angeles County Museum of Art in 1964. This show, "Post Painterly Abstraction," included the works of Albert Stadler, whose works at that time were thin washes of soft colors arranged in bands centered and stacked, or running across the canvas surface. Like the soft colors, the forms also lean, and sometimes curve and overlap, creating Hard-Edged abstractions that are not rigid in any way. These works are intellectual, without being cold.
The current exhibition at Berry Campbell Gallery is that of an artist who grew and honed his painting skills into a language all his own. Personally, I find Albert Stadler's work from the 1970s and 80s to be the pinnacle of his quest in the Color Field era. He employed spray guns and swabs, coupled with a varied paint surface ranging from thin translucent to opaque and heavily impastoed pigments. With these techniques he removes the hand of the artist from the painting without losing any of the expressive passion that originated the movement. And his comfort with a vibrant, wide ranging palette is unparalleled.
While spending time with each work in the exhibition I found something familiar in the colors and harsh diagonal line of one work that harkened back to the Impressionist and Post-Impressionist painters. "Coincidence," I realized, reminded me of Paul Gauguin's "Portrait of Meyer de Haan by Lamplight," from the Museum of Modern Art's collection. Modern technology allowed me to find images of each work on the internet and compare them side-by-side. At first I saw the differences. As I spent more time looking at the two works I slowly connected the similar aspects my subconscious had already grasped. Both works toy with flattened and open spaces. Both have heightened palettes. Both create tension, then relax it through color and form. At the least, both works are examples of masterfully balanced compositions.
Albert Stadler: Studies in Color

On view through December 22, 2017
Berry Campbell Gallery
530 West 24th Street
New York, NY 10011
BerryCampbell.com
Image:
Albert Stadler
Coincidence, circa 1980
Acrylic on canvas
45 x 68 inches.