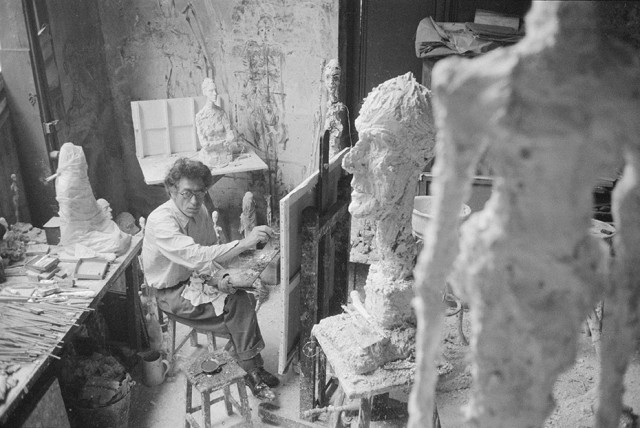 NEW YORK, NY -- I always enjoy visits to the Solomon R. Guggenheim Museum in New York. Housed in the Frank Lloyd Wright-designed building, it is not just a house of art, but a work of art in itself. On view through September 12 is a major retrospective of the work of Swiss artist Alberto Giacometti (1901-1966). This exhibition, extending around the walls of the rotunda, is the fruit of considerable work by a curatorial team headed up by Megan Fontanella, working in conjunction with Catherine Grenier, of the Fondation Giacometti in Paris. Thanks to her presence, the Foundation has loaned works from its own collection never before seen in the United States.
As I ascend the spiral and enter the first alcove I see the large scale sculpture created for the Chase Bank Plaza in New York, a project that unfortunately never reached fruition. Representing it here are three large bronzes and several working drawings, all dating from 1958-1961. The drawings in particular offer a window into the thought process of the artist. Giacometti struggled with and eventually abandoned this project largely because of his discomfort with problems of scale. One drawing, which renders the plaza from a side elevation, shows the building, the plaza, and small dots representing people scattered across the open space. From several figures the artist drew perspectival lines running toward the building. I presume that Giacometti was trying to determine the size and placement of the sculpture in order to harmonize them with the vertical and horizontal planes of the building and plaza. This drawing suggests that what turned out to be the final challenges of the project concerned him from the beginning.
Returning to the spiral of the rotunda and continuing upward, I soon realize that the remaining works in the exhibition are arranged in chronological order. Here the artist's expressive voice can be seen evolving from the motifs of Cubism and Surrealism, with influences from African and Cycladic art. Like so many artists of the early 20th century, Alberto Giacometti looked to sources outside of the traditional path of Western art history in the hope of developing more simplified forms. Much like his peers, such as Ossip Zadkine, Henri Laurens and Jacques Lipchitz, Giacometti's cubist works are analytical deconstructions of form, as for example, in Cubist Figure I, ca. 1926, in which he reduces the human form to cylinders, cubes and pyramids. Spoon Woman, begun in 1926, borrows from the Cycladic art of ancient Greece, but here too is a nod toward Surrealism, with the curve of the female form presented in the shape of a spoon. These surrealist elements appear in works up to 1932 when they seem to abruptly conclude in one of my favorite works, Woman with Her Throat Cut, represented by a bronze casting.
Hands Holding the Void (Invisible Object) marks a clear move toward Giacometti's unique mature style, represented by his elongated standing women, striding men, and busts. This work is an elongated female form placed in a laterally symmetrical format before a gridded armature. From this point onward, though probably even earlier, the artist seems to be obsessed with the human form, its proportions and balance, and its scale in relation to the surrounding environment. Recalling the small studio he maintained for most of his career, it is not a stretch to connect this interest to Giacometti's attention to the space around the figure. Whether it is the size and shape of the base, a framework of rods defining a box, or the edges of the canvas or paper defined by hard lines, his compositions are never simply isolated figures; rather figures clearly related to their surroundings. In Bust of a Man, ca. 1951, he places the figure, staring straight forward with shoulders squared, at the lower right corner of the canvas, creating compositional balance by painting a box-shaped area defined by hard lines within the margins of the canvas. Almost all art teachers would tell you that this would not work; but it does work here, emphasizing the composition's open space and balancing it through asymmetry.
The paintings of free standing figures that do not have such box-like areas at first glance would seem to contradict the above mentioned sense of balance through asymmetry. The figures are rigid and Kouros-like, with arms at their sides and their gazes directed straight forward. But the women have one breast large and one small. The busts have one broad, well-developed shoulder while the other is diminutive or partially formed. One ear may be large and slightly forward while the opposing one is small and moved slightly back. These subtle (and sometimes not subtle) irregularities also create a feeling of balance. Their irregularities also reflect reality, and thus bring these sculptures to life in a way hyper-realism might not.
As one views this exhibition, it becomes clear that Alberto Giacometti was tireless in his pursuit of answers to questions that we cannot fully know. Most geniuses have followed their chosen paths with greater determination and focus than any other. That obsessive-compulsive behavior helps us see the world anew because of their sacrifice. If Giacometti has never sparked your interest, I encourage you to see this show, and walk the rotunda along the steps of this remarkable artist's career, condensed as it is. I believe that if you do this, you will leave with a new appreciation for his life's work. For those who love his work, you might be surprised and delighted to see some of the early works that have not been often shown or published. And all will have a broadened perspective of this stellar modern master.
Giacometti

On view through September 12, 2018
Solomon R. Guggenheim Museum
1071 Fifth Avenue
New York, NY 10128
Guggenheim.org
Images:
Alberto Giacometti painting in his Paris studio, 1958
Photo: Ernst Scheidegger
© 2018 Stiftung Ernst Scheidegger– Archiv, Zürich
Alberto Giacometti
Spoon Woman (Femme cuillère), 1927 (cast 1954)
Bronze, 143.8 x 51.4 x 21.6 cm
Solomon R. Guggenheim Museum, New York 55.1414
© 2018 Alberto Giacometti Estate/ Licensed by VAGA and ARS, New York
Alberto Giacometti
Walking Man I (Homme qui marche I), 1960 (cast 1982)
Bronze, 180.5 x 27 x 97 cm
Fondation Giacometti, Paris
© 2018 Alberto Giacometti Estate/ Licensed by VAGA and ARS, New York
Alberto Giacometti
Caroline in a Red Dress (Caroline avec une robe rouge), ca. 1964–65
Oil on canvas, 92.3 x 65.4 cm
Fondation Giacometti, Paris
© 2018 Alberto Giacometti Estate/ Licensed by VAGA and ARS, New York
Installation view: Giacometti, Solomon R. Guggenheim Museum, New York, June 8–September 12, 2018
Photo: David Heald
© Solomon R. Guggenheim Foundation, 2018