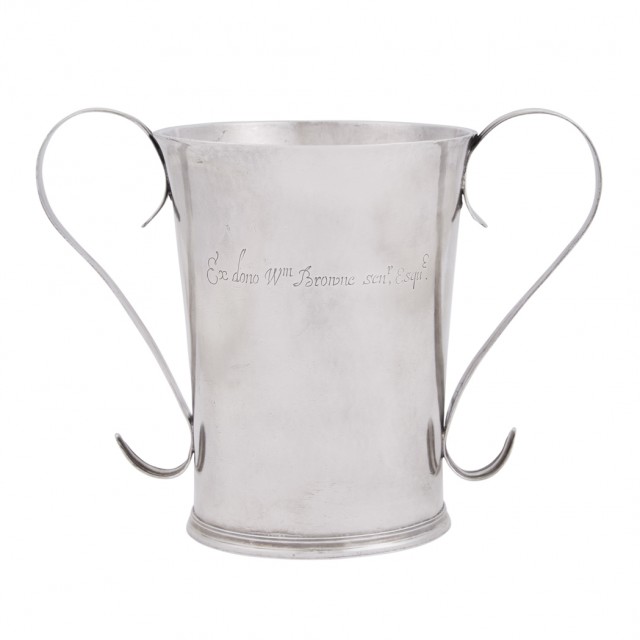 NEW YORK, NY -- Silver has played a role in marking important milestone events in the history of our society since the colonial era. Records kept by early churches in America have proven to be a valuable gift to scholars looking to trace the history of early silver and presentation inscriptions. Protestant churches in the colonies used communion plate in domestic forms, which was more in keeping with the restrained traditions of their faith and the lifestyles of their congregations. One such example is a rare two-handle cup dating to 1687 to be auctioned on Oct 4 (Lot 177). It was made for the First Church of Salem, Massachusetts, by John Coney of Boston, who is today recognized as one of colonial America's best silversmiths.
The cup is engraved Ex Dono Wm Browne, senr Esque and thus has preserved for posterity the origins of this piece. William Browne had emigrated to the colony from England in 1635 and had prospered in the colonies. At the time of his death in 1687, he left the church the princely sum of £10, which was used to make a pair of beakers, including this example. Generations of the Browne family continued William's example of philanthropy and continued leaving silver and money to the church through the 18th century.
Silver has traditionally been used as a way to transfer wealth from generation to generation. The financial system of the country was based in silver coinage well into the 20th century, so the silver used on the dining room table could quickly be turned into cash when the need arose. And we often see pieces of silver engraved with the names of successive generations, as is the case with a silver ewer and monteith silver in the Oct 4 sale (Lot 184 and Lot 185) that have descended in the same family since the 1840s. These are the type of pieces meant to be used and displayed, and the fact that they are inscribed from mother to son and grandparents to granddaughter provide the keys to unraveling their past. The presence of the names and familial ties trace the chain of ownership to the Brand family of Lexington, Kentucky.
The Brands were early settlers in the county and made a fortune making hemp bags. When John Brand died in 1849, he left an estate valued at $450,000, which would have included both the ewer and the monteith -- and one would imagine many more pieces! In fact, the monteith was once part of a pair, the other of which was auctioned in 2004. We know this because that piece was also engraved with a presentation inscription from mother to daughter. Without these simple inscriptions, these pieces would have become detached from their history and the early owners would have remained mysteries to us.
Sporting trophies have been presented since Antiquity. However, it wasn't until the 19th century that one began to see magnificent silver pieces with designs linked to the sport for which they were made. Horse racing has always stirred passion in Americans, and silversmiths were constantly competing to come up with ever more inventive creations. An equestrian-themed pitcher (Lot 194) offered in the sale is a perfect example of the concept that the design should reflect the sporting pursuit. It bears a chased image of a horse and rider taking a fence on one side, while the handle of the pitcher is a riding crop with whip winding down and around the presentation space, while a pair of spurs dangle from the top of the handle. A creation by Baltimore silversmiths S. Kirk & Son, the pitcher was likely a special commission and the only example of this form in existence.
Sometimes we come across a presentation piece that has lost all context and leaves us wondering the reason for its commission. An early loving cup by Tiffany & Co. (Lot 201), unfortunately has lost all context and we are left with no idea why it was commission. Such three-handle loving cups were often used for trophies and presentations, because they offer three large "canvases" for the engraver to work with. This example is curious and in the twenty years of looking at silver, this appraiser has never come across decoration similar to this: in the main panel we have the dates 1897 and 1898 with two portraits. Additionally, we have two further panels with similar familial portraits, including children and babies. The skill of Tiffany's craftsmen is evident in this fascinating piece, which should have a great story to tell if it can ever be unlocked.
An early 20th century presentation piece has connections to both family and church. In 1907 the Washington Square Methodist Episcopal Church in New York City presented a loving cup to John D. Slayback for almost forty years of service and leadership. Slayback was a successful investment banker and stock broker on Wall Street. He had become involved with the Sunday School of the church when his own children attended, and he had remained actively involved until his retirement in 1907. The loving cup from Gorham's Martelé line (Lot 203) would have been an expensive gift at the time, since Martelé was Gorham's line of exclusively handmade silver. In fact, it was so expensive to produce that Martelé was not a commercial success for the firm, which resulted in limited output. This rare and beautiful example of a Martelé silver loving cup will certainly attract the interest of collectors of American silver.
American Paintings, Furniture & Decorative Arts

Auction: Wednesday, Oct 4, 2017 at 10am
Exhibition: Sat, Sept 30, 10am - 5pm / Sun, Oct 1, Noon - 5pm / Mon, Oct 2, 10am - 6pm