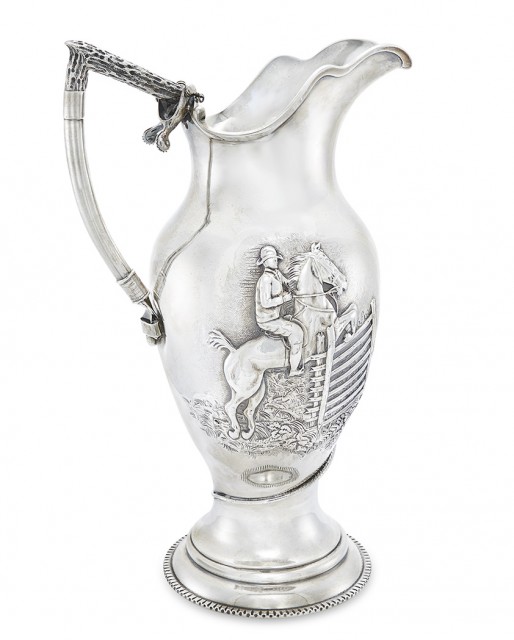 One of America's great early silversmiths, Samuel Kirk (1793-1872) opened his shop in Baltimore in 1825, beginning a silver empire whose finely crafted wares would grace the dining tables of many of America's greatest families. Kirk was descended from a long line of English silversmiths on both sides of his family. After apprenticing with silversmiths in Philadelphia, he moved to Baltimore and set up shop in the bustling port city. In the early 19th century, Baltimore's harbor was one of the busiest in the country, and an enormous amount of wealth passed through the city giving rise to a mercantile elite with an appetite for luxurious trappings to reflect their new social and economic status. This was just the right environment for a new silversmith to establish his reputation.
Early in his career Samuel Kirk introduced a chased floral repoussé pattern that has become synonymous with American silver and is still known generically as "Baltimore Silver." The richly chased pattern was perfect for large tea services, soup tureens and flatware and has remained in constant production since its creation. The floral decoration lends beautifully to silver vases, an example of which sold at Doyle in June 2015. There are several variations to the repoussé pattern, the most desirable being one known as "Castle" pattern, which incorporates architectural elements among the floral decoration. Doyle sold an extensive tea and coffee service in this pattern in February 2015.
Throughout their years in business, Kirk benefited from many prominent clients and prestigious commissions. Baltimore lay half way between the industrial north and the agricultural south, and the firm had clients on both sides of the Mason-Dixon line. President James Monroe ordered a flatware service from Kirk for his daughter's wedding, and the firm provided various pieces to the White House over the years. One of the company's largest and most important commissions was for the naval cruiser Maryland that included a dinner service of forty-eight pieces illustrating almost two hundred scenes from Maryland's history.
Trophies are another specialty of Kirk, an example of which is an unusual horse trophy that Doyle will offer in the sale of American Paintings, Furniture & Decorations on October 4, 2017. Presented to the Ladies' Cup winner in Buffalo, New York, in 1888, this trophy is chased with an image of a horse and rider taking a fence on one side and with the presentation testimonial on the reverse. The handle is formed from a riding crop twisting down the body and wrapping around the foot, while a pair of spurs dangle from the top of the handle. An incredibly inventive piece, it is likely a special commission for the tournament and a wonderful example of Kirk's non-repoussé range of silver hollowware.
Today Kirk silver is easily recognizable and eagerly collected by people looking to own a piece of American history. Numerous changes to the hallmarks make it possible to date Kirk silver more easily than many other American silversmith. The earliest Kirk silver bears the hallmarks of Baltimore's assay office, a rarity for silver because Maryland was the only city in the United States to establish an assay office similar to those in the United Kingdom, where all silver was sent by the makers to be tested for quality. It is interesting to note that unlike the English assay offices, which kept to a strict standard of .925 (sterling), the Baltimore office set their standard a fraction lower at .917 in keeping with the silver tradition of colonial American silversmiths. This standard lasted only from 1814 until 1830. Kirk was quick to follow other American silversmiths in adopting the English silver standard of .925 by the mid-19th century.
Examples of Kirk silver can be found in Doyle's semiannual sales of American Paintings, Furniture & Decorative Arts and in the Doyle at Home sales offered throughout the year.