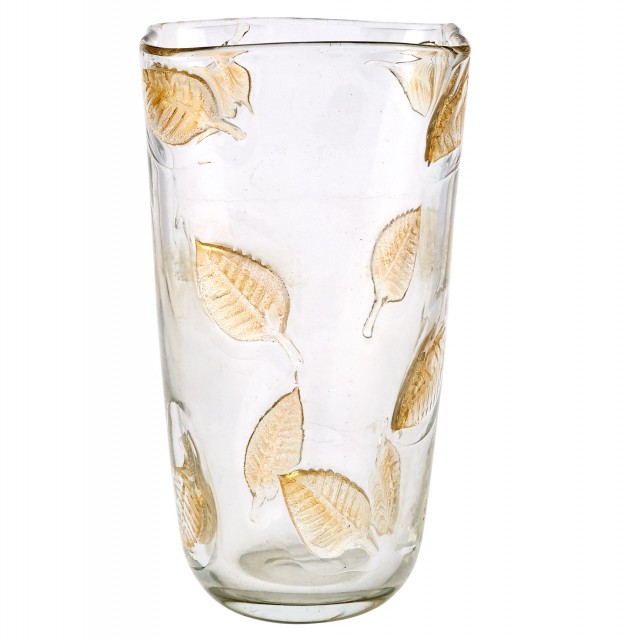 NEW YORK, NY -- Venice has been known for its stunning glass creations since at least the 14th century, but today we regard the 20th century as the period in which such artistic talent flourished. Artisans created fresh and innovative works that coupled bold design and technique, and their output includes some of the most beautiful glass the world has ever known.
In the 1940s and 1950s, designers and artisans looked to Expressionist and American Abstract painting for inspiration to appeal to a younger, fresh American clientele looking for pieces that were bigger, bolder, asymmetrical and seen as invoking the future. Americans had long been devoted collectors of Italian glass, and Italian designers were eager to present their works to this growing post-War market. The 1950s saw all the great American department stores hosting special exhibitions of Italian glass highlighting the latest works direct from the workshops. Many of these were events sold out, spreading recognition of Italian glass to collectors across the nation.
Ercole Barovier (1889-1974) was the artistic director and owner of Barovier & Toso for over 50 years. With family connections to glass dating back to the Renaissance, Barovier thrust the firm into the international spotlight and under his direction it became more successful than ever in its history. His willingness to use age-old techniques and bend them to his modern thinking led to great experimentation with glass making. Characterized by their linear and geometric shapes, Barovier's pieces were also known for their highly textured surfaces, as well as hot work application and the incorporation of metallic inclusions (Lot 192 and Lot 193). His designs from the 1930s used a mosaic technique as seen in Lot 190.
Fulvio Bianconi (1915-1996) began his career as an illustrator, graphic designer and cartoonist, which is evident in the works he designed for Paolo Venini. Venini met Bianconi in 1947 and offered him the position of artistic director, which Carlo Scarpa had just left. Drawing on movements in Modern art and fashion, Bianconi's pieces are sculptural and abstract with an element of the surreal. His Uomo and Donna vases (Lot 200 and Lot 201) are examples of his playful style. Bianconi worked only freelance for Venini, which means he was able to have his works made by number of glassworking firms.
Dino Martens (1894-1970) is the creator of Lot 202, an elegant vase engulfed in swirls of color. Martens studied painting in Rome, and his glass reflects this background with bright colors in inventive swirling patterns. With their painterly sensibility, Martens' works are a classic mid-century Modern aesthetic.
Doyle+Design

The Doyle+Design sale on September 17, 2018 offers a private collection of Italian art glass. This remarkable collection includes works by many of the 20th century's greatest artists, including Napoleone Martinuzzi, Ercole Barovier, Vittorio Ferro, Carlo Scarpa, Dino Martens and Fulvio Bianconi, among others.