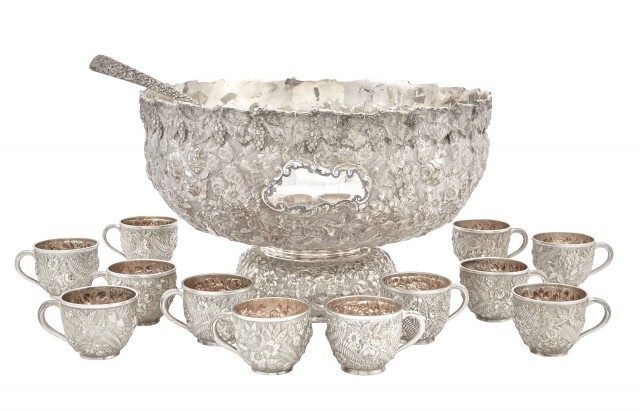 NEW YORK, NY -- 19th century American silversmiths were among the most creative and prolific in history. The nation's vast wealth, generated by its rising industrial might and entrepreneurial ingenuity, saw the burgeoning of a society consumed with finding new ways to showcase their growing prosperity. Silversmiths across the country rose to the challenge with fresh ideas for objects meant to demonstrate their clients' wealth and appreciation of the latest fashions. As these firms jostled for attention, they each developed new patterns and models meant to catch the consumer's eye from across a crowded shop floor. No one did this better than the talented silversmiths of Baltimore, whose distinctive floral repoussé pattern is still known as "Baltimore Silver."
One of America's great early silversmiths, Samuel Kirk (1793-1872) was descended from a long line of English silversmiths on both sides of his family. After apprenticing with silversmiths in Philadelphia, he moved to Baltimore and set up shop in the bustling port city in 1815. The opening of Kirk's first store marks the founding of America's oldest operating silversmith and the beginning of a silver empire. His finely crafted wares would go on to grace the dining tables and sideboards of many of America's most distinguished families.
Early in his career, Kirk introduced a chased floral repoussé pattern that has since become synonymous with American silver. Chasing silver (a method of decoration where the silversmith uses hammers and punches to work a sheet of silver without removing any of the metal) was an ancient technique used by European silversmiths throughout history. Kirk's richly chased pattern, still known generically as "Baltimore Silver," was perfect for large tea services, soup tureens, punch sets and flatware and has remained in constant production since its creation.
When examining silver that preceded Kirk's, one is struck by the restraint of the styles produced by noted 18th century American silversmiths. Works by Paul Revere, for example, are often devoid of any decoration. The Classical period (first quarter 19th century) certainly saw the introduction of bands of scrolls and foliage to newly exaggerated silver forms, but Samuel Kirk's floral repoussé (the technique by which silver is worked from the reverse to push out a design, again without the loss of metal) goes beyond Classical decoration to envelop pieces entirely in a rich carpet of flowers and foliage.
The inspiration for "Baltimore Silver" appears to be something of a mystery. One reference may have been the silver of British India's native craftsmen, who certainly loved to decorate their works with foliate scrolls that often incorporated figures and native animals like elephants and tigers. In the early 19th century, Baltimore's harbor was one of the busiest in the country. Ships returning from the subcontinent may have brought pieces back for the wealthy merchant class, giving Kirk the opportunity to examine silver from British India firsthand. Regency England's silversmiths also used a more restrained version of this style, but Kirk's clients clearly demanded something new and entirely original.
Like any popular fashion, Kirk's local competitors were quick to copy the style. Firms such as the Stieff Company, the Schofield Company, and Hennegan Bates Co. all began to churn out slight variations to the pattern. Rare and desirable pieces by these makers include architectural and figural scenes incorporated among the foliage. "Baltimore Silver" proved so popular across the country that Northern firms such as Tiffany & Co. and Gorham Mfg. Co. created similar patterns to compete with this distinctly Southern style.
Doyle has sold pieces of mid 19th century silver that were clearly made in Baltimore and yet carry retailers marks from Kentucky, showing how widely pieces were sold. For almost two hundred years, Americans have been crazy for "Baltimore Silver."
While the 20th century started off well for America's silversmiths, two World Wars, the Depression, and changing fashions leading to less formal entertaining each took their toll on Baltimore's great silver firms. Stieff bought Schofield in 1967, and then their old rival Kirk in 1979. Consolidation in 1999 saw the closing of the last silver factory in Baltimore as the renamed Kirk-Stieff Company moved all their silver production to New Jersey, Rhode Island and Puerto Rico. The Kirk hallmark lives on, however, and patterns of floral repousse flatware and holloware are still made for people who love and appreciate this great American style.
American Paintings, Furniture & Decorative Arts
The online-only auction closing on April 21, 2020 features a fine Baltimore Silver punch set by Hennegan Bates Co., circa 1900.