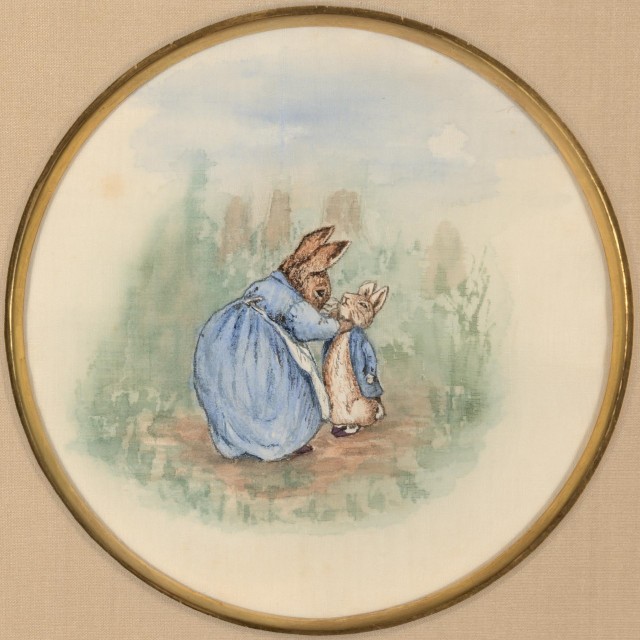 NEW YORK, NY -- The Mary K. Young Collection offers an opportunity unparalleled for decades to obtain works from the most revelatory and desirable period of beloved English writer and illustrator Beatrix Potter. Doyle is honored to offer this remarkable collection as a featured section of the online-only auction of Rare Books, Autographs & Maps. Bidding will open on Friday, April 10 and end with a soft close on Wednesday, April 22 beginning at 10am EDT.
The Collection includes at least eight unique items containing about 20 original drawings or letters written and drawn by Potter before her marriage in 1913 (with most before 1900), the formative period where she was developing her form of art. Part of the charm of this early period is that Potter apparently did not intend to publish books for children, she simply sought a simple and affectionate way to communicate with them, and in combining an early mastery of the drawing of animals and a playful love of verse, Potter created a style all her own. Beatrix Potter published thirty books between 1901, when she was 35 years old, and 1930 when she more or less retired.
By all accounts, Helen Beatrix Potter (1866-1943) and her younger brother Walter (b. 1871), the children of a wealthy English barrister who had invested well, lived fairly sheltered lives without the company of similarly aged children. Until Beatrix was about 15, her family summered at Dalguise, an estate in Scotland, and in 1882 the family began to summer in the Lake District of North West England. From 1905 onward, Potter (using royalties gained from the The Tale of Peter Rabbit) invested heavily in the region and helped develop the National Trust which now owns most of her lands. But in those early summers, Beatrix may not have had many friends her age but was certainly not alone: she was deeply engaged in the popular Victorian pastime of intensely studying and drawing nature. She and her brother kept a menagerie of small animals as pets including mice and rabbits as well as specimen items to draw such as butterflies and insects.
At 15, young Beatrix started a personal diary written in a secret code of her own devise (which was not cracked until 1958) and became quite adept in mycology, the study of mushrooms, which deepened upon meeting the naturalist Charles McIntosh in the summer of 1892 (Potter submitted an essay to the Linnaen Society in 1897 which was rebuffed due to her sex and non-academic standing. The Society issued an apology in 1997). But perhaps most importantly, while Potter was developing her ability to draw animals and mushrooms, she was being educated by a series of governesses, the final of which was only three years older than Beatrix and became a close friend and guiding light.
In 1883, nineteen-year-old Annie Carter was hired as governess to sixteen-year-old Beatrix to primarily instruct her in German and act as a companion, a relationship that lasted well beyond Annie's marriage to Edwin Moore in 1885. Annie Moore had six children starting in 1886, but it would be a few years before Beatrix would write to them. In the years between 1885 and 1892, Beatrix acquired her first pet rabbit, dubbed Benjamin Bouncer, and began drawing portraits of the bunny for family Christmas cards. In 1890, Beatrix sold her first drawings to a London publisher who created greeting cards using the designs of this unknown talent and that same year her anthropomorphic bunny drawings were used to illustrate a small volume of Frederic Weatherly's verses.
Aside from drawing, Potter was also developing her voice as a writer through reading. It is known that her father presented her a copy of Edward Lear's Nonsense Songs, Stories, Botany, and Alphabets for Christmas was she was four years old in 1871. It is here that discussion of the wonderful early Potter artworks and writings in the Mary K. Young Collection commences. The first lot in the sequence may appear unrelated: the original drawings by William Foster used to illustrate an 1889 edition of Lear's Nonsense Drolleries: The Owl & The Pussy-Cat and The Duck & the Kangaroo (lot 62) but this is a book very similar to what Potter received in 1871 and her shelves would have been lined with other similar volumes. Lear was a major literary figure of the era and Potter read much Lear, as well as Lewis Carrol. It is known that Potter was enamored with John Tenniel's drawings for Alice in Wonderland and these works provide the literary and artistic backdrop of Potter's world in about 1890.
In 1892, Potter began to write to the children of Annie Moore, particularly her eldest, five-year-old and often ill Noel, who in September of that year received a very special illustrated letter from Beatrix Potter, arguably one of the most famous letters ever sent, offering him the story that would become The Tale of Peter Rabbit. Now known as the Picture Letters, in this period before she was a published author, Potter wrote several short illustrated letters to children, many of which featured characters of her own creation or illustrated other authors such as Edward Lear. Rare surviving Picture Letters are highly prized by collectors and are held by top institutions such as the Morgan Library and the V&A Museum, attestation to their quality and importance.
A remarkable offering in the Mary K. Young Collection is a March 1897 Picture Letter from Potter to her young cousin Molly Gaddum illustrating that favored tale of her childhood, Lear's The Owl & the Pussy Cat (lot 63). The charming eight-page letter (featuring 8 drawings) opens with a short note to young Molly in which Potter's comfort with Lear's whimsy and nonsense is apparent, writing "I have drawn you some pictures of the owl and the pussy-cat. It is very odd to see an owl with hands, but how could he play the guitar without them?" The outlandish story tells of an owl and a pussy-cat who sail away with a jar of honey and a five pound note, decide to get married after buying a ring from a pig, and sail away to the land where the "Bong-Tree" grows to be married by a turkey on a hill! Potter's drawings decorate the letter with ease for a story with so many odd combinations and readers both young and old cannot help but find the letter quite pleasing. The Owl & the Pussy Cat is a landmark document in the formation of Potter as an author and illustrator, and the letter has been exhibited at both the Morgan Library and the Grolier Club in New York.
Potter's most famous creation is clearly Peter Rabbit, first imagined in the picture letter to Noel Moore in 1892, and a frequent subject along with his siblings Flopsy, Mopsy, and Cottontail at the time she self-published the story at the suggestion of Annie Moore in 1901. The Mary K. Young Collection features several notable early watercolor drawings of bunnies including Peter, such as a drawing known as Peter Rabbit Sledging or Two Rabbits in a Sledding Mishap (lot 64). The subject was taken up several times by Potter and the present drawing depicts the "after" in a two-part story sequence. The "before" part would typically show a rabbit pulling another on a sled as they pass a signpost and this "after" drawing depicts the sled upturned and the bunnies buried in snow. This drawing is dated 1894 and is related to Potter's early efforts in the creation of Christmas cards, as is another drawing in the Collection, Bunny in a Red Jacket Shoveling Snow, in which an older rabbit shovels snow before his home and under a leafy tree (lot 67). The drawing pleasantly fills its oval shape and Potter has here provided a not only charming but believable vignette.
Two wonderful watercolors on silk likely executed between 1901 and 1905 recreate scenes from The Tale of Peter Rabbit. The first depicts Mrs. Rabbit Buttoning Peter's Coat, the scene that accompanied the published text "Now run along, and don't get into any mischief. I am going out" in the 1901 edition (lot 66). The second depicts Mrs. Rabbit with Basket and Umbrella in the Forest, which was paired with the text "Then old Mrs. Rabbit took a basket and her umbrella, and went through the woods to the baker's. She bought a loaf of brown bread and five currant buns" (lot 65).
The latest items in the collection referencing Peter Rabbit and family are dated 1908-09, as this nascent period came to a close, and from a time when Potter ceased to write new Picture Letters to children, but rather sent little notes with continuations of her stories signed by her characters, wonderfully personalized extensions of the tales that must have enthralled the young recipients. Offered are an extremely rare surviving group of four of these letters written to Master Jack Ripley and signed from Peter Rabbit, Benjamin Bunny, Josephine Rabbit, and Mr. McGregor and is also accompanied by a picture postcard of a bunny by Potter herself (lot 70). Ripley was known to have a deformity in his hands and had a very stern father -- similarly Noel Moore had been stricken by polio -- thus it seems Potter, who did not have children of her own, found ways to communicate directly and lift the spirits of children who needed it most.
Finally, the largest drawing in the group is Potter's double-sided toy watercolor depicting the delivery of fish to A Pussy-Cat House (lot 72). Given the scale in which Potter typically worked, this large work at 9 x 12 inches is a tour-de-force of her early talents. The cart depicted is onlaid and possibly could have been moved when first presented. The size of this drawing and its wonderful condition is enhanced by its impeccable provenance: it was sent to Noel Moore in 1895, has a known chain of ownership after Moore, and was acquired by Mary K. Young in 1987.
Beyond original art, the Collection includes several of Potter's published books and a few personal letters, including the rare 1902 self-published The Tailor of Gloucester (lot 68), the 1906 The Story of the Fierce Bad Rabbit presented in a concertina format (lot 69), and an inscribed copy with two signed letters of The Tale of Piggling Bland (lot 74). In the letters that accompany that book, the content points to Potter turning a corner to the most productive period of her life: she married William Heelis in October 1913 (the local solicitor who assisted her in buying land), published many more books, farmed and raised sheep, and started conserving the lands that would became part of the National Trust. In the earlier of these two letters she signs almost hesitantly as "Peter Rabbit/Nobody remembers to call me Mrs. Heelis" but in the second letter she signs boldly as "Beatrix Heelis" – as if a new era had dawned for her.
Truly an insightful, important and whimsical group, the Mary K. Young Collection is one of the finest collections of early Beatrix Potter artwork extant and represents a rare opportunity for collectors and institutions alike.
See TAYLOR, JUDY. Letters to Children from Beatrix Potter. London: Frederic Warne, 1992.
Rare Books, Autographs & Maps
The Mary K. Young Collection will be offered as a featured section of the online-only auction of Rare Books, Autographs & Maps.