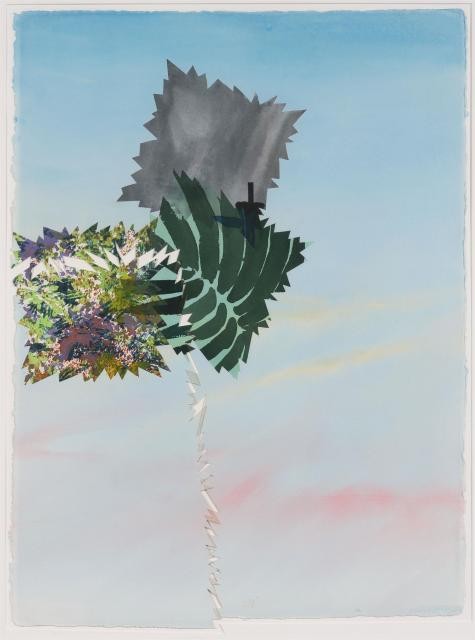 NEW YORK, NY -- When I think of the West Coast ideal at mid-century, the image I have is of a folk hero of sorts: part cowboy, part stuntman, possessing both movie star charisma and the skill to rebuild a truck engine, maybe like Steve McQueen or a young Marlon Brando in The Wild One. This mythical character could be Billy Al Bengston. Born 1934 in Dodge City, Kansas, Bengston studied under Richard Diebenkorn at the California College of Arts & Crafts in Oakland – he was asked to leave after only one year. He was later mentored at Otis by the genre-defying ceramicist Peter Voulkos, who further encouraged Bengston's desires to ignore art world rules, both in craft and in business. But even in a welcome environment, Bengston could still be too volatile. "He was so strong," Bengston said of Voulkos. "He picked me up one day and locked me in the kiln because I was too rowdy."
Charming, charismatic, an impeccable dresser, Bengston surfed and raced motorcycles professionally. The legendary Ferus Gallery was an obvious fit for him – "ferus," meaning savage or wild. This cutting edge gallery was run by Walter Hopps, Ed Kienholz and Irving Blum, and Bengston was a star on their roster. Ferus was the space to first debut Warhol's soup can series in 1962 and set the tone for not only the West Coast aesthetic, but for much of American Post-War art. Bengston would have five solo shows at Ferus from 1958 to 1963. His bold motorcycle paintings predate much of Pop Art, though they are an early connector of graphic design to fine art. Further to this point, Bengston and his Ferus peers would be included in Lucy Lippard's 1966 book Pop Art described as those "whose style, rather than subject, has been influenced by what might be called a Pop stance."
Akin to Sinatra's Rat Pack, or the Beat poets of the Village, Bengston was a leader of the "Cool School," a tight-knit group of Los Angeles artists that included Ed Ruscha, Larry Bell, Ed Moses, Ken Price and others. Their art gang gave focus to the subcultures of their time: jazz and rock music, custom car culture, motorcycles, surfing. Defining their passions and lifestyles in their work was largely out of sync with New York Pop Art – far more bravado than sarcasm, even if the materials may have been similar. In the 1960s, Price and Bengston shared a 4,000 square foot Venice studio that ran for $75 a month. The artists all partied together, influenced each other and drove each other to explore and innovate in a variety of mediums.
Bengston focused on color field abstractions that blissfully blur out the more hard-edged, representational or appropriated forms he would often repeat in his Dracula series, or his Chevron series. Typically placing his forms in the center of his works, Bengston seemingly did this often not just to spite his art teachers, but to reject any preconceived notions of standard practices. "If people say you can't do something, that's what I'm going to do," Bengston declared in a 2016 Hyperallergic interview. "Is there any place else other than the center, to put the form? I don't dive on the edges of the pool, if I can help it. You go for the sweet center."
Bengston's practice included industrial lacquers and spray-gunned polymer paint, all adopted from auto body use. Akin to his nature, using industrial materials and tough, punchy imagery, Bengston achieves a ghostly, ethereal quality to his works. Even when employing an appropriated "masculine" logo, such as the BSA motorcycle emblem, which graced an entire 1961 series, there's a beauty to the toughness. The colors are bold, but the painter's hand can be seen. The result is, for lack of a better word, "pretty" art that at first blush seems incongruous to the era and to the source material. But Bengston simply reflects the dichotomy of his culture: the graceful waves carved by an athletic surfer, the supple tailfins on the car bodies built of Detroit steel.
The two atmospheric watercolors featured in the June 23 Doyle+Design auction find Bengston in the late '70s and early '80s pushing himself in new ways, still flirting with hard edge abstraction, still appropriating representational imagery, but getting even dreamier. From 1980, Honolulu Watercolor is part of a series culled from the flora of Hawaii, created two years after his first trip to the islands, where the artist maintains a second home. Venice Watercolor, a work from five years earlier, shows Bengston similarly mining the psychedelia he is known for, breezy and ethereal. Honolulu Watercolor sees the artist playing with the picture plane, combining the hard edges seen painted in earlier works, approximated here with slicing, pointed cuts in the conjoined sheets. Always looking to expand upon the limitations of a painting's edge, Bengston chose to physically cut crisp, jagged lines that challenge the surface.
Billy Al Bengston's image is so steeped in West Coast macho cool, it necessitated a full-scale wax statue of the artist in riding gear astride a cycle to greet viewers at the entrance to his 1968 LACMA exhibition. Yet, the Honolulu and Venice watercolors have an obvious beauty, an action painting-meets-Hawaiian shirt playfulness, even if marred by volatile fault lines, be they cut or painted. Bengston seems to thrive on these mixed messages. As in Full Metal Jacket, when Matthew Modine's character, Private Joker, is confronted by a furious commanding officer befuddled by the phrase "born to kill" next to a peace sign on his helmet – "I think I was trying to suggest something about the duality of man, sir." It's smart-alecky, and mysterious and thoughtful all at once.
Bengston, now in his 80s, has not softened his stance over the years. A recent artist's statement both welcomes and rejects us, as many of his works often do: "My real job is painting pictures and paying attention… I am an adequate cook and exceptional braggart still. For more details do your research. And use your imagination."
Doyle+Design
The Doyle+Design auction on June 23, 2020 offers two works by Billy Al Bengston – Honolulu Watercolor and Venice Watercolor.