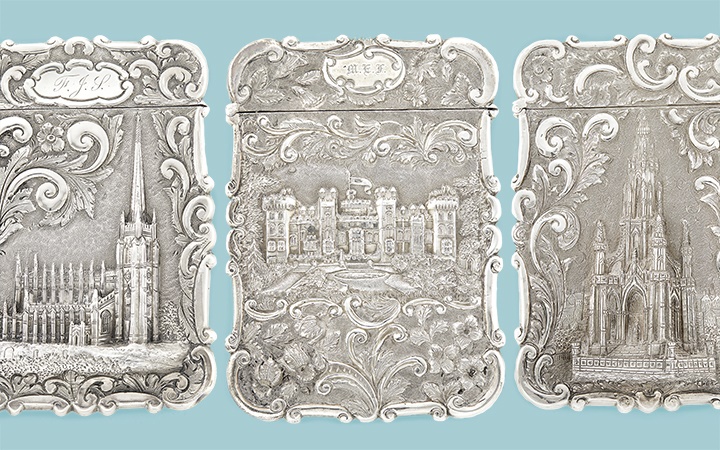 NEW YORK, NY -- Though it seems strange in 2021, there was a time when socializing – without masks and social distancing – was done in person, and the key to keeping everything running smoothly was the calling card.
The French were the first to use calling cards, or cartes de visites, beginning in the 18th century. About the size of a modern business card (but not to be confused as such), calling cards were printed with the name of the holder and the reserve left blank for adding a personal note. Whereas a tradesperson would leave a card with his name, business and address, a social caller required only their name neatly engraved.
The calling card functioned much the same as our phones do today – announcing the caller and allowing the receiver an opportunity to accept or decline. In the 19th century, a person would visit their host and present their calling card to the servant who opened the door. The servant would then take the card to their mistress (the receiver of these calling cards was always the lady of the house) who could decide if she was "at home" and would receive the caller, or "not at home" (even if you could hear her in the other room!). You could then leave your card on a silver tray in the hallway along with everyone else's cards. This stack would be thoughtfully arranged so that the cards of the most important people were displayed on top for all to see, much the same as we now show the world our friends and followers on social media.
Like all things French, the custom was soon popularized across Europe. England's elaborately structured society was perfectly situated to adopt this practice and add layers of complex and subtle rules. Today, the custom seems outrageously complex; however, in 19th century England, a person's place in society could be won or lost depending on how strictly the rules were adhered to. There was a hierarchy of who could leave a card with whom and a misstep could mean you were never again invited to desirable social engagements. The folding of corners of cards took on meanings that changed over the years; the top right corner folded down could mean you called in person, or were extending condolences depending on the place and year. This was a system designed to let everyone know you were from the same social stratum.
While calling cards took root in England during the Georgian period, it was the Victorians who really made it a staple of polite society. Starting in the 1840s, cases were made specifically to hold a person's calling cards. There was no standard size, but generally a man's card was quite small; a married woman's card was larger, as it could be carried in her bag. Men's cases could also be curved to fit comfortably in the pocket of a waistcoat or jacket. Cases were made of many different materials, from ivory and mother-of-pearl to silver and gold. They were meant to display both your good taste and the size of your pocket book.
The heyday of silver card cases, 1840-1870, coincided with an era of huge growth and movement in Victorian society. Doyle's upcoming timed online auction of The Joseph & Miriam Poser Collection of Silver Card Cases, Vesta & Matchsafes presents a wide variety of the styles that were popular at this period.
Among all varieties, the king of the card case is known as the Castle Top. These were the largest and most elaborate, depicting English architectural scenes in remarkably high relief and with incredible attention to detail. Windsor Castle and St. Paul's Cathedral were hugely popular motifs, as were other important country houses, cathedrals and monuments which Victorian Brits could visit via the burgeoning network of railways. Rare examples known as Double Castle Tops depict different buildings to each side. An example in the collection by the greatest maker of Castle Top card cases, Nathaniel Mills of Birmingham, depicts Trinity Church in New York City – an interesting example to show the wide scope of decorations available to clients. These Castle Top card cases were the most difficult to make; the higher the relief decoration, the more expensive they were and still are.
Silver card cases were very personal objects that reflected the owner's style, and this collection is no exception. Some examples feature fine engraving. Others are chased with a riot of scrolls, while Chinese Export examples decorated with tropical birds, figures bamboo and flowers add an exotic note to the collection. Many cases comfortably hold modern business cards and are an excellent way to strike up a conversation as you show off your beautiful card case – just as their first owners did over 100 years ago!
The Joseph & Miriam Poser Collection of Silver Card Cases, Vesta & Matchsafes
The upcoming timed auction of The Joseph & Miriam Poser Collection of Silver Card Cases, Vesta & Matchsafes will open for bidding on Tuesday, February 9.