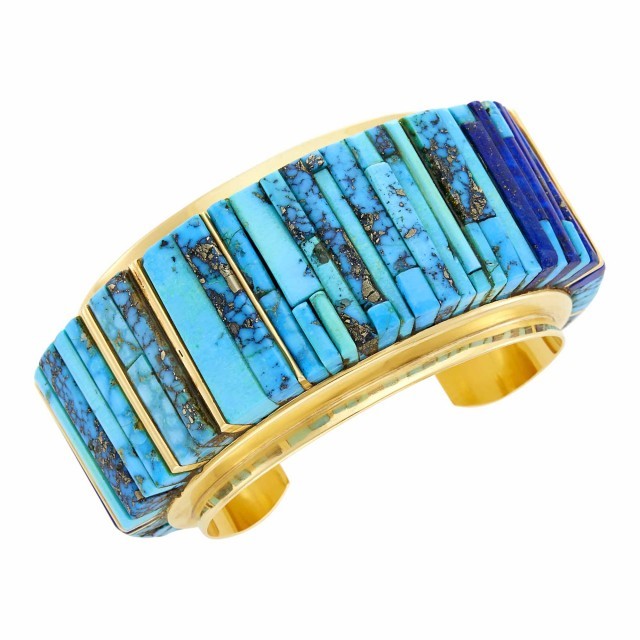 Among the most desirable and striking 20th century Native American jewelry pieces were the creations of Hopi artisan Charles Loloma. Throughout his life, Loloma incorporated cultural and artistic traditions from his upbringing as he gained international acclaim for his designs.
Charles Loloma was born in 1921, into the Badger Clan in the small Hopi village of Hotevilla in northeast Arizona. His artistic talent emerged in grade school with the encouragement of teachers who singled him out as unusually gifted.
As a junior at Phoenix Indian School in 1938, Loloma spoke very little English but soon made a lifelong friend named Lloyd Kiva New. The son of a Cherokee mother and a Scottish-Irish father, New was a recent graduate of the Art Institute of Chicago and had just secured his first teaching job. He introduced Loloma to classical music and Frank LLoyd Wright.
In 1939, Loloma was invited to participate in a landmark exhibition of Native American art in San Francisco. This was the brainchild of Rene d'Harnoncourt, who as head of the Indian Arts and Crafts Board was tasked with promoting Indian art as part of the New Deal. At just 18 years old, Loloma was one of three Native Americans to be invited to paint installations in the Indian Court of the Federal Building on Treasure Island in the San Francisco Bay. The first exhibition of American Indian works of art was a resounding success, drawing more than one and a half million visitors to Treasure Island. This trip to San Francisco was an eye-opening adventure for the teenage Loloma. He remained in San Francisco for three months before returning home to Arizona.
Not long after the show closed, d'Harnoncourt and his colleagues began collaborating on an even more important exhibition, Indian Art of the United States, which opened in 1941 at New York's Museum of Modern Art (MoMA). Again, Loloma was one of three invited to paint murals. He and the two other artists were sent to study under Olaf Nordmark, who taught the young men fresco, secco and egg tempura techniques, broadening their mediums.
Charles soon married Otellie Pasivaya, who was also an artist from a neighboring Hopi town. Having built an impressive resume as a muralist, Loloma may have never turned to jewelry had it not been for WWII.
Loloma joined the US Army in 1942 and following the War, returned to Arizona in 1946, at which point the GI Bill and a scholarship enabled Loloma and his wife to continue their education. Both were accepted into the School for American Craftsmen (SAC) in western New York, where they studied ceramics from 1947-1949. Embarrassed that they had never used a potter's wheel, they went in early before school to practice their skills.
The couple discovered the thriving art scene in New York through trips to exhibitions and events. During one of these adventures they met Philip Morton, an instructor in metal design and proponent of the wearable art movement. Morton was Loloma's first introduction to this exciting new world. Morton had been a featured artist in an exhibition in Minneapolis titled Modern Jewelry under Fifty Dollars, similar to MoMA's 1946 exhibition of Modern Handmade Jewelry which featured "wearable art" by Alexander Calder and 26 other contemporary artists. Morton combined silver with ebony in his jewelry, a familiar touch in Loloma's later pieces.
A dated photograph indicates that Loloma was making jewelry as early as 1949; however, he and his wife remained focused on their pottery into the early 1950s. They were developing new techniques, materials and designs which they incorporated into traditional Hopi pottery. Though Loloma's pottery earned attention from collectors such as Ruth and Charles de Young Elkus, some of their fellow Hopi's criticized the couple's break with tradition. This left them disheartened enough to move away from their ancestral home.
Loloma and his wife initially moved to Tucson to work in the shop of anthropologist and art dealer Tom Bahti. Soon, at the recommendation of his old friend Lloyd Kiva New, the couple moved into New's Craftsman Court complex in Scottsdale which he opened to the public in 1956. It was in Scottsdale where Charles Loloma embraced jewelry making more fully as part of his practice. Early on, Loloma followed the traditional Navajo method of tufa-casting, which dates to the late 1800s. This method of silversmithing produced a textured surface on the metal. Loloma would then work in Hopi overlap designs. He would experiment with both of these techniques at several points throughout the 1960s and 1970s.
Frank Lloyd Wright's wife, Olgivanna, had Loloma make two bracelets for her around 1956. These early pieces, set with turquoise and coral, give a glimpse of the iconic cuff bracelets for which Loloma would become famous. Oligivanna Wright was instrumental in another early experiment that would later become a signature of Loloma's work. When a bracelet he cast for Mrs. Wright accidentally formed a hole in the metal, she insisted he just insert a stone rather than recast the piece. This resulted in a colorful hidden inlay of various hardstones like turquoise, lapiz and coral set beneath a silver tufa-cast "accident".
Loloma's personal evolution in jewelry design detoured from traditional Native American jewelry practices. As such, he again encountered resistance and hostility toward his work and was three times denied entry by the Gallup Inter-Tribal Indian Ceremonial. Later a reporter was told, "they said it wasn't Indian…maybe it wasn't. But it was Charles Loloma's work and Charles Loloma is an Indian."
Loloma and his old friend Lloyd New met with Charles Fahs from the Rockefeller Foundation, who later recounted Loloma's "highly personalized marketing skills, unusual craftsmanship,…personally evolved creative design approach (and) developing theory that Indian artists should have room to evolve…including their non-traditional experiences." As such, it was a given that Loloma be included in the Rockefeller Foundation-funded "Directions in Indian Art: A Conference on Arizona's Position on Southwest Indian Art Education" held on March 20, 1959 at the University of Arizona. There, Loloma expressed his belief that "the craftsman must make a revision…new forms can come out of Indian backgrounds. It is up to any craftsman to create new things which the buyer cannot resist."
This conference led to a six-week intensive summer workshop program that later became the Southwestern Indian Art Project in 1960, where many future artists of note attended. By 1962, Loloma and New had joined the founding faculty of the Institute of American Indian Arts (IAIA) in Santa Fe, New Mexico.
For years Loloma had dreamed of visiting Paris, and in 1963 his loyal cadre of benefactors facilitated a trip complete with letters of introduction. Soon, Loloma's dramatic and stylish pieces were being worn on Paris runways. A single long earring and a silver, turquoise, coral and ironwood bracelet were among the fresh and exciting new designs integrated into the world of fashion.
Charles Loloma understood instinctively what materials, color combinations, designs and constructions worked -- and what did not. Bold, with a balance of light and dark, his pieces often embraced unusual combinations of stones. Great attention was given by Loloma to ensure every piece fitted gracefully when worn. He believed bracelets should accent the apex of the hand, found by resting the hand on a surface and following the index finger to the wrist. Loloma favored triangular shield shapes with rounded corners. In earrings he preferred setting the wider portion at the top, claiming it made a woman's face "smile". He was known to persuade clients to purchase a different piece he felt better suited them, even if less expensive.
In 1964, Loloma built a home and studio close to his childhood home in Hotevilla. He became less interested in teaching, preferring to instead expose young jewelers to his own original and evolving jewelry designs. His wife Otellie chose to stay in Santa Fe and they ultimately divorced.
Charles Loloma may have returned to Hopi life, but the world did not forget him. In 1964, President Lyndon Johnson presented a Loloma necklace to Queen Juliana of the Netherlands and a pair of Loloma earrings to Imelda Marcos, First Lady of the Philippines.
In 1968 Loloma met Eveli Sabatie, young woman of French-Spanish descent who was raised in Morroco and educated at the Sorbonne in Paris in 1968. She studied jewelry-making by observing Loloma, who would soon become inspired by her ideas in turn. With limited funds, she used bleached bones and ivory to highlight the silver in her designs. Soon, Loloma was exploring Ancient Egyptian inlay work and color combinations. It was at this point he became fascinated with stacking stones, a now iconic Loloma design. The two collaborated for several years, parting ways in 1972.
In the 1970s, Native American turquoise and silver jewelry was at the height of popularity. Arizona Highways, a widely-read publication focusing on turquoise jewelry, frequently featured images of Loloma's distinctive designs which only further spread his fame. His schedule was relentless. After an important retrospective exhibition of his work at the Heard Museum in 1978, he held shows across 9 states and in Germany in 1979.
That year, at a show in Denver, Loloma met Georgia Voisard. A teacher on sabbatical, she was studying Native America. She moved to Hotevilla to become his partner and manager and they later married. Georgia encouraged Loloma to invest in finer quality materials. These pieces from the 1980s exhibit some of his most eye-catching, bold and colorful designs, arguably reflecting the zenith of his career. Lot 39 in the Important Jewelry auction of December 16 is such an example.
One September evening in 1986, Charles Loloma was injured in a devastating car accident. Unfortunately, he would never fully recover. No longer able to fabricate his own jewelry, he would instead carve lost wax molds to be cast. He still attended his exhibitions, but his mind would wander. In 1988 the Loloma Studio was closed. In 1991 the Wheelwright Museum presented Jewelry of the Southwest: Pueblo Tradition and Innovation, which highlighted the work of Loloma and another artist. Sadly, Loloma would never see this final museum exhibition. Just a few weeks after it opened, Charles Loloma passed away in Phoenix, Arizona.
Though it was never easy, Loloma successfully straddled two worlds. He was driven by a desire, deeply rooted in Hopi traditions, to create beauty; however, his strong belief that an artist needs to continually evolve is evident in the breadth of his work. Loloma had a rare combination of talent, charisma and social awareness that opened doors for him around the world. He earned the lifetime respect and admiration of many notable figures, and left a legacy to be treasured by those lucky enough to have a Loloma piece in their jewel box.
Important Jewelry
Featured in the Important Jewelry auction on December 16, 2020 is an exceptional gold, turquoise and lapis cuff bangle bracelet by Charles Loloma.