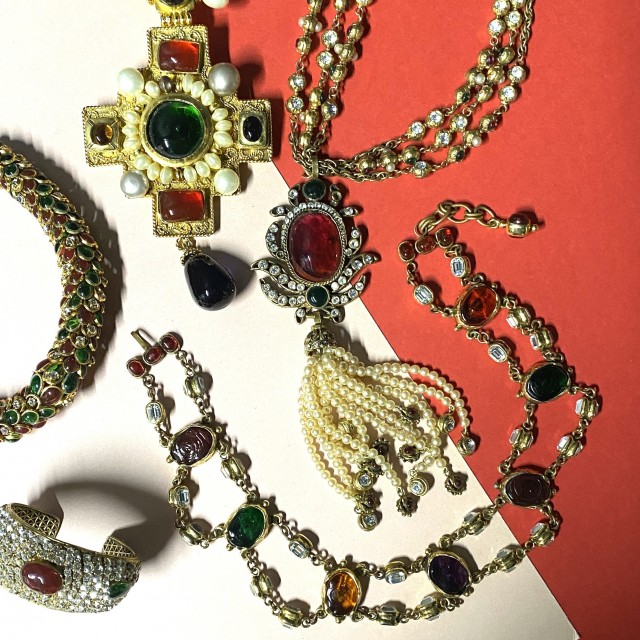 NEW YORK -- Gabrielle Bonheur "Coco" Chanel's contributions to the lexicon of fashion, which include iconic pieces like the tweed suit and the Little Black Dress, cannot be overstated. The designer's genius lay in her ability to adapt to changing tastes and changing times. Chanel recognized the need for unfettered clothing for the newly liberated woman -- women who were playing sports, riding bikes, driving cars, smoking and shopping unaccompanied. These customers needed ready-to-wear clothes that were fashionable, practical and thoroughly modern. Chanel's clients were shedding the stuffy notions of dressing that enshrouded their mothers' and grandmothers' closets. With their new active lifestyles came a desire for more whimsical and accessible jewelry.
To Chanel, the purpose of traditional fine jewelry was to display wealth -- it lacked style and practicality for a girl out in the world. She defined costume jewelry in the traditional sense as faux jewels designed for one specific outfit. Chanel insisted that "costume jewelry isn't made to provoke desire, just astonishment at most. It must remain an ornament and an amusement." Thus, she encouraged a mix of real jewelry and costume jewelry in bold arrangements atop her otherwise minimalist silhouettes.
Chanel had already defined these fashion principles when she turned to Susanne Gripoix, a fellow French designer who had recently inherited her mother Augustine Gripoix's successful glass studio, in the early 1920s.
Augustine launched her career making travel jewelry imitations of fine pieces belonging to royalty and the social elite. Unlike the kiln method, wherein glass is baked in a mold, Augustine employed her own technique of pâte de verre, and dubbed it 'Gripoix' glass. The 'Gripoix' method required molten glass to be hand-poured directly into molds with gilt added later. Still largely a company secret, the 'Gripoix' method required more time and labor but allowed for great clarity in the glass and much brighter, more diverse colors.
Like Chanel, Augustine was an early champion of costume jewelry. She was the first to coin the term when she made Gripoix glass jewelry for the costumes of popular French stage actress Sarah Bernhardt. Augustine was later commissioned by master couturier Paul Poiret to create the costume jewelry to match the outfits he was designing for Serge Diaghlier's 'Russian Seasons' ballet.
When Chanel approached Susanne Gripoix, she asked the jeweler to create something in the Byzantine style. Chanel's directive was for the piece to look authentic, as if it had "just been excavated." Susanne had already been experimenting with various techniques to create irregular glass 'pearls' to which she applied a mother-of-pearl sheen. She excelled at the task, far exceeding Chanel's expectations. This resulted in a partnership lasting until Chanel's death; Gripoix glass would become a signature identifier on the most sought-after and collectible pieces of Chanel costume jewelry.
Property from the Estate of Mrs. Henry Ford II
Showcased in the January 25, 2021 auction of Property from the Estate of Mrs. Henry Ford II is a wide selection of costume jewelry by Chanel and Gripoix.