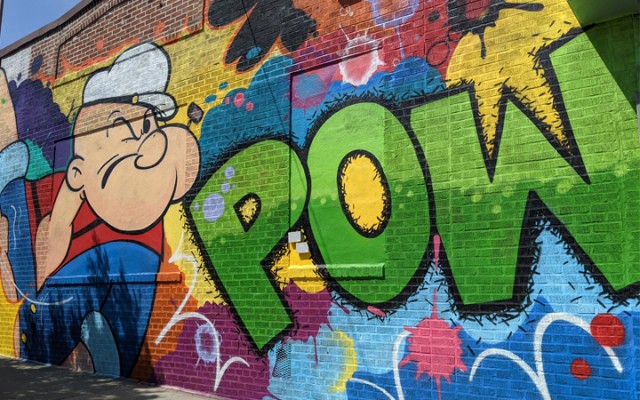 NEW YORK, NY -- Doyle and Hayloft Auctions were honored to have John Matos, aka CRASH, create a large-scale outdoor mural for the Hayloft Auctions warehouse in the Port Morris section of the Bronx. This new mural was executed over two-days on May 24-25, 2021. It was the second original work by CRASH commissioned by Doyle, the first being the 2017 mural for Doyle's nearby warehouse.
Born and raised in the Bronx, CRASH is a legendary fine artist whose work is collected globally. His work has been featured in numerous publications and exhibitions on graffiti history, including the landmark 2018 Beyond the Streets exhibition held in both Los Angeles and New York.
In addition to solo and group exhibitions of his fine art, CRASH has created murals for locations worldwide, as well as projects for Eric Clapton, American Apparel, Hello Kitty, the Twyla Tharp Dance Troupe, and many more. Works by CRASH can be found the permanent collections of the Brooklyn Museum, the New Orleans Museum of Art, and the Stedeljik Museum in Amsterdam, as well as major private collections.
Beginning with works on subway trains in the 1970s, CRASH was, by the mid-1980s, collaborating with Keith Haring and exhibiting at the fabled Sidney Janis Gallery. In 1983, he appeared in the genre-defining documentary film of the graffiti art movement, Style Wars. CRASH's Pop Art-influenced style embraces comic book and cartoon imagery, with high-key colors and bold, punchy lettering.
CRASH's mural for Hayloft Auctions is a fun, bright public art piece that enhances the Hayloft Auctions warehouse and our community. We invite you to drop by and enjoy the mural!
Hayloft Auctions
719 East 134th Street
Bronx, NY 10454