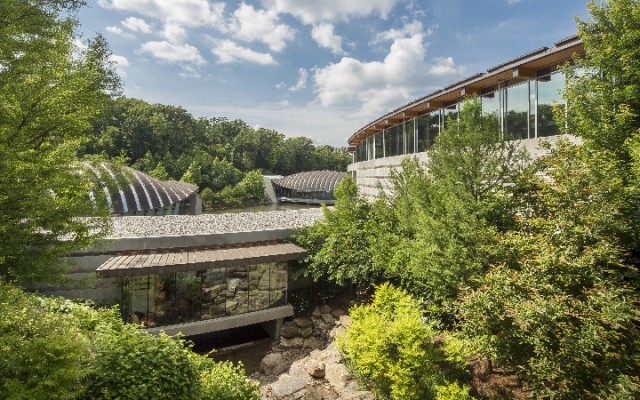 NEW YORK, NY -- Crystal Bridges Museum of American Art was built on 120 acres of Ozark hills in Bentonville, Arkansas. Bentonville is the home and headquarters of Walmart, which grew out of the 5&10 store Sam Walton opened there in 1950. It is Alice Walton, Sam's daughter, who oversaw the Walton Family Foundation's development of Crystal Bridges. The Museum opened to the public November 11, 2011. Its world-class collection covers five centuries of American art from the Colonial Era to today, and a feeling of collaboration and open-mindedness characterizes the institution. The 72 hours I spent in the museum, its campus, and the town of Bentonville felt downright rock 'n' roll.
Outside, the low, pillbug-shaped Museum building, designed by Moshe Safdie, is ringed by miles of hiking trails through natural springs and Ozarkian flora. Tucked beside one walkway is a dollhouse-size grotto made from boulders imported from west central Arkansas crusted with quartz crystals. I was stunned to learn both Arkansas' Ouachita Mountains and Brazil are home to some of the clearest quartz in the world.
The grounds are animated by nearly thirty outdoor sculptures and works, variously monumental, subtle, and surreal. I loved the 8:38 pm sunset I spent experiencing James Turrell's Skyspace, The Way of Color, commissioned by the museum in 2009, and my midnight hike to Leo Villareal's Buckyball, a pulsing, fluorescent light show at a far corner of the map.
The Museum's architecture extends no more than eight feet beyond the building's footprint: only the narrowest curb separates outside from in. The trails crisscross and figure-eight through the museum itself, and galleries inside glass-walled walkways over water further dissolve the divide between nature and art. Yet the museum itself isn't difficult to navigate: I couldn't always point to where I was on a floor plan, but I was never unsure of the right direction.
At Crystal Bridges, works by artists underrepresented in many museums (women, black and Latino artists, LGBTQ artists) are part of the cloth. Their inclusion is the norm, and enables the museum to pose questions that feel fresh and relevant to its visitors. Meanwhile, a recent article in The Washington Post asks whether Crystal Bridges is the most "woke" museum in America. I never got the feeling that Crystal Bridges had recently awakened to any 21st century realities. Rather, Crystal Bridges offers a masterclass in interpreting and communicating human ideas, old and new, through its art. Crystal Bridges doesn't pressure the viewer to get hip or die trying, it just exhibits what's right.
The Beyond: Georgia O'Keeffe and Contemporary Art
On view through September 3 is The Beyond: Georgia O'Keeffe and Contemporary Art. This exhibition juxtaposes thirty-six paintings by O'Keeffe with works by twenty contemporary artists. O'Keeffe's Radiator Building—Night, New York, co-owned by Fisk University in Nashville and Crystal Bridges, and the soft Cebolla Church were favorites of mine, but the real thrill was in threading connections between O'Keeffe's work and the kaleidoscopic, diverse works from today's artists. The show is arranged thematically, but avoids weighing works against each other to demonstrate which has more or less of any quality. Throughout, Georgia O'Keeffe's pictures are clearly attributable from across the room, making each new artist's work stand out.
I gravitated towards pattern: Britny Wainwright's Construct, Cover, Cut Triptych assembles thick slabs of clay like a tabletop folding screen made from cardboard, each bent slice glazed with spray-hazy flowers and dashes. Wardell Milan's gigantic, mixed-media collage stages a deeply layered and colorful landscape of delicate starfish-shaped flowers, streams, and rock, from which three powerful female forms emerge, sizing up the viewer with slightly challenging eyes. Three paintings by Monica Kim Garza, embellished with glittered flowers, puffs of cotton ball cigarette smoke, and foamy cut-outs, show nude, brown-skinned women, interrupted: one sets a table, another pair is caught painting, and two more are splayed partway through a leaping ping pong match. Bright pinks, reds, blues, and yellows connect these works to Anna Valdez's Study-ing, a pretty, large-scale still life of paintbrushes, art books, and fabrics. Wall text points out Valdez' background in anthropology and archaeology; her other painting showcases a deer skull. I lingered with Molly Larkey's tall, articulated sculptures, made from linen-wrapped aluminum geometry painted with squares and stripes of color: they were company, and reminded me of humanoid, duneside sculptures from Cape Cod.
Bentonville, Arkansas
Northwest Arkansas is one of the fastest-growing areas in the country, largely powered by Bentonville. The town's restaurants were fantastic: I had a memorable barbecued pork jowl sandwich, and fabulous vegetarian tacos, and loved the Bentonville Brewing Co.'s Amber Ale, although the inventive cocktail scene is thriving, too. I visited two ice cream shops several times (lemon ice box pie and "Woo Pig Chewy," named after the University baseball team's war cry: "Woo Pig Sooie"). I had watermelon from Walmart: an underground stripe of limestone native to the foothills of the Ozarks purportedly gives Arkansas some of the sweetest-tasting watermelons around.
The Museum of Native American History, just over a mile west of the town square, offers a rich and unusual array of art and artifacts from the Paleo period through modern-day. I adored the museum's Wajaje Winter Count, a stretch of painted linen documenting one important event from each year, 1758-1886, of the Southern Teton Lakota Tribes. I was jarred by the style of an early 20th century Osage woman's wedding outfit: it was modeled after a military uniform presented in 1803 by Thomas Jefferson to the Osage Delegation to Washington, and featured a long red and blue coat decorated with gold rope and fringed with epaulettes.
Last, through the back of that original 5&10 store I visited the Walmart Museum, which tells Sam Walton's story in objects, wall-size timelines, and interactive video screens. What felt so radical about Crystal Bridges and the town was reflected in "Mr. Sam's" legacy and forward-thinking.
Crystal Bridges Museum of American Art

600 Museum Way, Bentonville, AR 72712
Tel: 479-418-5700
Web: CrystalBridges.org
Admission is free/sponsored by Walmart; special exhibitions may be ticketed
Museum of Native American History

202 SW O Street, Bentonville, AR 72712
Tel: 479-273-2456
Web: MONAH.us
Admission is free; donations are suggested and appreciated
The Walmart Museum

105 North Main Street, Bentonville, AR 72712
Tel: 479-273-1329
Web: WalmartMuseum.com
Admission is free
IMAGE CAPTIONS
Georgia O'Keeffe
Radiator Building -- Night, New York, 1927
Oil on canvas, 48 × 30 inches
Alfred Stieglitz Collection, Co-owned by Fisk University, Nashville, Tennessee, and Crystal Bridges Museum of American Art, Bentonville, Arkansas
Photograph: Edward C. Robison III
Georgia O'Keeffe
Abstraction, modeled 1946, cast circa 1979,1980
White lacquered bronze, 6 × 35 × 17 inches
Courtesy Crystal Bridges Museum of American Art, Bentonville, Arkansas
Georgia O'Keeffe
Jimson Weed / White Flower No. 1, 1932
Oil on canvas, 48 x 40 inches
Courtesy of Crystal Bridges Museum of American Art, Bentonville, Arkansas
Photograph: Edward C. Robison III
Georgia O'Keeffe
The Beyond, 1972
Oil on panel, 30 x 40 inches
Georgia O'Keeffe Museum, Gift of The Georgia O'Keeffe Foundation (2006.05.460) © Georgia O'Keeffe Museum
Photograph: Georgia O'Keeffe Museum
Anna Valdez
Deer Skull with Blue Vase, 2017
Oil on canvas, 42 × 40 inches
Courtesy of the Artist and Hashimoto Contemporary, San Francisco
Photograph: Hashimoto Contemporary