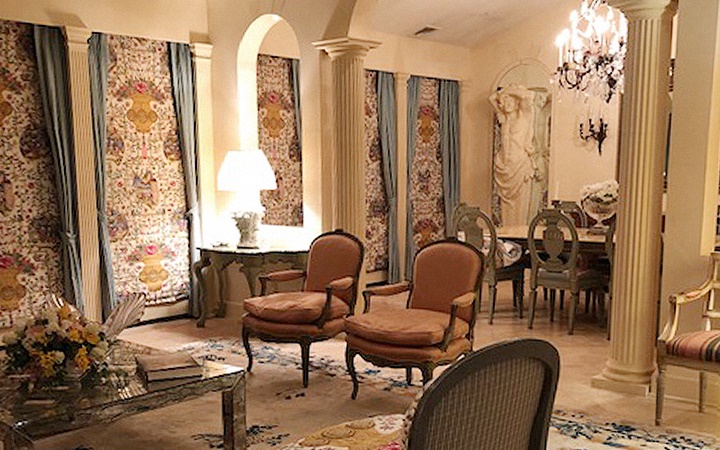 NEW YORK, NY -- A good interior designer leaves their mark on a space while allowing the client's vision to shine. That was the talent of New York designer David Barrett (1923-2008). Barrett was a society decorator who counted among his friends the likes of Claudette Colbert, Gypsy Rose Lee, Doris Duke and Barbara Hutton. It is no surprise that his spaces were as theatrical as the people who surrounded him. A residence he created on Long Island perfectly matched his client's vision: a grand space filled with luxurious textures and bold colors; a comfortable and inviting home. Barrett was able to maintain this delicate balance, as evidenced by the skillful way each object contributes to the overall feeling of the space.
A Surrealist giltwood mirror by famed 20th century Mexican artist Pedro Friedeberg paired with a scrolling Italian Rococo style painted wood console set the tone as soon as the front door opened to the spacious entry hall. Barrett added an American Classical settee to ground the space, its carved and parcel gilt scaly dolphins winking at the numerous carved hands on the fantastical mirror adding a touch of whimsy for the discerning clients. The mix of periods gave a layered look, as if the family built the space over many years of searching for the perfect new and vintage pieces.
Inspired by France, Barrett chose a Neoclassical style marble top table with gilded winged griffins for the stately living room, where it sat in conversation with graceful Louis XV style armchairs and a Hollywood Regency style mirrored low table. The main wall was hung with a large eight-fold screen painted with a country scene of figures at rest. Coupled with a pair of patinated and gilt bronze branch form lamps, this accent wall helped maintain the balance between formality and comfort. Barrett was a fabric connoisseur -- he chose to cover a pair of Louis XV style bergeres and the matching window shades in a vibrantly colorful printed Chinoiserie pattern
Just off the living room, the dining room was a set designed to provide drama for elegant dinner parties. The painted wood extension dining table was surrounded by a set of eight Italian Neoclassical style painted wood dining chairs with oval backs and urn splats. The French Provincial style buffet with a Louis XVI style painted wood mirror above was flanked by a pair of oversized Baroque style term figures set against mirrored niches that would be right at home in Imperial St. Petersburg.
Additional spaces carried Barrett's signature drama throughout the home, where a contemporary faux snake skin clad table could share space with a pair of Indian carved wood side chairs and a Moroccan mother-of-pearl inlaid mirror. Each piece was clearly selected with care, able to stand on its own while bringing the whole home together beautifully.
Doyle at Home
A special section of the Doyle at Home auction on March 25, 2021 will showcase elegant furniture and decorations from this Long Island home designed by David Barrett, comprising lots 107 - 133.