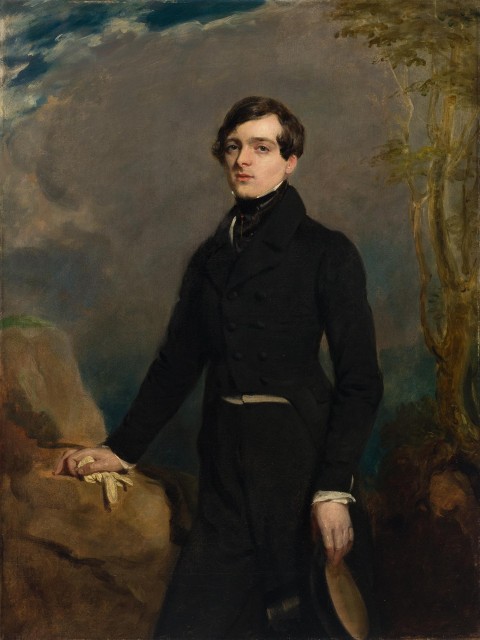 NEW YORK, NY -- An early portrait by the great Romantic master Eugène Delacroix (1798-1863) of his nephew, Charles de Verninac, is a highlight of Doyle's auction of Old Master Paintings on October 31, 2018.
Charles-Etienne-Raymond-Victor de Verninac was the only child of Delacroix's sister, Henriette de Verninac, well known to connoisseurs of French art from her portrait by Jacques Louis David in the Musée du Louvre. Only five years younger than Delacroix, Charles grew up with the artist acting as his informal guardian and honorary older brother. He received a fine education in Paris and graduated from law school there before entering the French diplomatic service in 1829, a career choice that sent him on various international missions.
In 1834, as he was returning to France from a posting in Chile, he contracted yellow fever while crossing the isthmus of Panama. When his ship arrived in New York, the city was in the midst of a particularly virulent epidemic of cholera, during which the municipal graveyards were literally overflowing. Amid great fear of further contagion, Verninac's ship was held in quarantine in the port, and it was there that the young man died on May 22, 1834. This tragic event was a grievous blow to Delacroix, who, after his sister Henriette's death in 1827, had no other close family. Until his own death in 1863, the artist kept three portraits of his beloved nephew, one of which hung at the head of his bed.
Charles de Verninac was buried in New York harbor; however, a plaster death mask, now in the collection of the Delacroix Museum in Paris, was made for his family. His personal effects, including this portrait, were apparently sold to pay for his last expenses. Thus, the painting is very likely the first painting by Delacroix to come to North America. It has been in American collections ever since.
The painting is an intimate portrayal of the young diplomat, made during the winter of 1825-1826. It is unsigned, as were all of Delacroix's family portraits; and it was such a significant testament to his uncle's affection that Charles took it with him on his diplomatic travels; as noted above, it was among his possessions when he died. Here Charles is shown in formal dress, holding a top hat in his left hand and a pair of English chamois driving gloves in his right. With his curls brushed forward in a Byronic manner, he appears about to speak; yet he carries himself with the dignity and refinement of a French diplomat. The rock grouping on which he rests his right hand appears to be a formation located on a country property at Augerville, fifty miles south of Paris, which belonged to Delacroix's cousin and which he and his nephew often visited as children. This same arrangement can be seen in an oil sketch by the artist made in 1854 and now in the Thaw Collection (owned jointly by the Morgan Library and the Metropolitan Museum of Art), Landscape with Rocks, Augerville.
The paint-handling in this sophisticated work is greatly influenced by English brushwork and glazing techniques, absorbed, no doubt, during Delacroix's trip to England in 1825 – only months before the portrait was painted. Sometimes the artist's touch here approaches the look of watercolor – as in the tree at right – an effect created by the use of gum Arabic, a common binder for watercolor. The work remains on its original stretcher made by Haro, from whose shop in Paris Delacroix bought most of his art supplies. The frame, too, is of the period and may be original.
At this early stage in Delacroix's career we can already define him as a Romantic painter. He has posed his nephew, not in an interior with a globe, as an 18th-century artist might have done, but in a brooding landscape with a darkening sky and back-lit clouds behind him, suggesting poetic aspirations and future voyages. The virtuosity of the brushwork, although somewhat restrained by the conventions of formal portraiture, is nevertheless full of shimmering movement and subtle highlights, which make this piece truly a "speaking likeness" in the tradition of Europe's greatest portraitists.
Old Master Paintings

Auction Wednesday, October 31, 2018 at 10am
Exhibition October 27 – 29
Ferdinand Victor Eugène Delacroix
French, 1798-1863
Portrait of Charles-Etienne-Raymond Victor de Verninac (1803-1834), the Artist's Nephew
Oil on canvas
23 3/4 x 17 7/8 inches (60.4 x 45.8 cm)
Provenance:
The artist
Collection of the sitter, his nephew
Apparently sold, along with other personal effects, by the Public Administrator of New York, where the sitter died in 1834
Private collection, Connecticut
Private collection, New York
Published:
James H. Rubin, Eugene Delacroix's Portrait of Charles de Verninac, 1825-26, Nineteenth-Century Art Worldwide, New Discoveries, Vol. 5, 1 (Spring 2006)
Eik Kahng, Delacroix and the Matter of Finish (New Haven & London, Yale University Press, 2013), p. 69, fig. 6
Indiana University Art Museum Bulletin, Spring 2006, illus.
Exhibited:
Bloomington, Indiana University Art Museum, 2006
Northampton, Smith College Art Museum, 2006-07
Estimate: $300,000-400,000
To be auctioned at Doyle on October 31, 2018
The Metropolitan Museum of Art

Currently on view at the Metropolitan Museum of Art is the first comprehensive retrospective devoted to Eugène Delacroix ever held in North America. The exhibition, a joint project with the Musée du Louvre, illuminates Delacroix's restless imagination through more than 150 paintings, drawings, prints, and manuscripts – many never before seen in the United States.
DELACROIX
On view through January 6, 2019
The Met Fifth Avenue
1000 Fifth Avenue, New York, NY 10028