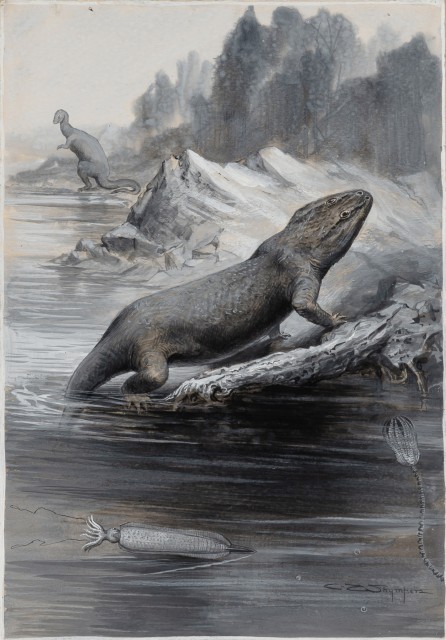 NEW YORK, NY -- The English naturalist Henry Knipe described his 1905 book Nebula to Man as a "bold experiment" -- certainly an accurate assessment of this unconventional work. The text explores natural history, beginning with the nebular hypothesis, but this is no ordinary work of science. Rather than write in standard prose, Knipe cast his descriptions in rhyme. According to Knipe, the most "appropriate form" to exhibit his chronicle of creatures was a fusion of artistic language into paleontology. Visual illustrations of these creatures stand alongside Knipe's poetry, supporting Knipe's verses and documenting the perception of natural history in the early twentieth century. Although Nebula to Man contains various illustrations, only Ernest Bucknall, John Charlton, Lancelot Speed, Edward Adrian Wilson, Charles Whymper and Joseph Smit produced works specifically for Knipe's publication.
Two original works on paper created for Knipe's poetry, A Triassic Labyrinthodont, by Charles Whymper (1853-1941) and Iguanodon by Joseph Smit (1836-1929), will be auctioned at Doyle on July 29, 2021 (Lot 79 and Lot 69).
Born in London, Charles Whymper was an illustrator and painter formally educated at the Royal Academy Schools. His works were exhibited at the Royal Academy, Royal Society of British Artists, Royal Institute of Painters in Watercolors, the New Gallery, and the Fine Art Society in London. By 1909, Whymper published Egyptian Birds For the Most Part Seen in the Nile Valley, his own scientific collection of illustrations and descriptions. The same year, he was elected to the Royal Institute of Painters in Watercolors. Whymper's Triassic Labrynthodont demonstrates fine detail as he features a labyrinthodont crawling onto shore with a belemnite underwater in the foreground. Whymper's illustrates Knipe's concept of life emerging from the sea and moving onto land:
"Browsing on weeds in shallow streams and bays,
Lung-fishes roam, as in Devonian days -
A dwindling race, from whose depleted ranks
Had come the amphibian life along the banks
Of Carbon seas and streams…
Amphibian life that groped through Carbon slimes,
And grew abundant in the Permian times,
With more developed forms slow onward presses,
And many giants Newt-like now possesses." (48)
Whymper's watercolor compares sea and land life, by featuring the labyrinthodont exploring new terrain while the belemnite is confined to the ocean; all the while, Knipe emphasizes the "slow onward" evolution of sea creatures that gradually develop "Newt-like" qualities.
Dutch zoological illustrator Joseph Smit was born in Lisse. In the 1870s, Hermann Schlegal commissioned Smit to produce lithographs of birds of the Dutch East Indies for the Rijksmuseum van Natuurlijke Historie in Leiden. For most of his career, Smit produced illustrations for scientific books chronicling animals, particularly birds, around the world. Smit's work appeared in The Beautiful and Curious Birds of the World by Charles B. Cory, Idle Days in Patagonia by William H. Hudson, and Extinct Monsters by Henry Hutchinson. Smit's early Cretaceous Iguanodon appears grasping a tree as it enjoys a leafy meal surrounded by an impressive prehistoric landscape. Knipe writes beside Smit's illustration of the iguanodon:
"Upon Britannia's south uplifted lands
Which stretch afar, with Francia joining hands
A large freshwater lake now wide extends…
As cemetery it serves for far and near,
Whither, as hearses, rushing currents bear
Much gruesome fright; and on its floor
Are shot the bones of many a dinosaur:-
Of big Iguanodons, that far around
In upland meads and wood a home had found;
And other reptile life, that as it dies,
May chance to fall within its tributaries.
Here little creatures of the mammal race
Too find at times a final resting place." (77-78)
Here, Knipe discusses geographical transformation during the Cretaceous period and its effect on species inhabiting the land, including the iguanodons. Flooding during the Cretaceous Period established southern England as a "final resting place" for archaic life in the region.
Iguanodon and A Triassic Labyrinthodont excellently demonstrate Smit and Whymper's artistic dedication, not only in producing images of dinosaurs, but placing the viewer into the prehistoric age with their environmental detail. These meticulous evocations of ancient life reveal both the creativity and the logic that these brilliant artists brought to their portraits of magnificent dinosaurs, which inhabited the earth eons before they grazed their brushes to paper.
-- Katherine "Katie" Rao, Paintings Intern
Doyle at Home
Auction Thursday, July 29, 2021 at 10am
Exhibition Monday, July 26 - Wednesday, July 28, Noon-5pm
Featured in the July 29 auction are A Triassic Labyrinthodont by Charles Whymper (British, 1853-1941) and Iguanodon by Joseph Smit (Dutch, 1836-1929).