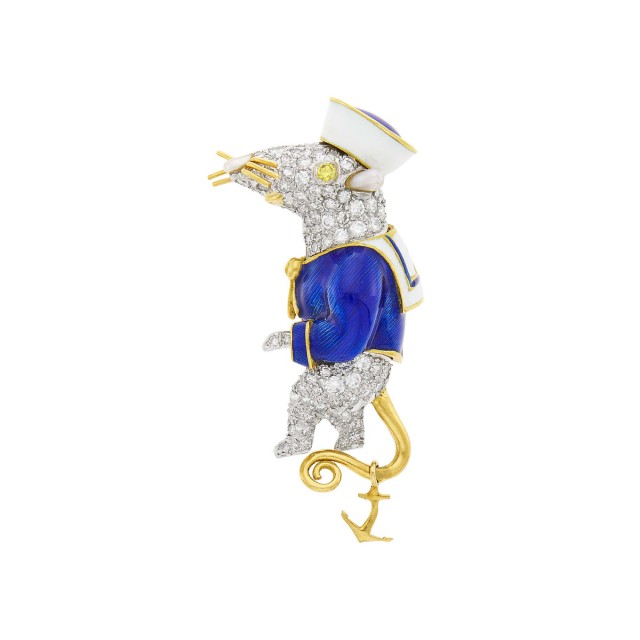 NEW YORK, NY -- Donald Claflin's jewels are brimming with storybook whimsy. His most sought-after designs utilized the wealth of resources available to him during his tenure at Tiffany & Co. in the 1960s and 70s. Though perhaps less well-known than Jean Schlumberger, his predecessor in both years and design aesthetic, Claflin's creations are unique and remarkable in their own right.
Born in 1935 in Massachusetts, Donald Claflin exhibited a lively childhood imagination, which led him to study at New York City's Parsons School of Design. From there, Claflin went on to work as an illustrator and textile designer in the city. Eventually, his inspired works and enthusiastic disposition caught the eye of noted jeweler David Webb. Bright enamels, top-quality diamonds and colorful gemstones in boisterous designs were the cornerstones of Webb's look and appealed to Claflin; his animal bangles were in high demand among New York City's elite circles. Claflin's years working for Webb established him as a sought-after designer in his own right.
The late 1950s and 60s brought a welcome shift toward bright jewelry styles after the simplicity of the 1930s and 40s. Concurrent to Webb's ongoing success, Jean Schlumberger was experiencing his own triumphs at Tiffany; his brightly-colored paillonné enamel bangles were enthusiastically worn by the First Lady herself, Jacqueline Kennedy. Hoping to expand the average jewelry buyer's routine of "one carat diamond engagement rings, circle pins, and the wedding registry," Claflin was brought in to Tiffany & Co. in 1965. His hiring was meant to build on Schlumberger's success attracting a younger and more vibrant clientele.
Already well-known from his time at Webb as an especially creative and exuberant designer, Claflin now had the extensive inventory of exceptional-colored stones, materials and capital of Tiffany & Co. at his disposal. He began outsourcing his more intricate designs to the premier jeweler pair extraordinaire Carvin French for production. They were in large part responsible for Claflin's success at Tiffany. Carvin French were considered the very best in handmade jewelry, producing jewels for Fulco di Verdura, Raymond C. Yard and Ralph Esmerian in the 1950s and 1960s.
Claflin's creations pushed the limits of design – the possibilities were limited only by his own imagination. Claflin's designs lacked the surrealism Schlumberger was known for; instead, he preferred to draw inspiration from the joy he found in everyday life. His works feature the brightest pinkish-red juicy rubies to encrust strawberry brooches; fluted royal blue lapis as the carved bodies of sea creatures, their pyrite flecks alluding to sparkling in the underwater sunlight; red python leather bangles topped by rainbow centerpieces; a dancing enameled walrus brooch sporting a diamond mustache; and charming dragon brooches clutching their cabochon pink gemmy treasures. Other popular themes included Peruvian motifs and Asian acrobats, as well as characters based on Claflin's favorite children's books.
The stories of Claflin's childhood – Mother Goose, Stuart Little and Alice in Wonderland – quickly made their way into Claflin's creations at Tiffany. This sailor mouse brooch is a superb example of Claflin's storybook inspirations. The brooch was designed in 1966, one year after Claflin was hired at Tiffany, and manufactured by Carvin French. It depicts the central character in the 1945 children's book "Stuart Little" by E.B. White, in which a New York City mouse traverses to Central Park and participates in the miniature boat races. Claflin would have been 10 years old at the time of the book's release, so it is no surprise the story of the small mouse with a big personality adventuring in the city would capture his heart. Their journeys are somewhat mirrored; from the book: "I'm not tall enough to be noticed, thought Stuart, yet I'm tall enough to want to go to Seventy-second Street." Claflin would go there and farther.
Claflin expanded his list of successes at Tiffany & Co. throughout the 1960s and 70s. In 1968 he was the first to utilize tanzanite – a recent discovery by Henry "Harry" B. Platt, who was the great-grandson of Louis Comfort Tiffany and Tiffany chairman at the time. Tanzanite would become incredibly popular throughout the next few decades due to Tiffany's marketing and Claflin's initial designs. Other well-known designs from Claflin include his "criss-cross" and "love" themed jewelry.
In 1977, amidst rumors of artistic differences, Claflin moved to Bulgari to continue his work. Unfortunately, he was only there for 3 years before his untimely death at the age of 44. In a relatively short time period, Donald Claflin created jewels at once contemporary and timeless. His expert craftsmanship, use of materials and whimsical themes produced delightful creations for Tiffany, but they remain elusive on the secondary market. Unlike Schlumberger, Peretti, Picasso and Gehry, Claflin was not allowed to sign his pieces while working at Tiffany. As such, we must discover them only by recognizing his enduring style.
References:
Pictured in Bejewelled by Tiffany: 1837-1987, p. 88, and American Jewelry: Glamour and Tradition, p. 185, figure 179
Tiffany's 20th Century: A Portrait of American Style, and Tiffany's Jewels, both by John Loring
Important Jewelry
Featured in the Important Jewelry auction on April 12, 2022 is a delightful Gold, Platinum, Enamel and Diamond 'Stuart Little' Sailor Mouse Clip-Brooch by Donald Claflin for Tiffany & Co.