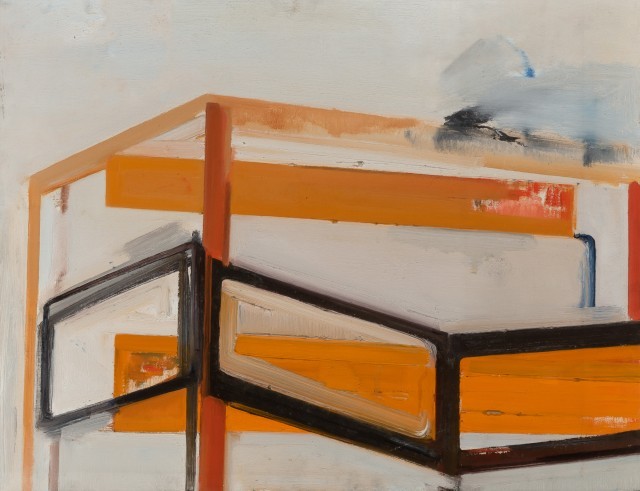 NEW YORK, NY -- I refer to this quote from Donald Judd often because it's a personal favorite:
"The main thing wrong with painting is that it is a rectangular plane placed flat against the wall."
With this 1955 untitled work, Judd seems to be showing us – or maybe himself – the limitations of painting and how he intended to transcend them. Like a plot for a prison break, Untitled finds Donald Judd mapping out a plan of escape into the third dimension.
By 1959, Judd was writing challenging, confrontational art criticism for ArtNews, Art International and others, yet in the early 1950s he was simply another abstract painting student experimenting at the Art Students League. For part of this time, Judd dated another aspiring artist named Alice Payne (later Alice Kjellgren). He let her choose her favorite painting from his studio as a gift and she chose this striking, untitled work, which hung in her Manhattan apartment until she passed away in early 2021. Ms. Payne's selection was prophetic in a sense, as the untitled painting would prove seminal to the monumental artwork to come.
Seemingly floating in hazy air, Untitled depicts black-border rectangles supported by orange stilts. I'm sure like many New Yorkers, Judd studied construction sites and watched as the steel skeletons of skyscrapers began life as spindly frames. Similarly, Judd's structure here appears as an architectural framework, one that could grow into his well-known Stack pieces. At times the background pigment – white, dirty grays, touches of blue – drift in and invade those orange and black forms, the last vestiges of abstract painting still hanging on somehow, a reminder of where Judd was escaping from. Hindsight is 20/20, but the painted forms feel like steel and iron. The traffic-cone orange pigment would repeat in many of his reflective, sleek aluminum sculptures to come.
Somehow this special painting, this anachronism that shares very little with anything Judd painted before or since, has a twin in the permanent collection of the Judd Foundation. It was included in the landmark 2018 ICA Miami exhibition "Donald Judd: Paintings," the only major retrospective of Judd's rare early two-dimensional work. Both untitled works, created in 1955, do things Judd's other paintings do not: they give us background, middle-ground, foreground. They are painterly; there's a warmth to the application that evokes emotion, something wholly unknown in Judd's mid-career work. If you are surprised to see paintings by Donald Judd, you are not alone. All but approximately six of the 53 works included in the Paintings exhibition are with the Foundation's permanent collection. Many have not been seen since their creation, tucked away in one of his Marfa, Texas buildings. There are simply very few opportunities to experience a Donald Judd painting outside an institutional space.
Other works from 1955-56, included in the ICA Miami exhibition, retain elements of Judd's brief period creating landscapes, reminiscent of Richard Diebenkorn's aerial map-like works. By 1959 or earlier, Judd began rejecting dimension and achieving flatness. Any remaining hint of spatial illusion was excised; these later paintings are focused on color and texture alone. By 1961, he was employing wax and sand to create volume to the surface. By 1963, painting had all but ceased. The forms hinted at in Untitled would begin to be rendered by fabricators to Judd's exacting detail.
With these 1960s works, Judd continued painting, briefly, in this new direction where organic curves would wind their way through a block of flat color. These paintings were a departure from what came before them, and the two untitled 1955 works were evidently never revisited, at least in two dimensions. If these two prototypical works were indeed the epiphany for Judd that they appear to be, then it would make perfect sense why we never see them again as paintings. Judd would show us these forms again, but they would be given new life as sculpture, and those sculptures would revolutionize Contemporary Art.
20th Century Abstraction
Auction Wednesday, October 6, 2021 at 11am
Exhibition on view October 2-4
Lot 6
Donald Judd
American, 1928-1994
Untitled, 1955
Signed JUDD on the stretcher; dated and inscribed J5 55 on the reverse
Oil on canvas
20 x 26 1/8 inches (50.8 x 66.3 cm)
Provenance:
The artist
Gift of the artist to Mrs. Alice Payne Kjellgren, circa 1955
Thence by descent to the estate
Estimate: $200,000-400,000