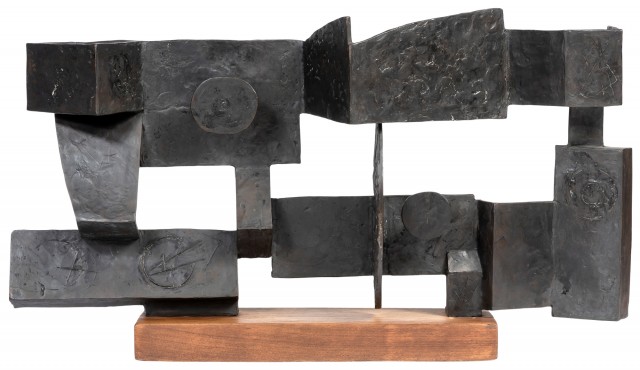 NEW YORK, NY -- Working out of her Manhattan studio at 41 Union Square in 1966, Dorothy Dehner was in her mid-sixties and little more than ten short years into her career as a sculptor. Created in that same year, Northern Wall #2 is an abstracted representation of the view from the north wall of her studio. The horizontal form is broken up into different planes, mimicking the incongruous, cluttered urban landscape. Surfaces are textured like stucco, with arcane emblems carved into the panels like the graffito of Pompei. The act of an artist sitting in one's studio and simply creating what they see does not seem at all shocking or unusual; it's perhaps even mundane. But for Dehner, arriving to this period where she could simply create was a victory hard-won, the result of a lifelong path filled with remarkable struggle.
While studying at the Art Students League under Jan Matulka in the mid-1920s, Dehner met fellow student David Smith. Smith would go on to become one of the most important and beloved sculptors of the Abstract Expressionist movement, if not of 20th century art in total. Dehner and Smith were married in 1927 and remained together until 1951; a marriage marred by Smith's unstable behavior. Like Elaine with Willem de Kooning, Lee Krasner and Jackson Pollock, Dehner was unfairly relegated to the shadows cast by husband and his career – not only by the art world, who have never been shy in their neglect of women artists – but by Smith himself, who would neither acknowledge nor tolerate the incredible talent Dehner possessed.
Dehner, who lost her father at ten years old, then her mother and sister only a few years later, would prove far too strong to be constrained by Smith, or anyone else. Surviving the Great Depression, witnessing the rise of the Third Reich, Dehner persevered through the most horrible moments of the 20th century. She studied, traveled and created all the while. Ending a young career as an actress and transitioning to fine art in the early 20s, Dehner took cues from her cherished aunts, who had become surrogate parents. Dehner was encouraged to travel to Europe, which she did on her own, and in so doing discovered Picasso, Art Deco, and much more new, revolutionary art as it was being made in Paris – long before many of her fellow Americans would know of its existence. Dehner returned to New York and began painting and drawing feverishly, creating representational works which would embrace the new movements of Cubism and Expressionism that she came upon in her travels. She happily took David Smith along as a traveling companion on future excursions, and he benefited tremendously from the guidance she provided; the art and the artists she introduced him to. Smith was far too focused on his own career to reciprocate, leaving Dehner confined to their remote farm – which did not receive running water until 1945, almost ten years after it was purchased. "She lived in a corner and he lived in the world," artist and neighbor Herman Cherry would comment.
"I was his mentor," Dehner would say of her husband. "I took him to Europe and opened his eyes." Their travels together were remarkable – Gaugin inspired excursions to the Virgin Islands, visits to Crete and train rides through Russia. Dehner and Smith would spend six months together in Greece, with Dehner sketching furiously all the while, immersed in Greek art and architecture, which deeply informed her work. Yet, when back together in upstate Bolton Landing, living on a vast former fox farm, Dehner often found herself too exhausted from the struggles of an austere rural lifestyle and Smith's mercurial behavior to paint and draw. She did persevere, creating grimly titled series such as Dances of Death and her Damnation Series, Dehner's reflections on a world in turmoil, with her private life in crisis. One oddly whimsical series from this era, Life on the Farm, which Dehner produced from 1940-1945, is a collection of serene, folksy Surrealist images, striking a unique balance between Grant Wood and Rene Magritte. From this series, the 1941 work David Reading about Himself depicts both Dehner and husband peacefully reclining in their den, Smith reading ARTtnews -- begging the question in hindsight if this wasn't Dehner taking a passive aggressive poke at Smith's narcissism. Sadly, Smith had a bad habit of encouraging Dehner, a gifted and insightful writer, to title his works – then later refusing to acknowledge her contributions. Smith derided her gifts even as he was taking influence from them. "I wasn't exhibited until I left him," she would comment.
The marriage officially ended in 1951, and to look at Dehner's accomplishments within just the next brief few years is not unlike watching a dragster tear down a straightaway at an impossible rate of speed. Earning a degree from Skidmore, Dehner began teaching at Barnard and elsewhere. She entered the famed Atelier 17, studying under Stanley William Hayter and befriending Louise Nevelson. It was at Atelier 17 that Dehner learned lost wax casting, the method in which she would create much of her sculpture that was to come. Though a rarely-used sculpting method at the time, Dehner preferred the process the wax casts allowed – to braise surfaces creating texture, to assemble shapes and distort the picture plane. By the mid-60s, Dehner was casting massive wall reliefs, by the '70s she'd begun sculpting with wood – in the '80s Dehner was building totems of Corten steel. With strong representation from Twining Gallery, and steady institutional support, including a 1965 solo retrospective at the Jewish Museum, Dehner had come to be recognized as one of the great Post-War sculptors. Yet the patriarchy always found a way to dehumanize: In 1986, Times critic John Russell embarrassingly referred to her as Mrs. David Smith in a review. Through it all, Dehner remained a joyous person – witty, charming, delightful. A brilliant writer, a trustworthy friend, and a beloved member of the art community. Upon Dehner's death at 92, her memorial was held at the Art Students' League.
Northern Wall #2 was included in a 1984 retrospective, Dorothy Dehner and David Smith: Their Decades of Search and Fulfillment, which began at the Jane Vorhees Zimmerli Art Museum in New Brunswick, followed by the Skidmore College Art Gallery. If Dehner had to yet again be attached to Smith, at least this time she got top billing. Northern Wall #2 is a collection of forms that are somehow both chunky but fluid, heavy but playful; a portrait of a bustling city. Through the windows of negative space, one can feel the wind gusts that punch their way past the nearby Flatiron Building. The flat planes sit angled against each other, and one can imagine the echo of ambient city noise bouncing between their burnished surfaces, expanding across an abstracted horizon.
Dorothy Dehner took her first trip to Europe – her first real trip anywhere – on her own, without a chaperon. A young woman traveling alone in the 1920s was not only frowned upon, it was absolutely perilous. Dehner chose to go alone because she knew she could overcome any travail she'd experience, because she did not want to be slowed by a companion. And now, in 1966, alone in her studio, Dehner could finally find that same peace and reassurance in the presence of solitude. Finally, to sit, to use her gift unencumbered, without fear, to gaze upon the Northern Wall.
Mid-Century Abstraction Featuring Works from the Estate of Violet Werner
Auction Wednesday, March 17, 2021 at 11am
Exhibition March 12-15, Noon -5pm, and by appointment
Lot 1057
Dorothy Dehner
American, 1901-1994
Northern Wall #2, 1966
Signed and dated Dehner 66
Bronze with brown patina
16 1/4 x 32 7/8 inches (41.3 x 83.5 cm)
Estimate: $15,000-25,000