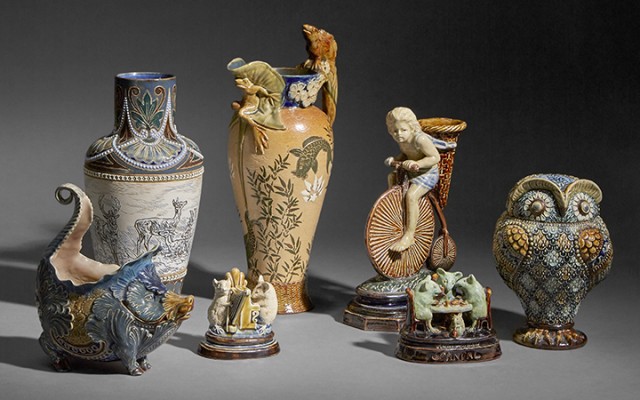 NEW YORK, NY -- The Doyle at Home sale on March 1, 2023 features twenty-seven exceptional examples of Doulton pottery from The Flower Family Collection. Most of the examples are known as Doulton Lambeth, referencing the neighborhood Lambeth in London where the Doulton factory was located. The pioneering pottery studio recruited talented artists and designers to create unique, hand-crafted art pottery that emphasized beauty, utility and quality.
Beginning in the 1860s, Doulton turned to more artistic endeavors to cater to the demand for new styles. Simultaneously, the Industrial Revolution led people to lament the loss of handicrafts, resulting from increased reliance on machine-made work. The Arts and Crafts Movement in Britain came to life as society critiqued the mechanization and deterioration of design, seeking to return to high-quality materials emphasizing beauty and utility. Designers and philosophers like William Morris and John Ruskin pioneered the movement. Interlocking patterns and curves of flora and fauna appeared in William Morris textile designs and later Doulton Lambeth wares.
Driven by this new movement toward handicrafts, Doulton was the first factory in England to establish an art pottery studio. Doulton hired artists and designers to decorate art pottery, including vases and figurines. Each piece was unique and hand-made because the studio gave decorators complete freedom. This strategy created a range of ornamental designs and styles.
The March 1 auction features work by several talented designers, including Mark V. Marshall, who worked at Doulton until 1912. Marshall came to Doulton after working briefly at the Martin Brothers, another English stoneware company creating artistic whimsical and often animal-form pieces. The influence of the Martin Brothers is evident in his Animalia works. Marshall's fanciful, grotesque creations use animals in many colors and shapes. Lot 274 is a fun-lidded owl jar with fine details and complicated coloring. Lot 295 depicts a vase in the form of a boar with beaded rows and feathered patterns to decorate four little hooves. Marshall also used animals as the base of a vessel, seen in Lot 290 with a horned creature holding up a spiraled gold cup.
Another prolific and unique artist at Doulton was George Tinworth, who worked there for 46 years. He studied at the Lambeth School of Art and, at age 21, won a place at the Royal Academy of Art. Doulton hired him as a decorator, but he proved himself to also excel at designing stoneware forms. Tinworth grew up in a religious family, and his most significant output at Doulton was religious sculptures and relief panels, some of which we will feature in our March 29 Doyle at Home sale.
Tinworth's reputation as an artist and designer at Doulton is his talent for whimsical small-scale models of mice and frogs. His most-loved pieces show animals in human situations, or "humoresques." Lot 277 depicts mice "Play Goers" onlooking at a puppet show. Lot 296, a favorite at Doyle, shows three mice sitting down to a "Tea Time Scandal". Perhaps the funniest in the auction is Lot 300, which depicts a mouse leading a carriage of frogs to London. The piece is titled "Lost and Serves them Right".
Doulton also sold a range of vases in varying sizes, colors and decorations. Two sisters, Hannah and Florence Barlow, developed a type of banded decoration on vases and other vessels. They shared a studio and technique but created separate decorative motifs. Hannah was the first female designer at Doulton, joining in 1871. She decorated up to 20 vases a day. Hannah discovered a love for animals, and after studying them at the London Zoo, she replicated them in sgraffito. Both sisters used the incised sgraffito method by creating line decorations with a blade in the wet clay and adding color and paint to fill them in. Standing and recumbent deer on a cream landscape dazzles on Lot 286. Hannah even used the blade to create textured fur on the animals. Lot 298 finds cows eating in a field of snow.
Florence designed bands of birds and flowers. On Lot 289, she incised ducks in circular cartouches on a pair of vases. Florence did not always use the sgraffito technique and sometimes used clay slip to hand-paint detailed birds. Lot 275 shows sweet slip-decorated birds perched on swag details. While the sisters' animal and floral central bands are easily recognizable, Doulton employed other artists to create the geometric and border designs above and below the Animalia bands.
Doulton continued to create exceptional works for decades, and most artists featured in the sale remained at the company for much of that time. By 1887, Henry Doulton, son of the founder John Doulton, was knighted by Queen Victoria for his work in the ceramic industry. At the height of Victorian design at the 1893 Chicago World's Fair, Doulton exhibited 1500 pieces. King Edward VII changed the title of Doulton to Royal Doulton in 1901.
Doyle at Home

Auction Wednesday, March 1, 2023 at 10am
Exhibition February 25 - 27
A second offering of Doulton Lambeth pottery from The Flower Family Collection is featured in the Doyle at Home auction on March 29, 2023.