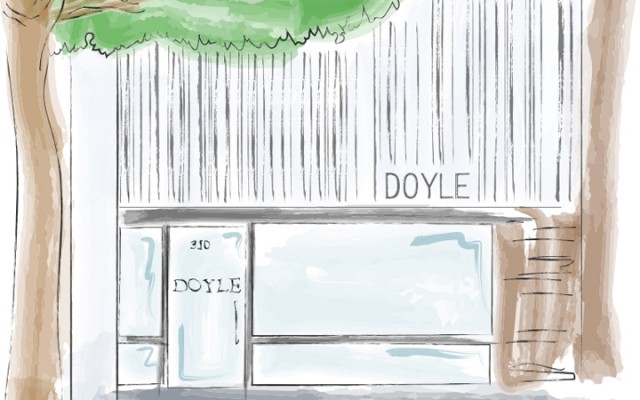 BEVERLY HILLS, CA -- Doyle is pleased to announce the Grand Opening of our new gallery at 310 North Camden Drive in Beverly Hills, California! This expansion reflects our commitment to providing an even greater level of service and a broader range of capabilities to collectors, families and fiduciaries throughout California and the West Coast.
With this expansion, Doyle will host rotating Preview Exhibitions of jewelry, art, silver and other property for upcoming auctions in New York and online, as well as for private sale. Our Specialists will also share their expertise at Consignment Days and Connoisseurship Talks on a range of collecting topics.
Doyle's California team Nan Summerfield, Emily Marchick, Douglas Knox and Cassie Ho look forward to welcoming you to our gallery located on "auction row" in Beverly Hills.
Preview Exhibitions
Join us for a series of preview exhibitions celebrating our Grand Opening!
Fine Jewelry: September 7 – 8
David Hockney / Prints & Multiples: September 7 – 23
English, Continental & American Silver: September 12 – 30
Selections from The Joan Stacke Graham Majolica Collection: September 12 – 30
Important Jewelry: October 6 – 8 Read More
Fine Jewelry: October 12 – 13 Read More
Consignment Days
Discover the value of your collection! Doyle's team of appraisers will provide complimentary auction estimates for your jewelry, fine watches, art, silver, coins, rare books, Asian art and more.
We Invite You to Auction!
Our California Advisors are always available to discuss Doyle's full range of appraisal and auction services for a single item or an entire collection. We invite you to contact us at 310-276-6616 or DoyleLA@Doyle.com
DOYLE
Auctioneers & Appraisers
310 North Camden Drive
Beverly Hills, CA 90210
310-276-6616
DoyleLA@Doyle.com
Hours: Monday – Friday, 10am – 5pm, and by appointment
Serving California Collectors and Families
Doyle's Specialists based in Beverly Hills are a trusted resource throughout California and the West Coast. These experienced professionals provide our full range of personalized auction and appraisal services for property across all categories and, through our New York headquarters, access to the global auction market.
Doyle has long served the Hollywood community as auctioneer of the estates of such film and music legends as Joan Crawford, Gloria Swanson, Bette Davis, James Cagney, Rock Hudson, Rex Harrison, Ruth Gordon, Douglas Fairbanks Jr., Louis Armstrong, Duke Ellington, Count Basie and Lena Horne.
Since 2015, Doyle and Berkshire Hathaway HomeServices California Properties have maintained a strategic marketing alliance. This marketing partnership provides clients of Doyle with convenient access to real estate capabilities offered by California Properties, and clients of California Properties with access to appraisal and auction services offered by Doyle. Doyle also hosts Consignment Days in Berkshire Hathaway HomeServices California Properties offices throughout Southern California.