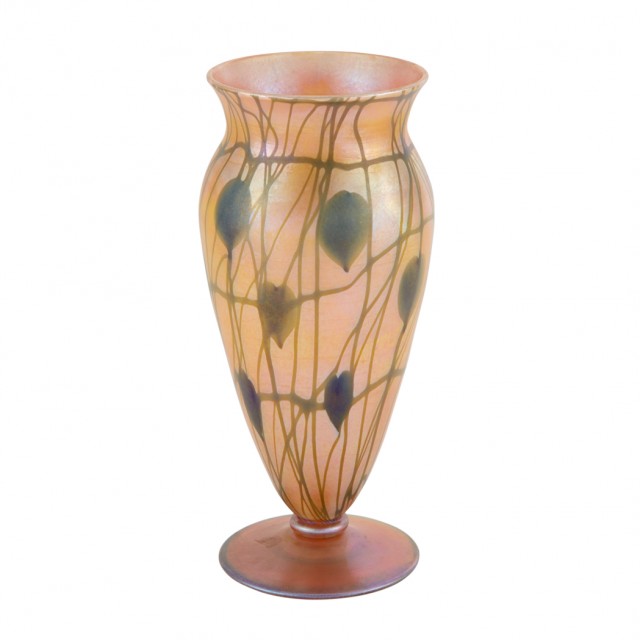 American Art Nouveau glass began its rise in popularity in the 1890s. Manufactured for a relatively short time, Durand art glass was introduced into the market nearly a quarter of a century later and can be seen as America's last hoorah in the realm of rich and lustrous hand blown iridescent art glass. Its popularity followed in the footsteps and traditions of earlier American manufacturers, namely, Louis Comfort Tiffany, Frederick Carder and Martin Bach, whose combined artistic visions helped to create and then satisfy the elite market demand for luxury glass.
Victor Durand Jr. was born in Baccarat, France, in 1870. Like his father, grandfather and perhaps even his great-grandfather, he once worked in the world-renowned glass factory of the Cristalleries de Baccarat in Baccarat, France. He was only twelve or thirteen at the time, and his association with this factory was brief, perhaps only a year or two. At age fourteen, he left France to join his father at Whitall Tatum and Company in Millville, New Jersey, where his father had already been working for a year. The younger Durand worked at this company for several years until he went to work at a nearby glassworks, the Wheaton Glass Company, also in Millville, where he learned additional aspects of glassmaking, including glassblowing. Subsequently, he worked at other glassworks in Pennsylvania, Ohio, West Virginia, Glassboro (New Jersey) and even in Canada.
With the acquisition in 1897 of the lease of a Vineland, New Jersey, glassworks named the Vineland Glass Manufacturing Company, Victor Durand Jr. and his father were able to establish a factory of their own, which they named the Vineland Flint Glass Works. Since the former factory had manufactured what is called in the trade "greenware" or green glass – common bottles and jars – the Durands had to convert the original furnace to one for flint glass (heavy brilliant glass containing lead oxide and having a high refractive index). At first, the company gained a reputation as a manufacturer of hand blown tubing, lamp chimneys, beer and whiskey bottles, and medicine bottles. Around 1915, additional product lines were added, including opal and colored glass bathroom fixtures, thermos bottle blanks, and lastly, scientific and laboratory glassware. By 1920, Victor Durand Jr. became sole proprietor of the Vineland Flint Glass Works, which, incidentally, became the largest individually owned glass factory in the country.
Victor Durand Jr., however, was not content simply to produce commercial glassware. He also harbored a desire to establish a "fancy shop" or art glass shop that would manufacture artistic glassware similar to Louis Comfort Tiffany's Favrile glass, Frederick Carder's Aurene glass, and Quezal art glass, which was made by the Quezal Art Glass and Decorating Company in Maspeth, Queens. In fact, as early as October 15, 1921, Durand wrote to Martin Bach Jr., who had learned the formulas for mixing glass from his father at the Quezal glassworks, and invited him to discuss the possibility of establishing an art glass shop in Vineland. When Victor Durand Jr. learned the Quezal Art Glass and Decorating Company was winding down its affairs, he contacted and invited Martin Bach Jr. to Vineland to demonstrate his expertise and ability in mixing the requisite formulas for art glass. In one letter to Bach, Durand wrote:
"If you would come to Vineland and show us how all this work is done I would be willing to pay you what it was worth, or if you could work for us I would like to have you very much. We are going into this line as we have some very good glassblowers in our employ at this time. If you care to come to Vineland to talk the matter over I will pay your expenses, or if you prefer I can arrange to come to Toledo sometime in the near future. Please advise me before doing anything, as I am away a good deal of the time."
In 1924, Martin Bach Jr. accepted Durand's offer and was hired as the shop's superintendent, formula maker and designer. He was placed in full charge of the operations in the Durand Art Glass division, which was blowing its first glass by December 1, 1924. An employment contract drawn for Martin Bach Jr. covering the first year of operation, 1924 to 1925, provided Bach with a substantial annual salary. The art glass division proved so successful that the following year, the contract was torn up and Bach's salary was doubled.
The production of Durand art glass took place in a single shop staffed by approximately ten individuals: Martin Bach Jr., the batch mixer; Emil Larson, an expert glassblower, who as head of the shop, was a designer of prototypes, responsible for the finishing of objects and also for the overall supervision of the entire glassmaking operation; William Wiedebine, the servitor, who worked directly under Larson and was responsible for shaping and forming; Harry Britton, the "second footmaker" and a fine blower, who was the chief decorator and responsible for performing the threading and whorled designs; Harry's brother, Jack (Percy), was the gatherer; and lastly, five "boys" who assisted with other activities, such as spraying, warming up (which required two youths), and handling. Another artisan, Charles Newman, whom Bach knew either from a glassworks in Toledo, Ohio, or else from the Quezal glassworks, also worked in the Durand art glass shop.
Durand's dream to create a line of beautiful and artistic glassware was certainly fulfilled and affirmed when in 1926, Durand Art Glass was awarded a medal of honor at the Sesqui-Centennial International Exposition in Philadelphia.
The art glass department produced a full range of colorful and stylish articles for the well-appointed modern household, including vases, compotes, tableware, stemware, rose bowls and console sets as well as harmoniously decorated lamp bases and art glass shades for lamps, torcheres, chandeliers and sconces. Items were available in brilliant metallic solid colors such as blue or gold. Also, different colors were cased and then inlaid to create distinctive designs that resulted in iridescent coiled or wavy patterns, pulled feathers or leaf and vine motifs. A line of cased translucent colored glass combined with colorless glass was also made in rich colors of ruby, sapphire and emerald. Durand art glass was retailed in various cities throughout the country and by many famous retailers, including Macy's in New York City, Marshall Field's in Chicago and Bailey Banks & Biddle Company in Philadelphia. Early examples of this lovely glassware were not signed by the factory. Eventually, however, items came to be signed either in script "Durand" or else in block letters "DURAND" above the letter "V" together with the item's shape or model number and height.
Fortunately, some of the original motif designations are known, including Heart and Clinging Vine, Peacock Feather, and Spider Webbing, which was also called threaded glass. Two very popular and distinctive types of Durand art glass are called Moorish or Egyptian Crackle glass and King Tut glass. In all likelihood, King Tut was selected as a product name in order to capitalize on the popularity and interest in King Tut, whose tomb and rich artifacts were discovered by Howard Carter in Egypt in 1922.
In 1931, merger talks were already underway between the Vineland Flint Glass Works and the Kimble Glass Company when Victor Durand Jr. was unexpectedly killed in an automobile accident while returning from a visit to his dentist in Philadelphia. Durand and Bach had planned to merge their company with the Kimble Glass Company, with the exception, however, of the art glass division, which they intended to close and reopen elsewhere in New Jersey as a brand-new and distinct company. The plan to open yet another art glass company never materialized because of Durand's death. In 1932, the Kimble Glass Company absorbed the Vineland Flint Glass Works and ceased production of art glass. In all likelihood, by the early 1930s the popularity of art glass had probably diminished considerably as a result of the Great Depression and the availability of inexpensive iridescent pressed glass, today commonly referred to as carnival glass. Consequently, the art glass division was probably only marginally, if at all, profitable. The Depression caused the market for art glass and other luxuries to take a back seat to necessities such as food, clothing and shelter. Furthermore, Victor Durand's widow had at least a partial ownership of her late husband's company and, preferring to sever her association with the firm, sold her interest in the company.
Although Durand's entry into the luxury art glass market was late, and it was only made for a relatively short duration of time, namely, between 1925 and 1931, the realization of Victor Durand Jr.'s dream remains an enduring legacy of the glassmaker's art.
Doyle at Home

The March 8, 2017 Doyle at Home auction offers a selection of art glass by Durand (Lots 253-258) and examples by other prominent makers.