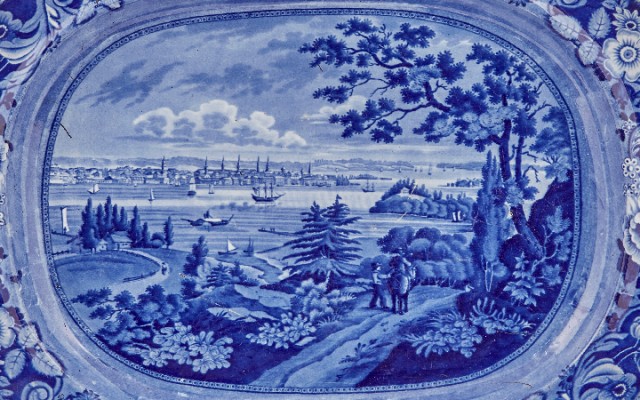 NEW YORK, NY -- By 1800, over 60,000 people resided in New York City, and most people lived and worked below Canal Street at the lower tip of Manhattan. With the opening of the Erie Canal in 1825, the establishment of Wall Street, and the development of railroads, people flocked to the city turning farmlands and fields into tenements, factories, and storefronts. By 1840, the city boomed to over 300,000 inhabitants.
Competition by English manufacturers in the American market was strong between the War of 1812 and the Civil War. Staffordshire potters dominated the ceramics trade with new designs on transfer-wares. The decoration was printed on tissue-like paper, which burned off during firing, transferring the decoration intact on the item. Blue transfer-printed wares decorated with American scenes gave people a sense of nationalism. Landing of Lafayette was a popular decoration choice, depicting a parade of ships traveling along the Hudson River to Castle Garden, where Revolution War hero the Marquis de Lafayette was celebrated on August 16, 1824.
The April 18, 2018 auction of American Paintings, Furniture and Decorative Arts will feature a large group of Staffordshire Historical Blue Pottery from the estate of New York historian and professor Dr. Leo Hershkowitz. Lot 149 and lot 151 comprise articles depicting Landing of Lafayette, and Lot 151 includes examples marked "Greenfield's China Store No. 77 Pearl Street New York." Several extant examples are known with this marking. John Greenfield was a well-known ceramic importer operating out of New York City. From a notice in The Evening Post, New York, January 29, 1840, 77 Pearl Street is listed as a crockery store, which was unfortunately consumed in a great fire the night prior. Other Staffordshire examples are known to include a stamp with importer information, although the exact number is unknown.
Also from the Hershkowitz Estate, Lot 136 is comprised of two stoneware jugs impressed "C. CROLIUS MANUFACTURER NEW YORK." William Crolius the elder established his family's pottery tradition in Manhattan around 1728. Arriving from Germany's Rhineland, the family was familiar with salt-glazed stoneware production.
The Crolius shops were also located in the Lower Manhattan vicinity near Centre, Reade, and Chambers Streets. Now an area of government buildings and offices, the land was once open and adjacent to a small pond. When Clarkson Crolius Senior took over the business in 1800, he began impressing his name on his vessels. Clarkson Crolius Junior took over the shop in 1838 and continued with the tradition of marking pieces for the next ten years.
Silver

Also featured in the April 18 auction is an impressive group of American silver, including lot 167A, an American Silver Five-Piece Water Set of New York City Interest, which depicts the Astor House Hotel and City Hall Park. The Astor House Hotel opened in 1836 on the corner of Broadway and Vesey Street as one of Manhattan's first luxury hotels. Beginning in the 1830s, hotels sprang up in the city to cater to travelers that arrived in New York in streams, keeping hotels filled and theaters and museums in operation. This lot also depicts the fountain at City Hall, which was made possible by the completion of the Croton Aqueduct in 1842, and was celebrated on opening day with President Tyler and former presidents John Quincy Adams and Martin Van Buren in attendance.
The same sale features several examples from New York City's own Tiffany & Co. Lot 174 is a Tiffany & Co. Silver Presentation Salver from 1854-1870. In 1854, Tiffany & Co. moved to 550 Broadway, between Spring and Prince Street, in current day SoHo. This location is included on the back of the salver as well. The salver includes an inscription dated January 1861, the month the South began to secede from the Union. By 1860, the New York City population had increased to over 800,000 people and the city's residents began to move farther and farther north.
American Paintings, Furniture & Decorative Arts

Auction: Wednesday, April 18, 2018 at 10am
Exhibition on view April 14-16
Image:
Lot 158
Staffordshire Historical Blue Pottery 'New York from Weehawken' Platter
Stevenson, circa 1825
Length 20 1/2 inches.
The Estate of Leo Hershkowitz
Estimate: $1,000 - $1,500