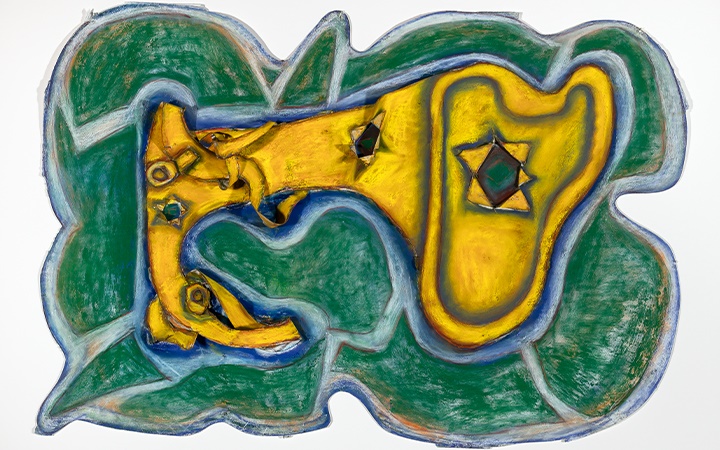 NEW YORK, NY -- Born in Chicago and raised in the small town of Bloomington, Illinois, Elizabeth Murray persevered through a difficult childhood. Her family moved constantly as her father ducked various debts. Murray looked to comics and cartoons as an escape from the torment and uncertainty of daily life. With a voracious appetite for drawing, Murray created comic books and even sold sketches for a quarter each. But even through the struggles, her family was incredibly supportive of Elizabeth and her undeniable gift. "My father said 'Oh, you'll be an artist…' Can you imagine what that meant to me, to hear him say that?" Acknowledgment of Elizabeth Murray's talent was not limited to her immediate family. Her high school art teacher, Elizabeth Stein, thought so highly of Elizabeth that she generously funded her schooling at the Art Institute of Chicago.
The Art Institute of Chicago during the late 1950s and early 60s could not have been a better landing spot for Elizabeth Murray. The "Monster Roster" of artists such as H.C. Westermann, Nancy Spero and Leon Golub recently burst forth from the school. Under the guidance and vision of professors like Ray Yoshida, the Art Institute of Chicago became a breeding ground for new, unconventional art. Many of the students emerging from the Institute were creating work that fearlessly took on social and political issues, art that was unafraid to consider what might be deemed "lesser" or kitsch at other institutions – Folk Art, cartoons, illustration – all ripe for discovery, all worthy of study and inspiration. For Murray, who arrived at the University still enamored with Disney and intending on a career as a commercial illustrator, the Institute was awe-inspiring. It was during this time that Murray discovered Cezanne, Willem de Kooning and a passion for painting. Murray aspired to be in with Institute's "cool kids," a group known as the Hairy Who: Karl Wirsum, Gladys Nilsson, Jim Nutt and others who paved the way for the sort of genre-defying work that Murray created later – not Pop Art but popular imagery existing in a colorful universe borne out of the inspiration Ray Yoshida provided.
After her time at the Art Institute of Chicago, Murray attended Mills College in Oakland for her graduate program. She once again landed in an environment experiencing its own uniquely bohemian renaissance. The Funk Movement, a loose association of artists and sculptors, was the most exciting thing happening in the Bay Area. Murray looked to artists like Frank Lobdell and William Wiley, who were actively challenging the notions of abstraction in the tradition of the anti-establishment Beatnik scene. Murray's future work was a fascinatingly unique concoction of her academic studies of Cubism, Surrealism and abstract painting, in addition to the revolutionary work being made by her peers. Her remarkably personal body of work challenged the limitations of painting.
Arriving in New York in 1967, Elizabeth Murray butted heads with the prevailing trend of Minimalism championed by artists like Robert Mangold, Sol LeWitt and others. Rather than accept the notion put forth by the Minimalists that painting had reached its conclusion, Murray reconsidered the geometry of Minimalism and ret-conned it to her desires, changing scale, shape and form, eventually moving into three-dimensional paintings. Murray was geometric but not sterile – producing compositions that always remained gestural and painterly.
Doyle's October 12, 2022 sale of 20th Century Abstraction features two works by Murray: a unique work on paper from 1993, Dress on Grass, and Jazz, a three-dimensional multiple from 2001. Both works are wholly representative of Murray's approach. Murray creates a cartoon Cubism by not only breaking the picture plane, but cracking the objects themselves into smaller forms. Bright, fun colors push back against the clinical output of her Minimalist peers. Murray brought emotion and color back to painting during a time when many were too quick to announce painting was a dead end. "Color feels like an energy that is endless," Murray would state in a 1997 interview with Kate Horsfield, "it's like a big emotional ocean. That's where the focus is for me."
With Dress on Grass, articulation provides a point of discussion: evidently, the family who owned the work preferred it to hang horizontally. Yet the Elizabeth Murray Estate is confident the work is meant to hang vertically. Displayed horizontally, the yellow foreground element looks a bit like an old Singer typewriter, with added curls and straps and several star-shaped portholes. The green field resting beneath is reminiscent of Bay Area painter Richard Diebenkorn's Ocean Park series if rendered by Dr. Seuss. Presented vertically, the orientation seems much more logical and akin to Murray's works of the period. The foreground now transforms into a trumpet, albeit one crushed by a steamroller. Also from 1993, Rosy Glow, in the permanent collection of Miami's Patricia & Phillip Frost Art Museum at the Florida International University, matches that same foreground form. The background is comparatively less bulbous and wispier; the work is in an altogether different color palette. Murray went even further to repeat these forms in a 1993 edition, Thirty-Eight produced by Gemini GEL.
The three-dimensional edition Jazz features an oft-repeated subject of Murray's: a cup, disassembled. Arm-like appendages curl out from either side. Behind the cup, the maroon silhouette of an anthropomorphic figure lurks. The two sheets joined together to show the seam running through the silhouette's body, through the gap of the cracked cup. Hash marks litter the background, and gridded pieces provide depth like chunks of floating musical notations. Murray creates these sorts of paintings within paintings, and as Cubism disassembles a form, Murray assembles, then deconstructs, breaking not only the picture plane but the objects within. This is abstraction with narrative. By adapting Miro's floating shapes and furthering an exploration of perspective, Murray gives movement to static objects – a still life that breaks the speed limit.
Murray claimed the Cubists were the first Pop artists. By bringing humor to the ordinary, the Cubists questioned what truly could be deemed ordinary. Murray opined that what "…Cubism does to the surface of a painting, to a flat surface. It shatters the space." Elizabeth Murray never ceased exploring, never stopped deconstructing the forms, questioning the limitations of the picture plane and imbuing her works with intense colors and bizarre perspectives. Rejecting the Minimalist notion that painting is dead, Elizabeth Murray instead gave us the death of the two-dimensional composition, the death of flatness. Elizabeth Murray's work is complicated, challenging and experimental, but never at the expense of aesthetics. Even in plucking ideas and concepts found throughout the history of Modern Art, the result is that, just like the cartoons that informed her youth, Elizabeth Murray is always fun.
20th Century Abstraction

Auction Thursday, October 13, 2022
Exhibition October 8 - 10
Featured in the October 13 auction are two works by Elizabeth Murray, Dress on Grass and Jazz.