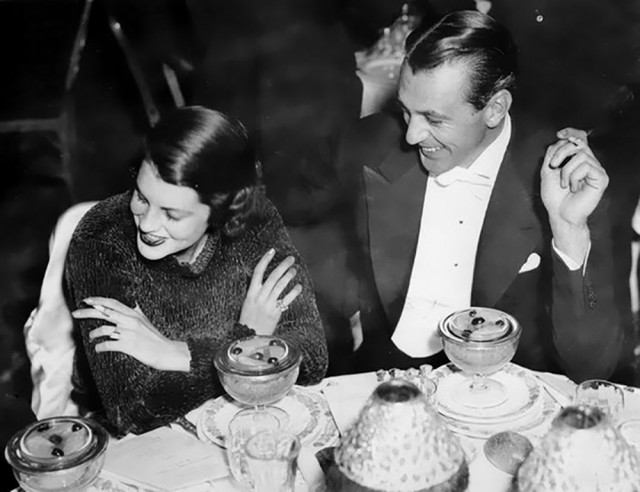 NEW YORK, NY -- In select auctions this Spring, Doyle will offer property from the Collection of Gary and Veronica Cooper. The furniture and fine art offer a tantalizing glimpse into a bygone era when Hollywood's greatest stars crossed paths with America's preeminent decorator and society hostess, Elsie de Wolfe (1865-1950).
In 1934-35, Gary Cooper (1901-1961), Hollywood's leading man and top-grossing actor, and his New York socialite wife Veronica "Rocky" Balfe (1913-2000) hired architect Roland Coate (1890-1958) to create a new residence at their three-acre Brentwood estate. The property featured the requisite tennis court, swimming pool and formal gardens, but also an orchard and acreage that Cooper could till with his tractor, and a machine shop and gun room. The Bermuda-inspired house was decorated by Elsie de Wolfe and was featured in House & Garden in September 1936. Other photos of the residence retained by the Coopers' daughter, Maria Cooper Janis, and illustrated here, provide a fuller record of de Wolfe's significant West Coast commission.
The legendary and peripatetic Elsie de Wolfe, who was credited with inventing the profession of interior decorating in the United States, had been wintering in California in the 1930s and had built a new clientele among Hollywood's elite. During the war years, she moved to Beverly Hills permanently, designing her own residence, After All, with the assistance of the up-and-coming designer, Tony Duquette (1914-1999).
The Cooper residence featured a number of Elsie de Wolfe signatures, such as the extensive use of mirrors, animal prints, stark contrasts in color between walls, floors, and upholstery, Asian decorative works, bamboo furniture and architectural details, a mix of antique and reproduction furniture, and numerous works by Serge Roche (1898-1988).
De Wolfe's penchant for dramatic and spare entry halls was evidenced in the Cooper residence by the American rococo revival sofa and a pair of neo-Baroque sculptures set on columns (lot 145), contrasting with a slickly modern black and white floor.
The dining room featured Japanese wood-grain paper on the walls and ceiling, and black-leather clad Chippendale-style bamboo chairs (lot 146) against a yellow carpet and black floor. The fireplace was framed by mirror and a herringbone bamboo surround. Two mirror backed Chinese paintings featured matching bamboo frames (lot 141).
In the living room, zebra-clad staircases with glass balusters centered a mirrored fireplace. The acid green damask sofas contrasted with a stark white carpet against a black floor. Serge Roche provided palm floor lamps, mirrored consoles and Mexican-inspired wall mirrors.
The main bedroom was decorated in a rose hue against a chocolate brown carpet. A sleigh bed was upholstered in crushed white velvet. The doors, fireplace and windows were all surrounded by de Wolfe's signature mirror strips. Cooper's bedside lamp, a Venetian mirror and artwork by Mily Possoz (1888-1968) (lot 140) were located in this bedroom.
According to Maria Cooper Janis, the designer William "Billy" Haines (1900-1973) was hired in the late 40s/early 50s to refresh the house.
In 1954, Mr. and Mrs. Cooper embarked on new and ambitious project, hiring A. Quincy Jones to construct a new home in Holmby Hills. The residence, at 200 Baroda Drive, is recognized today as an outstanding example of California mid-century modernism. The house and Cooper family were profiled in Paris-Match in 1959. Both the baluster lamps, which appear in the Paris-Match article and the Robsjohn-Gibbings coffee table will be offered in Doyle & Design auction on June 16.
The Impressionist & Modern Art sale on May 12 will feature works by Marie Laurencin (1883-1956) and Augustus John (1878-1961). John's sketch is of Helen Balfe, stepmother to Veronica "Rocky" Balfe Cooper. The work is dedicated to Balfe - a noted beauty and inscribed "Was this the face that launched ten thousand ships?"
Following Cooper's death in 1961, Veronica Balfe Cooper returned to the east coast, residing in Manhattan and Southampton. Ms. Balfe later married the noted surgeon Dr. John Marquis Converse. The whimsical toadstool, dogs, and palm tree table (lot 149, lot 142) evoke the ease of a Southampton summer living that had been enjoyed for years by the Cooper family.
Maria Cooper Janis, whose extraordinary memory of her Hollywood youth is matched by her extensive archive of family papers, is donating the proceeds from the sale of this property to the USC School of Cinematic Arts. The Gary Cooper Endowed Fund for Student Support for Indigenous Cultures was set up by Janis to honor her father's passionate interest in Native American and Indigenous cultures.
Upcoming Auctions
Property from the Collection of Gary and Veronica Cooper will be offered in the following auctions:
Doyle at Home | Timed Auction Closes April 14
Impressionist & Modern Art | Live Auction May 12
Doyle+Design | Live Auction June 16