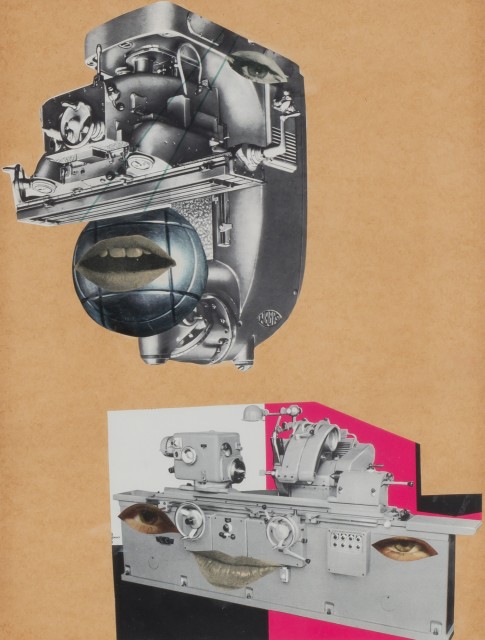 NEW YORK, NY -- Born Gudmundur Gudmunson in 1932, Icelandic artist ERRO settled in Paris in 1958. After leaving Reykjavik to study in Oslo and Florence, ERRO began exhibiting his work shortly after his arrival in Paris. The city's art community was dominated by abstraction at the time and little if any representational work was being shown; however, a group of Parisian artists were building a new movement, one that would run concurrently with the Pop Art scene in the US and UK.
Narrative Figuration would mark a departure from abstraction and showcase a return to figurative painting; its stars were Jacques Monory, Peter Klasen, Gerard Fromanger and others. ERRO would quickly become a key figure in their group and exhibit with all of them. Trips to New York in the early 1960s led to forming a long-lasting friendship with James Rosenquist, and both artists found favor with each other for their usage of collage. As Pop Art began with collage, specifically Richard Hamilton's landmark 1956 work, Just what is it that makes today's homes so different, so appealing?, which jumpstarted the art movement, it is logical that ERRO based his practice here as well.
Using Surrealism as an early jumping-off point, ERRO became fascinated by Americans' disposable consumer culture, which he would go on to lampoon in his work for the bulk of his career. Surrealism provided not only an aesthetic, but also process: ERRO would cite automatic writing, a technique common to the work of Andre Breton and others, as a means of creating. The "cut-up" technique, made famous by William S. Burroughs and Brion Gysin as they would literally cut and rearrange elements of their writing and films, would also be a constant in ERRO's creations.
An early collage from 1958, Garbage Face shows this Surrealist influence on ERRO's work. The volume of negative space would drastically decrease as ERRO's work evolved over the next several decades, and the paper bag-brown background allows the two "heads" to float freely, adding to the otherworldly, disjointed nature of the work. The arcane, antiquated machinery used here as the "skulls" appears to have been taken from a manufacturing trade catalog. At top left is a Sagem Universal Head Milling Machine (pun possibly intended), flipped upside-down. A metal sphere creates a chin, and a woman's mouth and single eye complete the image. Beneath it is a lathe which retains some of its background. A pop of fuchsia flanks blocks of black and white. A pair of eyes and a woman's lips rest atop the industrial machinery. The result is a sort of link from Dali to 2001, fetishized machinery made to improve our lives or possibly to create our obsolescence.
Assembling images from comics, referencing political figures and events, ERRO is sarcastic, critical, confrontational, highlighting the absurdity of modern life. Building from collage, even when employing collage as a study from which to form paintings, ERRO has hoarded cutout images from endless magazines, catalogs and periodicals, stored away in flat files that he can pull from like a pantry. Utilizing the reappropriation common in Pop, ERRO often creates a massive volume of imagery in a single work, overlapping and stacking image upon image. The result is one of extreme excess. Busy, overwhelming, a bombardment of objects and faces appear en masse.
ERRO marries myth to current-day politics, combining pop culture and ancient history with images of the despots, dictators and battle scenes of the 20th century. It is common to see appropriated figures from the paintings of Picasso and Leger interspersed with Disney characters and Greek gods. A series of paintings depicted Mao Zedong; faux Chinese propaganda art remixed and combined with Marvel superheroes. From 1979, Mao In New Jersey ups the absurdity, showing the leader and his entourage marching triumphantly with the Manhattan skyline as a background. A critical look at the idea of the utopia, is a constant through ERRO's work, and few if any world leaders go unscathed. At the root of ERRO's art remains the collage. Whether painted from the conjoined source material, or simply using the cut-out source material as the work itself, ERRO uses the printed elements of our society and creates a new, if often bizarre or cryptic, narrative unique to his work.
DoyleNext: Contemporary Collector
The DoyleNext: Contemporary Collector auction closing on August 11 offers ERRO's Garbage Face, an early collage from 1958.