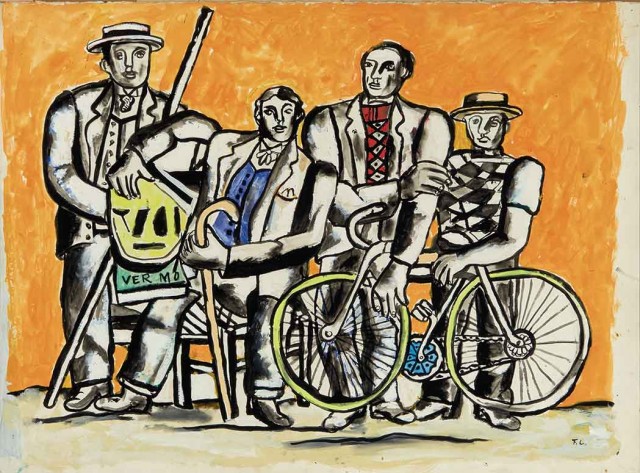 Fernand Léger worked as an architectural draftsman before attending painting classes at the Ecole des Beaux-Arts in Paris from 1903 to 1906. His surviving paintings from this period show that he was working in an Impressionist manner, but he quickly moved toward a more geometric style after he saw the paintings of Paul Cézanne at an exhibition in 1907. In 1910 he met Pablo Picasso and Georges Braque, and under their influence embraced Analytical Cubism. His personal interpretation of cubism emphasized solid geometric forms -- cubes, cones and cylinders -- which he rendered in black, white and mostly primary colors.
The great watershed of Léger's life came during World War I. Called to the front in 1914, he spent two years in the trenches before almost being killed in a mustard gas attack at Verdun in 1916. The war affected him powerfully in two important ways. First, it made him acutely aware of the virtues of the common men with whom he served, of the "richness, variety, humor and perfection of certain types of men . . . their exact sense of practical reality . . . and their resourceful application of it in the midst of this life-and-death drama," as he would write many years later. ["L'art et le peuple (causeries sur l'art)," Arts en France, no. 6, Paris, 1946] As a result of these experiences, he identified strongly with working-class men -- stevedores, construction workers, and the like -- and often focused on them in his art.
If the war sharpened Léger's social conscience, it was also a revelation to his sense of aesthetics. For most European artists, any romantic view of machinery they night have had was brought to an end by the Great War; they recoiled from their previous fascination with machines after seeing the horrific destruction brought about by machine guns, tanks and incendiary bombs. In reaction, they returned to a the human figure as a focus for their work. In contrast, Léger's responses to what he saw at the front were very different. While at war, he sketched artillery, airplanes and field vehicles, becoming enthralled with the power and precision of these mechanisms. As he wrote in the same article quoted above, "I was dazzled by the breech of a canon open in full sunlight, the magic of the light on white metal. It made me forget the abstract art of 1912 and 1913; [for me it was] a complete revolution as a man and a painter." In fact, Léger's response to the machines of war gave rise to a new phase of his imagery, the so-called mechanical period, which lasted for most of the 1920s. During this time, impelled both by his new-found fascination with machinery and by a desire for his art to be clearly comprehensible to everyone, he painted works that exhibit a hard-edged, formal clarity with frontal compositions, interlocking forms and bright, flat colors. Many of these are infused with a feeling of driving energy that would be a recurring feature of Léger's art in the years to follow.
Toward the end of the 1920s the rigidity of Léger's style relaxed; he began to paint more fluid, irregular shapes -- including more human figures -- whose contours, although still firmly defined, are softer than those seen in his earlier paintings. A delightful example of this newly relaxed manner is La Belle Equipe (The Great Team) [lot 68], an ink and gouache work on paper that depicts a team of cyclists, four young men posing proudly -- with comic panache -- for a group portrait with their sporting gear. The breezy informality of this scene belies the deliberation with which Léger developed its composition. His ink drawing Six études pour 'Les Cyclistes' (Six Studies for 'The Cyclists') [lot 69] gives us a clear idea of the artist's careful thought process as he worked out the arrangement of the figures and equipment in the completed work.
In 1940 Léger traveled to Marseille to sail to New York for a visit to the United States. While awaiting passage, he observed a group of dockworkers bathing in the harbor, a sight that inspired a series of drawings and paintings devoted to divers and acrobats. A classic example of these is the ink drawing Etude pour 'Les Plongeurs' (Study for 'The Divers') [lot 67], which shows Léger's continued love of interlocking forms, animated by energetic movement. As the divers tumble helter-skelter into the water beneath them, their bodies seem to be stopped in time, woven into a static pattern of forms that recalls the artist's work of the 1920s.
In his later years, Léger continued to enliven his paintings with vivid color. In these works, although the emphatic, black lines that define their subjects and the swaths of color that animate them coexist in the same compositions, they have little direct relationship to each other. An example of this approach is Le Bonheur (Happiness) [lot 66], which shows a woman and two little boys in a landscape, whose exotic plants and twittering birds recall the forest fantasies of Henri ("le Douanier") Rousseau. Here the figures are united and energized by large bands and blocks of brilliant color; but these do not refer to the actual colors of the landscape, the figures' clothing or the ball held by one of the boys. Rather, they are independent agents within the composition, intended to infuse the scene with vitality.
Similarly, in Le Jongleur et l'Acrobate (The Juggler and the Acrobat) [lot 70], which is dated [19]53 -- only two years before Léger's death -- the artist has limned the figures of the two performers and their horse in black before casting four swirls of bright color about them, as if to breathe life into them.
In these late works we can still appreciate Léger's lifelong fascination with color and energy, brought together as an expression of his jubilant outlook on life.
The Eileen & Herbert C. Bernard Collection

Highlighting the November 1, 2016 auction of Impressionist & Modern Art is property from The Eileen & Herbert C. Bernard Collection. Comprising lots 57 through 77 in the sale, the Collection offers five works by Fernand Léger.