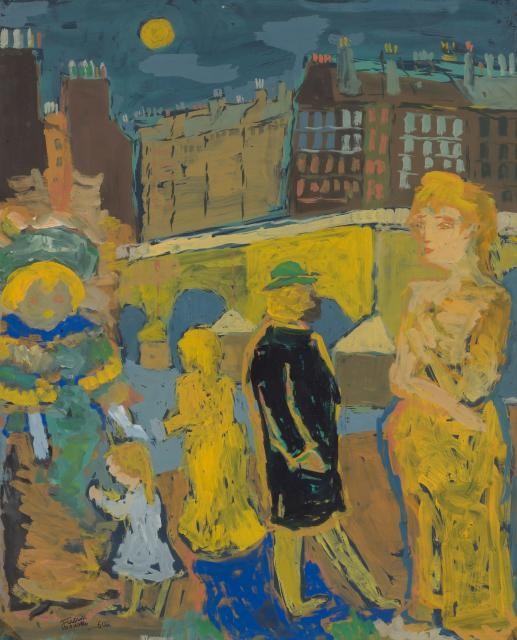 NEW YORK, NY -- By the time Fikret Mualla painted Sept Personages in 1960, he was deeply entrenched in the life of a Parisian bohemian. Inspired by the people and energy of Paris, his vibrant, colorful, expressive works were odes to the city he loved. Often described as a lonely, troubled soul, Mualla was prone to violent mood swings prompted both by his heavy drinking and the scars of events in his childhood. However, although he painted and drank as a way to deal with the ghosts of his past, his works express his joy, rather than his anguish.
Fikret Mualla (1903-1967) was born and raised in the district of Kadikoy, Istanbul on the northern shore of the Sea of Marmara. He lived a carefree life as a child, and was very close to his mother. Two events in his young life – a football accident which left him with a permanently damaged foot, and the death of this mother from the Spanish flu – were to have a profound effect on his mental health. Unable to accept his father's marriage to a much younger woman not long after his mother's passing, for which the artist blamed himself, his behavior became erratic. His father, unable to cope with his son's instability, sent him to study engineering in Switzerland.
After about a year in Switzerland, Mualla left for Berlin. There he felt an immediate affinity for the city's bohemian lifestyle and decided to devote his life to creating art. He returned to Turkey after a few years when his funds ran low and took several positions teaching art there, but these were unfortunately short-lived. In order to make a living, Mualla wrote, drew costume designs and made illustrations for books. He became very close friends with the soprano Semiha Berksoy, the writer Nazim Hikmet, and was championed by another friend, the renowned artist Abidin Dino. Mualla had his first art exhibition in Turkey in 1934, although its reception was less than encouraging. He left Turkey for Paris several years later, never to return.
While in Paris, Mualla studied in the studio of Othon Friesz at the Académie de la Grande Chaumière, one of the most influential art schools in Paris of the 20th century. Some of the most recognized and important modern artists of the last century studied there, including Louise Bourgeois and Tamara de Lempicka (whose work is also represented in Doyle's May 20 auction).
Despite living among titans of 20th century Modernism – Picasso, Matisse, Van Dongen, Chagall and Lhote – Mualla belonged to no school, adhering to no philosophy other than his own. Unconcerned with the theoretical problems of art, he painted daily, feverishly, portraying a world of people in bars, cafes and on the street. The people of Paris were his inspiration and were to remain his muse for the rest of his life.
In Sept Personages, the artist has captured a particular moment in time – a view set against the Pont Marie. The figures are rendered in brilliant hues of yellow and blue; a woman is lost in thought as others pass her by. His choice of color invokes the Fauves; his execution of line and form, the Expressionists. Yet, his work remains distinctly his own.
Much of Fikret Mualla's art remains in important private and public collections, including the Ankara Museum of Painting and Sculpture and the Sakıp Sabancı Museum. Ending shortly before Doyle's May 20 sale of Important Paintings is the exhibition Fikret Mualla: A Lonely and Wounded Life at the Folkart Gallery in Izmir, Turkey.
Although he is recognized today as one of Turkey's most important modernist artists, Fikret Mualla's talent was not fully appreciated during his lifetime. As he struggled through bouts of poverty, emotional torment and several stays in institutions, he nevertheless persevered, leaving behind his remarkable love letter to Paris.
Important Paintings
Featured in the May 20 auction of Important Paintings is Sept Personages, a 1960 gouache on paper by Fikret Mualla.