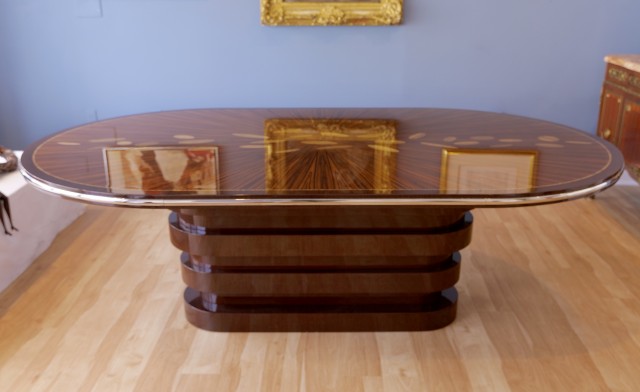 PALM BEACH, FL -- Frank Pollaro is a world-renowned custom furniture maker to the stars. A frequent collaborator to top interior decorators and designers, Pollaro's works can be found in residences and businesses; however, he is most known for his yacht furniture. His pieces can be spotted on many luxurious yachts, including those of David Geffen and Larry Ellison.
Founded in 1988, Pollaro's studio is currently based in Hillside, New Jersey. His artisans are known for hand crafting high-end, luxurious furniture using techniques unique to his workshop. Frank Pollaro offers furniture ranging in style from Classical to Art Deco to Modern.
Pollaro prides himself on selecting the most exotic and rare species of wood to create furniture best described as functional art. He meticulously collects the best lumber for each piece, thoughtfully considering the grain, color and quality of veneer. While his furniture is designed to endure the rigors of yachting, it is equally at home poolside or in the home. Frank Pollaro's furniture is sought after for its rarity and superior craftsmanship.
In 2012, after four years of development, Pollaro produced a collection of high-concept furniture in collaboration with Brad Pitt. The designs came straight from Pitt's own sketchbook. The furniture is numbered, limited in production and signed by both Brad Pitt and Frank Pollaro.
Just in time for the Palm Beach Boat Show, Doyle is pleased to present an exhibition of select examples of Frank Pollaro's work in our Palm Beach gallery. We invite you to visit Doyle Palm Beach to examine his remarkable craftsmanship for yourself.
DOYLE PALM BEACH
Auctioneers & Appraisers
208 Brazilian Avenue
Palm Beach, FL 33480
Hours: Monday – Friday, 10am – 5pm, and by appointment
Tel: 561-360-2308
Email: DoyleFl@Doyle.com