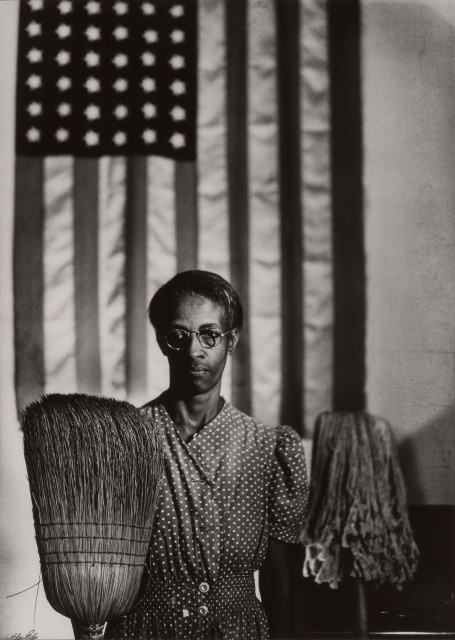 I saw that the camera could be a weapon against poverty, against racism, against all sorts of social wrongs. I knew at that point I had to have a camera. -- Gordon Parks
NEW YORK, NY -- In 1912 in Fort Scott, Kansas, Gordon Parks was born into poverty, the youngest of 15 children. He graduated from a segregated grade school in 1927 and attended an integrated high school for a short time only, as upon the death of his mother he was sent to live with a sister in St. Paul, Minnesota. By Christmas 1928 Parks was thrown out after an argument with his sister's husband, and he spent the period between 1929-32, the opening years of the Great Depression, playing piano in a Minneapolis brothel and working as a waiter. In 1933, Parks came to Harlem for the first time, joined the Civilian Conservation Corps in New Jersey, and was married before returning to Minneapolis.
For a few years from 1935 onward Parks was a porter on the Northern Pacific Railroad. Of these early years, Parks said, "Of course, I didn't start photography until about 1939 and up until that time I had worked as a waiter on the railway, bartender and road gangs, played semi-professional basketball, semi-professional football, worked in a brick plant, you name it, you know, just about everything." About this time, motivated by viewing a film reel in a Chicago theater depicting the sinking of the U.S.S. Panay, Parks bought his first camera, a Voightlander Brilliant, when the train reached its final destination at Seattle. His first photographs were of Puget Sound. Still living in Minneapolis, his first exhibition was in the Eastman Kodak shop where his earliest prints were developed.
Photography became Parks' profession. He worked for various newspapers and outlets in the St. Paul area, and in 1940 won the Blue Ribbon award at the American Negro Exposition. Also at this time, Marva Louis, wife of the boxer Joe Louis, urged Parks to visit the South Side Arts Center in Chicago, and in 1941 he had two solo exhibitions of his work mostly documenting the African-American experience in the Windy City. In 1942, Parks was awarded a Julius Rosenwald Fellowship, and he used the funds to travel to Washington, D.C. where he joined the Farm Security Administration under the auspices of Roy Stryker. The FSA was a New Deal program designed to show the "Face of America" during the crisis of the Great Depression, and Parks' most important image would be soon captured during his work for this project. But first, Stryker encouraged Parks to walk and experience Washington without his camera -- what he discovered was an overwhelming level of bigotry and denial of services that he had not experienced in the Midwest. Demoralized, Stryker suggested Parks focus on those around him at the FSA.
Parks first met Ella Watson, who worked on the cleaning crew at the FSA, in the summer of 1942 and captured his famous photograph of her, American Gothic, that August. Watson told Parks of her struggles, about her father who was murdered by a lynch mob, her husband shot and killed. By his account in a 1964 oral interview, Parks recalled, "I took her into this woman's office and there was the American flag and I stood her up with her mop hanging down with the American flag hanging down Grant Wood style and did this marvelous portrait, which Stryker thought it was just about the end. He said, "My God, this can't be published, but it's a start." So it was published. I sneaked it out and published it in an old paper that used to be in Brooklyn. It was published in Brooklyn, you probably remember, what was it called? I forget, a Marshall Field paper, do you remember that one?"
For four months Parks photographed Watson and her family in their daily lives and routines, but it is American Gothic that has become Parks most enduring image. Time magazine included American Gothic in its list of the 100 Most Influential Photographs and wrote that "It served as an indictment of the treatment of African Americans by accentuating the inequality in 'The land of the free' and came to symbolize life in pre-civil-rights America." In 1983, Parks wrote "What the camera had to do was expose the evils of racism, the evils of poverty, the discrimination and the bigotry, by showing the people who suffered most under it." (The Photographs of Gordon Parks, 1983.) Present in the June 29 auction is the largest size print of American Gothic that we trace to have come to market (lot 107).
When the FSA disbanded in 1943, Parks held various jobs as a photographer before settling in White Plains, New York, in 1946. Parks began taking magazine assignments for various magazines including Ebony, Jet and Vogue, and in 1948 became the first African-American photographer hired by Life magazine, a position held until 1972. For his first assignment, Parks provided a stirring photographic essay titled Harlem Gang Leader. Parks had spent weeks earning the trust of a gang known as the Midtowners, and in particular their leader Leonard "Red" Jackson. Parks' stunning portrait of Jackson is offered in the auction in a similarly sized large format print (lot 113). Also in the late 1940s, Parks would revisit his home town of Fort Scott, Kansas, and offered in the auction are fine large format prints of his Pool Hall (lot 108), his sensitive portraits of Mrs. Lucky Jefferson and Uncle Jimmy (lot 109), and a pair of finely dressed church goers in Sunday Morning (lot 110).
Many of Parks' later classic images were taken for Life photo-essays, such as his 1952 Emerging Man, part of the series of images for a photo-essay titled A Man Becomes Invisible, inspired by his friend Ralph Ellison's novel, Invisible Man. While that novel regarded an unnamed African-American man who lives underground and slowly returns to the world, similarly Parks' image evokes this transition from darkness to light and is powerful in its message (lot 111). Later, in 1968, Life sent Parks "into the field to document the living conditions that black families endured in America's ghettos" (Gordon Parks Foundation website). Rather than survey a larger community as did his colleagues, Parks devoted the entire time period to the Fontenelle family of Harlem. His Bessie Fontenelle and Children at the Welfare Office, New York is a haunting portrait of the struggles of this family to make ends meet (lot 114).
Parks also photographed major figures of the Civil Rights era, including Muhammad Ali. A stunning large format portrait of Ali, shown close up and dripping with sweat, is offered (lot 112). Ali was a complicated figure at the time as while he had won a gold medal and become champion by defeating Sonny Liston, he had changed his name from Cassius Clay to Muhammad Ali when converting to Islam and was involved in a Vietnam War draft evasion controversy citing religious objections. This photograph first appeared in Life in September 1966 with the title The Redemption of the Champion. Both Ali and Parks are at the height of their powers here, and the image, as all of the Parks' images offered, are a tour-de-force of photographic skill paired with the power of the camera as a weapon to confront racism, poverty, and so many other issues of the 20th century and beyond.
For biographical information on Gordon Parks and for several of the quotes in this article, see the website of The Gordon Parks Foundation.
Photographs
The auction of Photographs on June 29, 2020 offers eight iconic works by Gordon Parks.