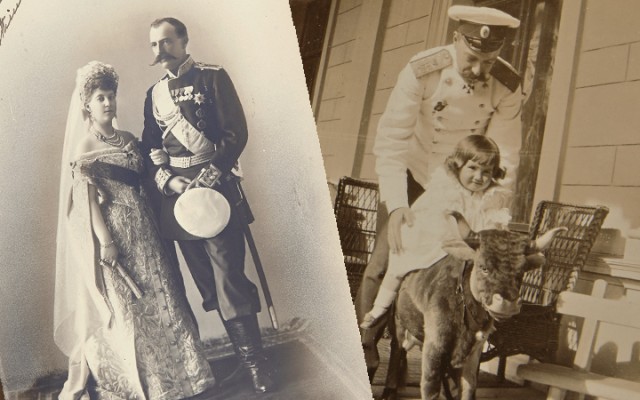 NEW YORK, NY – On January 31, 2018, Doyle will hold an auction of Russian Works of Art including Property from the Descendants of Russian Grand Duke George Mikhailovich. This remarkable collection has remained in the Grand Duke's family over the course of the last century and features Fabergé, silver, icons, books and family heirlooms with close connections to the Russian Imperial Family.
Grand Duke George Mikhailovich (1863-1919) was the third son of Grand Duke Michael Nikolaevich (1832-1909) and the grandson of Emperor Nicholas I of Russia (1796-1855). He was married to Princess Marie Georgievna (1876-1940), née Princess Maria of Greece and Denmark, daughter of King George I (1845-1913), and Queen Olga (1851-1926), née Grand Duchess Olga Konstantinovna of Russia. The couple wed in 1900 and had two daughters, Princess Nina Georgievna (1901-1974) and Princess Xenia Georgievna (1903-1965).
The Grand Duke and his family initially lived in St. Petersburg before settling in 1907 at Kharaks, their newly built estate in the Crimea. Located close to the palace of Emperor Nicholas II at Livadia and to Ai Todor, the palace of Grand Duke Alexander Mikhailovich and Grand Duchess Xenia Alexandrovna, Kharaks played host to numerous members of the imperial family and St. Petersburg society. Grand Duchess Marie recalled in her memoirs that Nicholas II "came two or three times a week, when living at Livadia, to dine with us. The Empress sometimes came too..." (Grand Duchess George, A Romanov Diary: The Autobiography of H.I. & R.H. Grand Duchess George, G.N. Tantzos and M.A. Eilers, ed., New York, 1988, p. 133). Photographs of Kharaks depict a comfortable family home where numerous objects, such as pieces by Fabergé and icons, are displayed in many of the rooms.
As with so many members of the Russian Imperial Family and the aristocracy, the lives of Grand Duke George Mikhailovich and his family were torn apart by the Russian Revolution. In the summer of 1914, Grand Duchess Marie and the two princesses left Russia for England. The outbreak of World War I prevented them from returning home safely, and they were forced to settle in Harrogate and London. Grand Duchess Marie established hospitals in Harrogate which cared for wounded soldiers over the course of the next five years. Neither she nor the princesses would ever return to Russia.
In June of 1917, as the Revolution intensified, Grand Duke George was granted permission to travel to Finland. He remained there until April of 1918, when he was arrested and sent to Petrograd, then exiled to Vologda. In July, he was returned to Petrograd and imprisoned, along with his brother Grand Duke Nicholas Mikhailovich and their cousin Grand Duke Paul Alexandrovich. In January 1919, the three grand dukes were executed by a Bolshevik firing squad.
Many of the family's belongings were left behind at Kharaks. From 1918 to 1919, the Dowager Empress Maria Feodorovna, who had fled south for her safety, lived at Kharaks. In April 1919, the HMS Marlborough, under orders of the British Royal Navy, arrived in the Crimea to evacuate the Dowager Empress and other members of the Russian Imperial Family who were staying in the area. Some of the family's treasured belongings were removed, brought on board the ship, and subsequently delivered to Grand Duchess Marie in England.
Property from the Descendants of Russian Grand Duke George Mikhailovich comprises lots 103 through 134 in the Russian Works of Art auction.
Russian Works of Art

Auction January 31, 2018
Exhibition January 27 – 29