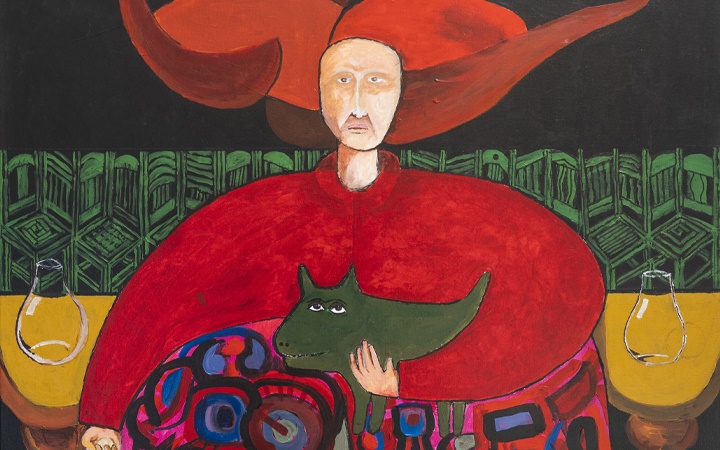 NEW YORK, NY -- Doyle is honored to auction works from the Collection of Hernán García. Born in Havana in 1935, Hernán studied at the Instituto de la Habana where he met his future wife, Carmen Couceiro, whom he married in 1954. During visits to her home, he met her brother, artist Manuel Couceiro, and joined in Manuel's weekly gatherings of poets, sculptors and painters that included such avant garde artists as René Portocarrero, Guido Llinás and Raúl Milián. Hernán continued his studies in graphic design, studied ceramics with Amelia Peláez at her studio at Santiago de las Vegas, and worked as an illustrator at an advertising agency with fellow artist artist Raúl Martínez.
In 1963 following the Cuban revolution, Hernán emigrated to Spain with his wife and children and settled in Madrid, where he found work in an advertising agency and later established an interior design firm. During his years in Madrid, Hernán hosted a number of his artist friends in his home, among them Servando Cabrera and Fernando Luis Domínguez. He often painted together with them, even supplying paint and canvas, and traded works with them or acquired paintings as gifts or through direct purchase. Over the years his collection of Cuban art grew.
In 1978 with the change of government in Spain, Hernán moved to San Juan, Puerto Rico, where he drew illustrations for the newspaper El Nuevo Día before moving to Miami, Florida in 1984, where he lives and paints today.
Paintings by Hernán García have been the subject of numerous solo exhibitions at prominent galleries on both sides of the Atlantic, from Paris and Madrid to Miami and San Juan, in addition to a 40-Year Retrospective in Mexico in 2013. In 1995 he was awarded the prestigious First Prize at the IX Biennial of Puerto Rico.
Latin American Art
Auction Wednesday, October 12, 2022 at 11am
Exhibition October 8 - 10
Works from the Collection of Hernán García comprise lots 73, 97, 107-112 in the October 12 auction.