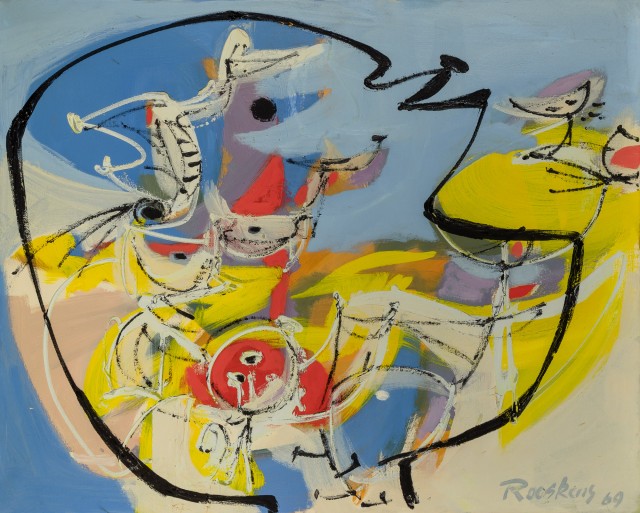 NEW YORK, NY -- Self-taught artist Anton Rooskens arrived in Amsterdam in 1935. Taking a job teaching metalworking and industrial design at the Don Boscoschool, Rooskens was privately an autodidact, creating and exhibiting a series of Van Gogh-influenced landscapes. Upon viewing Kunst in Vrijheid, or Art in Freedom, an exhibition at the Rijksmuseum in 1945, Rooskens was overwhelmed by the collection of African tribal objects and New Guinea ancestral effigies. Visits to the Stedelijk Museum also expanded his worldview, as he felt deeply moved by the Cubist works of Picasso and Braque and the Surrealist work of Andre Masson. These museum exhibits, as well as his experiences in the military during WWII, sent Rooskens looking to reinvent his art and go in new directions.
In 1946 Rooskens met Karel Appel, Corneille and Eugene Brands at the Young Painters group exhibition at the Stedelijk. Like Rooskens, these kindred spirits drew from their experiences serving during WWII, as well as a shared passion for what we now refer to as Outsider Art – naïve work made by children, the mentally ill and the incarcerated, as well as tribal art and artifacts like those Rooskens fell in love with at the Rijksmuseum. The CoBrA Group, named for the three cities in which the artists hailed – Copenhagen, Brussels and Amsterdam – sought to explore chance, emotion and improvisation, rejecting nearly all formal art movements that had preceded them, save for Surrealism. Seeking to abandon traditions and paint spontaneously, CoBrA artists focused on exploration and revealing the subconscious. They called their intention to pursue freedom of creation divorced from studio art practices "Desire Unbound," and presented their ideas to the public through their printed CoBrA Journals. And though the CoBrA Group shared many concepts and aesthetics with the Abstract Expressionists, also painting during this same era, their manifesto was far more rigid and exclusive than the New York group.
Rooskens, already an established artist with several exhibitions to his credit, joined CoBrA in 1948, an elder statesman at 39 years old. He was in the rare position to provide canvases and paint to his fellow artists because he was gainfully employed, making him invaluable to the younger artists beyond providing friendship, collaboration and constructive criticism. The same year, Rooskens spearheaded the Nederlandse Experimentele Groep (the Experimental Group), which later merged with CoBrA. Rooskens took part in the famous CoBrA exhibition at the Stedelijk Museum in Amsterdam in 1949 but withdrew from the movement almost immediately afterward. CoBrA itself only lasted until 1951, though Appel, Jorn and many of their colleagues held on to many of its influences and ideals.
Rooskens developed a language of images, devising magical pictographs and using heavy black pigment balanced against bright colors. While CoBrA artists found inspiration in children's artworks, Rooskens drew from ancient forms – objects sourced from and influenced by New Guinea and other tribal objects. Beginning in the 1950s, Rooskens exhibited in Frankfurt, Germany, in the home gallery of dealer Klaus Franck. It was the first contemporary gallery established in Germany following WWII. Rooskens also contributed to German artist Karl-Otto Gotz's experimental arts publication, Meta. A 1954 trip to Africa pushed Rooskens even further into exploring and adapting African imagery, but the depths to which colonialism had gentrified the African nations he visited shocked him. Travel was essential to Rooskens' artistic development. He visited Iceland, Greenland and – near the end of his life – the village of Rivello in Italy. The Stedelijk Museum staged an exhibition on view through June entitled "Rooskens' Travels." It encapsulates these experiences and reflects on how they influenced his practice. Beginning their collection of CoBrA Group art in earnest in 1954, the Stedelijk Museum was the first major museum to do so – and now houses one of the best CoBrA collections.
Doyle is pleased to present two works by Rooskens in the 20th Century Abstraction sale on March 8. Both are part of the remarkable collection of David Margolis, who amassed a large and rare collection filled with many of Europe's best 20th-century contemporary artists of the 20th century. The collection itself is remarkable, though Margolis went further, making his home into a salon of sorts, hosting exhibitions and introducing to a Boston audience many artists and entire art movements so new and esoteric that his exhibiting them would have preceded any similar programming in most institutions and gallery spaces throughout the Boston area. The family retains a published guidebook Margolis had printed on the occasion of his 1966 exhibition, with an introductory essay from friend and collaborator Sam Kaner.
Sam Kaner owned and operated the American Art Gallery in Copenhagen (later renamed Court Gallery). Mr. Kaner established a longtime friendship with Mr. Margolis and helped him build a remarkable collection. In addition to acquiring works by Lynn Chadwick (and personally introducing Chadwick to the Margolis family) and avant-garde works by CoBrA artists, Kaner collaborated on works with Appel. In assembling the Margolis collection and its subsequent exhibition, Kaner worked beyond his gallery and network of artists, working with legendary galleries such as Gimple Fils in London and Martha Jackson in New York.
Forecasting trends and finding pathways to connecting the public to arts and entertainment motivated Mr. Margolis. At the dawn of Rock n' Roll when 45 rpm singles were sold in department stores next to dishwashers and stoves in the appliance section, Margolis realized many burgeoning record labels had no method of having these stores stock their product. Margolis developed a record distribution company, one of the earliest of its kind, that provided stores throughout the American south with singles previously unavailable to music aficionados and record collectors. Many in the decades to follow reproduced this business model.
An Anton Rooskens untitled 1969 work on canvas from the Margolis Collection is a sublime example of CoBrA Group art – bright, loose and even more gestural than many other examples from this period. Rooskens' trademark black pigment does not weigh the painting down, and where other examples often employ heavy black outlines around its figures, here the lines are wispier, often more hinting at borders than dominating the image. In the foreground, a dark background outlines a face in profile, a beak-like mouth opens slightly, extending upwards. Behind it, the characters dance in the middle ground. The background carries lush expanses of brilliant blues, yellows, red, orange and cream – reducing not just the black pigment common to his works, but the deep crimsons often filling his compositions reveal themselves in secretive glimpses. A rolling wave of yellow balances the composition, underlining the figures in motion. Lot 65
Rooskens' work on canvas is joined in the collection by a 1966 work on paper depicting two Cubist heads packed with busy streaks of color, framed in Rooskens' signature thick black borders and flanked by fields of deep blue. In Rooskens' compositions, we can see the influence of the New Guinea effigies: indigenous people carved these effigies to provide a place for the spirit to reside. Many Pacific Islanders consider the head to be the seat of the soul, and their carvings are a sort of vessel. Rooskens' figures are borne of this sense of spirituality; esoteric and cryptic, totemic forms created with dynamic gestures, loaded with emotion and ritual. Lot 66
20th Century Abstraction

Auction Wednesday, March 8, 2023 at 10am
Exhibition March 4 - 6
Featured in the March 8 auction are two works by Anton Rooskens from The Margolis Collection.