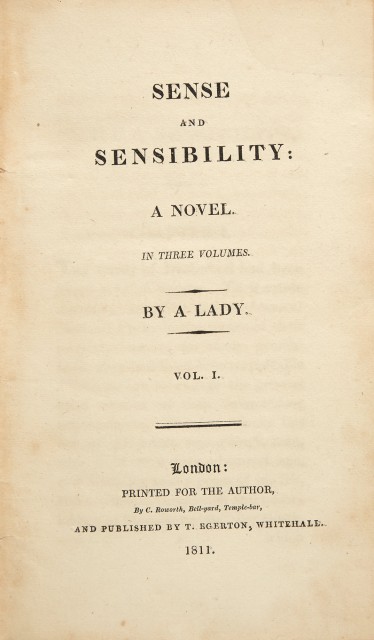 NEW YORK, NY -- Jane Austen was born in 1775, the daughter of the George Austen, rector of two Hampshire parishes, and his wife Cassandra. The family's means were quite modest (though this fact was by no means uncommon for a rural Anglican rector). George, though of a family that at one time had significant wealth, had been orphaned as a child, and owed his Steventon parish (with its associated income, or living) to his cousin Thomas Knight, who owned lands and property in that village. He had an income of about two hundred pounds a year from the two livings, which he supplemented by boarding and teaching boys, and by selling some produce from his farm. Jane was the youngest of the couple's six children.
The Austen household appears to have been an enlightened milieu. Both Jane and Cassandra were educated to the best of their parents' abilities, partially at home, though between 1785 and 1786 the two sisters were at Reading Abbey Girls' School, a noteworthy establishment (Jane drew from her experiences there when writing Emma, the last novel completed and published during her all too brief life). One biographer of Austen has dismissed the school as a "harmless, slatternly place," but clearly she felt she benefited by being there, and it was the last time that she lived outside the family environs.
Perhaps more important to her education than formal education, Jane had at her disposal both the library of her father, and that of Warren Hastings (the first Governor-General of India). Later, she had those of the manor houses belonging to her third brother Edward, who inherited estates (with manorial libraries) at Steventon, Chawton and Godmersham. As a result, she was extremely well read for a young woman of the period. Additionally, the family enthusiastically engaged in plays, most staged in the barn at the rectory. An enthusiastic writer from early years, she wrote three plays and countless divertissements for her family, and by the age of fourteen she had written an epistolary satirical novel, Love and Freindship [sic]. Though this was juvenilia, she clearly saw herself as a writer from very early on, and by 1796 had completed her first full-length novel, also epistolary: Elinor and Marianne. Portions of this are likely to have made their way into Sense and Sensibility, but that is difficult to determine because of the loss of the manuscript of the earlier work. Her second novel, First Impressions, which was to become Pride and Prejudice, was also begun in that year, and completed in 1797. Austen was then just 21. In 1798, she began a third novel, satirizing the conventions of the Gothic novel; this would become Northanger Abbey but would not be published until after her death.
When in December 1800, George Austen decided to resign his ministry and move the family to Bath, the move seems to have impacted Jane Austen's writing, though whether this was as a result of depression and discouragement over the move, or simple distraction by the wealth of social activities that ensued, remains unclear. The only person who could speak to this is Jane herself, and one of the most confounding aspects of Austen's life is how few of her papers survive. She was a prolific correspondent, but of the thousands of letters she wrote, fewer than two hundred are extant.
Those written to her beloved older Cassandra, were (after Austen's death) either destroyed outright or had portions excised by her; and later generations of Austens further diminished this portion of her literary legacy by further destroying or mutilating her correspondence. Jane Austen tended to be quite plainspoken in her letters, and it seems to have been felt by the family that the forthright utterances in the letters would cause offence. No less than Virginia Woolf referred to Jane Austen's "coarseness," which she seems to have meant as something of a complement "The people who talk of her as if she were a niminy piminy eviscerated spinster always annoy me. But I suppose I should annoy them..."
The Bath chapter of her life ended with her father's death at the age of 75 in January of 1805, after which the family's finances became precarious. For a while, she lived with her mother and sisters at Worthing in Sussex (at the time, a fashionable resort). Later, from 1806 to 1809, they lived in Southampton, where they shared a house rented by her brother Francis, at that time a flag captain in the Royal Navy, who subsequently rose up the Navy List to become Admiral of the Fleet. Finally, in 1809, her brother Edward offered the use of a cottage (not by any means a mean dwelling, a brick house of considerable size) in Chawton. There she lived with her mother and sisters until her death in 1817, at the age of 41.
Her literary output was, for all the brevity of her life, substantial. Her first published book, Sense and Sensibility, was underwritten by Austen, who anticipated losing money on it. The thousand copies were well circulated (over a two-year period, the book sold out its edition), and it seems to have circulated among the social elite, with no less than the fifteen-year-old daughter of the Prince Regent, Princess Charlotte Augusta comparing herself with Marianne, one of the two Dashwood sisters.
Her second book, Pride and Prejudice, was positively remarked upon by authors as diverse as Richard Sheridan and Sir Walter Scott. As a testament to its reception among general readers, the highly educated Anne Milbanke (later the wife of Byron, and the mother of the remarkable mathematician Ada, Countess of Lovelace) wrote of it that it was "…a very superior work…it is the most probable fiction I have ever read," also noting that it had become "at present the fashionable novel." Reviews in the literary journals of the time were scant, with just two contemporary notices known for Sense and Sensibility, and three for Pride and Prejudice, but then, the function of such reviews at the time was to provide brief remarks with guidance to readers.
However, Sir Walter's Scott's anonymous review in the Quarterly Review of October 1813 of Emma, Austen's fourth novel, was on quite a different level from such cursory notices. The book had been published by John Murray in an edition of 2,000 copies (at Austen's insistence, at her own expense), and Murray, probably knowing of Scott's high opinion of the talents of the author, asked him for a review. While this was a lengthy defense of the novel as an art form, Emma, Pride and Prejudice and Sense and Sensibility were at the heart of his argument. "The author's knowledge of the world, and the peculiar tact with which she presents characters that the reader cannot fail to recognize, reminds us something of the merits of the Flemish school of painting." It is a remarkable review, and represented the first public recognition by one of her peers of the level of art that Jane Austen had attained in her writing.
Rare Books Autographs & Maps

Auction Wednesday, April 17, 2019 at 10am
Exhibition April 13 - 15
Lot 226
Jane Austen, Sense and Sensibility: A Novel. In Three Volumes. By a Lady. London: Printed for the author by C. Roworth and published by T. Egerton, 1811. First edition of Austen's first published novel. Three volumes in olive drab half calf of the period, marbled boards. 6 3/4 x 3 1/8 inches (17.5 x 10.5 cm);
The Estate of Frances "Peggy" Brooks
Est. $30,000-40,000


Lot 227
Jane Austen, Pride and Prejudice: a Novel in three volumes By the Author of "Sense and Sensibility" London: Printed for T. Egerton, Military Library, Whitehall, 1813. First edition. Three volumes in early boards, recently rebacked to style in dark brown leather, black spine labels. 6 5/8 x 4 inches (17 x 10 cm);
The Estate of Frances "Peggy" Brooks
Est. $15,000-25,000


Lot 228
Jane Austen, Emma: A Novel. In Three Volumes... London: John Murray, 1816. First edition. Three volumes in half calf in period style (though likely later, possibly 1930s), marbled boards, edges speckled. 6 3/4 x 3 inches (17.5 x 10.5 cm);
The Estate of Frances "Peggy" Brooks
Est. $15,000-20,000