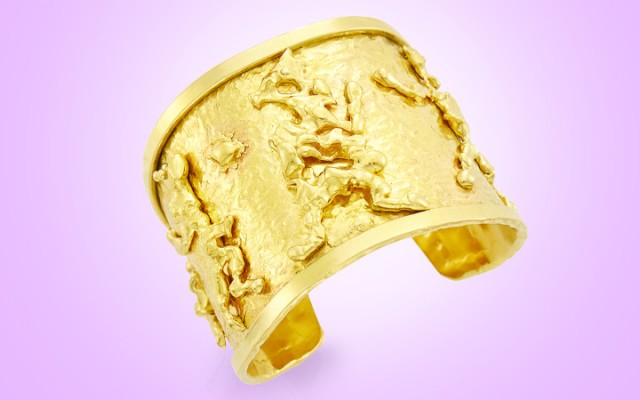 NEW YORK, NY -- The French jewelry firm Jean Mahie is a celebrated family business founded in 1969 by Jean Marie Mazard and his daughter-in-law Jacline Nataf Mazard. The lovingly bestowed nom de plume 'Jean Mahie,' was coined from the childish pronunciation of 'Jean Marie' by his young grandson (Jacline's son) Cyril and speaks to the organic creative relationship between family members, as well as the legacy of the brand.
Jean Mahie's combined focus on the texture and sensuality of high karat gold as a medium and jewelry as wearable sculpture dovetailed with the women's liberation movement and counterculture of the late 1960s and 1970s. With the shift towards minimalist fashions and relaxed dress codes championed by the likes of Halston and James Galanos, the bold and at times rugged designs of Jean Mahie garnered immediate accolades from industry leaders and important clientele alike.
Jean Marie Mazard initially found success after WWII as a retailer of maternity wear and baby clothes with his brand Prénatal. Perhaps informed by some inborn understanding of the female form, Jean Marie later returned to his life-long passion of artmaking. He began experimenting in gold in the early 1960s and very soon afterwards enlisted the help of his only son's young wife, Jacline Mazard.
Jacline, born in Tunisia in 1943, was interested in metalsmithing from an early age and could often be found making nails for the local blacksmith or studying the ancient artifacts surrounding her during her youth in North Africa. The overtly Hellenistic and Pre-Columbian influences of Jean Mahie can certainly be tied to Jacline's upbringing; however, heavy undertones of French whimsy live in the spirit of the brand, as well. Dancing and stretching golden figures forged against hand-hammered backdrops described in 1979 by The Los Angeles Times as "ironic erotica" and by Jacline herself as "erotic but funny," became emblematic of Jean Mahie.
Jean Marie and Jacline worked silently and without plans or sketches for their designs, often trading small figures and objects wordlessly between their work benches. By 1970, the likes of Van Cleef & Arpels and Cartier were retailing Jean Mahie. In 1971, the Texas-based department store Neiman Marcus began selling the brand in the United States. Interested in protecting the identity of their work, Jean Marie and Jacline established Tikal Gallery in 1972 at 4 Place Vendome in Paris. The firm thrived as European sales were placed under Jean Marie's supervision and bilingual Jacline became the face of the brand in America.
It wasn't long before Jean Mahie had caught the attention of American socialites and style icons like Babe Paley as well as Lynn Revson and Eleanor Revson, wives respectively to Charles and Martin Revson, founders of the Revlon Company. Lynn Revson was credited by The New York Times in 1974 as the first American to discover the firm's work in Cannes. With Jean Mahie's continued growth in America, Jacline's husband Jacques joined the family business in 1972.
Today Cyril, educated as a painter and sculptor at the Rhode Island School of Design, works with his mother to continue the legacy of Jean Mahie. Jean Marie retired in 1992 and died in 1994, but his presence is evident in all elements of the designs, down to the expressive limbs of the firm's iconic figures -- modeled after Jean Marie himself.
Fine Jewelry
The Fine Jewelry auction on August 19, 2020 offers an exceptional high karat gold cuff bracelet by Jean Mahie.