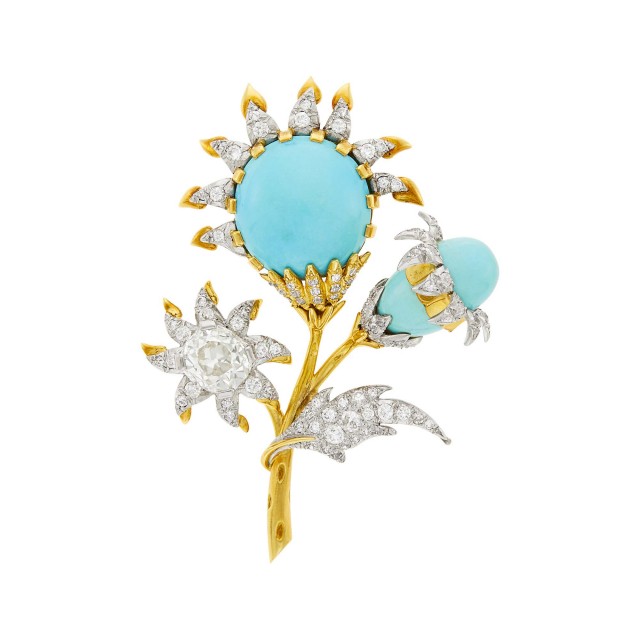 Jean Schlumberger's influence on jewelry design is among the most definitive of the 20th century. His bold and whimsically feminine designs attracted jet-setters and iconic tastemakers alike. Jean Schlumberger is celebrated for his nearly twenty-year career with Tiffany & Co. He is one of only four jewelers that Tiffany allowed to sign their work, alongside Paloma Picasso, Elsa Peretti and Frank Gehry.
Born to a family of successful textile merchants, Jean Schlumberger was a natural draftsman. He displayed superior drawing skills and creativity early in life, but his family encouraged him to go into banking instead of pursuing his artistic interests. After moving to Berlin to explore a career in banking and a brief stint working at a textile mill in New Jersey in his twenties, Schlumberger returned to his native France to begin his artistic career.
Schlumberger was self-taught and experimented with many materials in his early work. He crafted his earliest pieces from porcelain flowers salvaged at Parisian flea markets. These works were so charming that they caught the attention of fashion designer Elsa Schiaparelli who later commissioned Schlumberger to make buttons and costume jewelry for her haute couture line. Schiaparelli recalled that Schlumberger used "the most unbelievable objects: animals, feathers, caricatures, paperweights, chains, locks… some were wood, others plastic, but non resembled anything a button should resemble."
Schlumberger opened fine jewelry salons in New York and Paris in 1950 with partner Nicolas Bongard and, in 1956, joined Tiffany & Co. as a signature designer. Tiffany permitted him to keep his Paris workshop and gave him complete creative freedom over his designs. Schlumberger had access to some of the most important gems and diamonds in the world at Tiffany & Co. He created three settings for the famous Tiffany Yellow Diamond in his first year at the company.
Schlumberger was captivated by natural forms – specifically botanicals and marine life – saying, "I want to capture the irregularity of the universe." Schlumberger was interested in utilizing gemstones and precious metals to mimic the charming imperfections of the natural world. His custom pieces were generally identified with the signature 'Schlumberger Monture,' which translates from French to 'Schlumberger Mount.' These pieces showcase Schlumberger's imagination and innovative use of materials.
Important Jewelry
Featured in the Important Jewelry auction on April 12, 2022 are two Schlumberger Monture pieces made from three old mine-cut diamonds disassembled from antique jewelry and reimagined by Schlumberger as a stylized flower brooch with turquoise and foliate motif earclips. Both lots expand upon Schlumberger's ability to imagine a design based on just a stone. They also show his innate fascination with natural forms realized with the typical whimsy that made the Schlumberger aesthetic iconic and timeless.