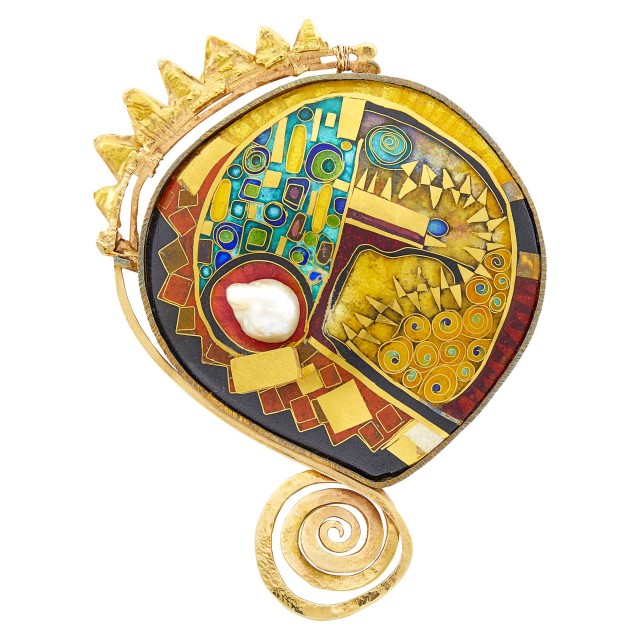 NEW YORK, NY -- The jewelry collection of Jacqueline Fowler reveals her keen eye for important and innovative design in the category of jewelry as wearable art. From early 20th century Arts and Crafts jewelry to mid-century studio craft and modern design, Jacqueline Fowler was committed to recognizing and sharing the work of artists who marked a moment in time or a shift in tastes. She was also a generous donor; her gifts to the Metropolitan Museum of Art numbered more than 400, and greatly enhanced that institution's jewelry holdings.
Highlights from the collection's broad spectrum include a pair of silver niello cufflinks originally exhibited at the 1925 Paris Exposition Internationale des Arts Decoratifs by French jeweler Gérard Sandoz (1902-1995). Sandoz's jewelry designs were inspired by the geometry of the machine age, the glitz and modernity of what would become known as 'Art Deco.' He used color, lacquer, eggshell and niello to produce bold contrasts in silver and gold work. His father was a prominent promoter of the 1925 Paris Exposition Internationale des Arts Decoratifs, and Sandoz exhibited his jewelry at the fair. He received two awards for his work. A man of many talents, Sandoz later turned his hand to poster design, filmmaking and painting, only to return to jewelry design in a limited capacity in the 1980s.
Contemporary to Gérard Sandoz, the Kalo Shop was a leading maker in Chicago producing handwrought flatware, holloware and jewelry in a style that has become synonymous with the Arts and Crafts movement. The shop and affiliated Kalo Arts and Crafts Community House was a haven for silversmiths, designers and jewelers alike, many of whom were women. The Arts and Crafts Community House was founded in 1900 by a group of six young women who had trained at the Art Institute of Chicago, the most notable being Clara Pauline Barck Welles. Barck Welles almost exclusively sought out female designers. While they were mostly known for their output in silver, somewhat rare examples from the workshop like the blister pearl brooch are executed in gold.
Also from Ms. Fowler's collection is a sinuous collar necklace with chain (dubbed 'Parispiral') by renowned African American jewelry designer Art Smith. Art Smith (1917-1982) studied at the Cooper Union and opened a studio on 140 West 4th Street in New York City in 1948. He was honored with a one-man show at Museum of Contemporary Crafts in 1969. His work is biomorphic in form, and often used negative space as a design element. Smith's pieces can be found in numerous museums, including the Metropolitan Museum of Art, which holds his lava cuff bracelet, a gift of Jacqueline Loewe Fowler.
Jeweler Earl Pardon (1926-1991) is regarded as a pioneer of the studio craft movement. He was trained in fine art, having graduated with a degree in painting from the Memphis Academy of Arts in 1951 and later earned an M.F.A degree from Syracuse University in 1959. His jewelry is defined by textural collages in silver, gold and swatch-like flat, colorful segments; a good example is the gold, silver, abalone and enamel belt buckle owned by Jacqueline Fowler. Painting and sculpture remained an important influence throughout Pardon's career as a studio jeweler. His work is in the permanent collections of Smithsonian Institution and the Metropolitan Museum of Art, New York.
Another studio craft jewelry artist collected by Ms. Fowler was William Harper. A seminal piece entitled "Firebird" (a brooch of two-color gold, silver, baroque freshwater pearl and cloisonné enamel) epitomizes his distinctive style, utilizing highly intricate, painterly cloisonné enamel work. William Harper was born in Bucyrus, Ohio in 1944. Having graduated with a Master's in Education from Case Western Reserve University in 1967, he began his career as an abstract painter. Soon afterwards, Harper switched to enameling after studying at the Cleveland Institute of Art. His works have been celebrated in exhibitions worldwide and are in the collections of the Smithsonian and the Metropolitan Museum of Art, New York.
In her jewelry collecting, Ms. Fowler possessed a deep appreciation for pieces that emphasized design and the artist's hand at work. She was drawn to interesting color, stone and material compilations, resulting in a fascinating and startling collection.
Fine Jewelry
The Fine Jewelry auction on Thursday, June 23, 2021 at Noon features a group of exceptional examples of studio craft jewelry from the Estate of Jacqueline Loewe Fowler.