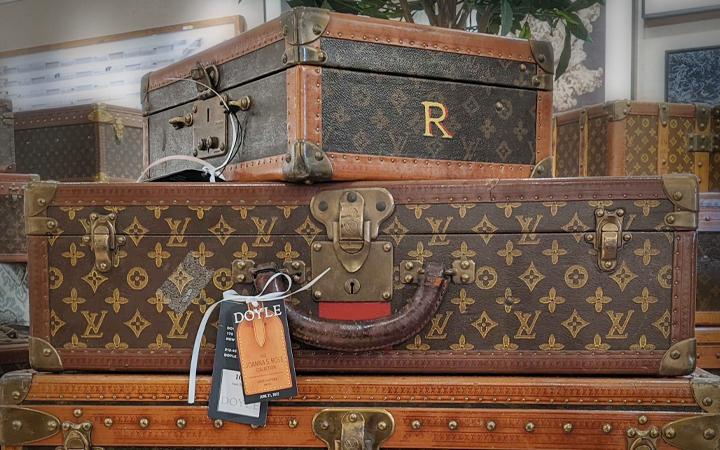 NEW YORK, NY -- Doyle is honored to auction property from the extensive collection of Joanna Semel Rose, the renowned art patron, collector, publisher and philanthropist, as a highlight of Luxury Travel: The Louis Vuitton Sale.
Regarded by many as one of the most brilliant people of her generation, Joanna S. Rose graduated valedictorian and summa cum laude from Bryn Mawr College, after which she attended Oxford University and earned a fellowship at the Shakespeare Institute in Stratford-upon-Avon. Elected to membership in the American Academy of Arts and Sciences in 2012, she was an Honorary Fellow of St. Hilda's College, Oxford University and an Associate Fellow of Berkeley College, Yale University. Rose co-founded the Harlem Educational Activities Fund and served on the boards of the New York Council for the Humanities, the New York Institute for the Humanities at New York University, the advisory board of the CUNY Graduate Center for the Humanities and the national advisory board of the W. E. B. Du Bois Research Institute. She was a founding board member of numerous educational foundations and institutions. She was for many decades the chairman of the board of Partisan Review magazine.
It was not just her genius that defined her; it was also her unparalleled artistic taste. A private figure for much of her life, Joanna S. Rose became known to the public after "Infinite Variety," a legendary exhibition of 651 early American patchwork quilts from her collection mounted at the Park Avenue Armory in 2011 in honor of her 80th birthday. The quilts were just one of her many collections. In May of 2022, Doyle was proud to feature a selection from her remarkable assemblage of Tiffany Olympian silver (some 200 place settings, many of which contained upwards of two dozen different utensils). She also collected cookbooks, wine, Chinese opera gowns, pre-Colombian art, oriental rugs, Judaica, Judith Leiber minaudières, Christian LaCroix couture, American Realist paintings, antique scrimshaw and more.
But while Joanna S. Rose was undoubtedly one of the foremost collectors of the last century, that is not the term she used. She described herself to The New York Times, as "not a collector," but instead, "a treasure hunter." True to form, she was a loyal buyer at Doyle since its doors opened in 1962, for which she was honored with a permanent bidding paddle for all our auctions.
For Joanna S. Rose, Louis Vuitton luggage was the ultimate combination of three of her loves: travel, craft artistry, and—as Plato described beauty—"fitness to a particular purpose." Her 65-year love affair with Louis Vuitton began shortly after her 1956 wedding to real estate developer Daniel Rose. The young couple took a transatlantic ship from New York to Sicily for their honeymoon. As they watched the stevedores casually load luggage onto the ship, they observed a change in routine. The workers treated a particular set of bags almost reverently and with literal kid gloves. When they inquired about the handling of this luggage, they were told, "But…those are Vuitton!" The Roses immediately switched to Louis Vuitton luggage.
Throughout her life, Joanna Rose amassed what may be one of the largest privately-held collections of Louis Vuitton items. In contrast to today's informal attitude toward travel, the 1950s and 1960s marked the tail end of the era of traveling in style on ocean liners and transcontinental trains. Louis Vuitton luggage embodied this bygone era. Its name was synonymous with luxury travel.
Joanna S. Rose traveled in style throughout her life, taking her family across the United States and to cities such as Paris, London, Rome and Athens. On these trips, the entire family used Louis Vuitton luggage, with each child allowed to fill one hard-sided trunk. Joanna herself carried Vuitton purses and shoulder bags. Her children note that their mother's love of the brand was not due to its elite status; but rather, its excellent quality and durability. As an avid globetrotter, Rose needed trunks that could handle a lifetime of heavy-duty travel. She believed form follows function, an ethos shared by Louis Vuitton. The company began in 1854 as a luggage seller. In 1858, Louis Vuitton introduced the flat-top trunk as an alternative to dome-shaped tops. This revolutionary innovation meant trunks could be stacked and stored to save space.
Joanna S. Rose sought out unusual and custom pieces from Louis Vuitton. In particular, she loved pieces designed for specific purposes, such as a Louis Vuitton Monogram Canvas Travel Secretary (lot 1079). The interior, designed for the age of luxury travel, holds many items. It was modeled after a 1927 design by Gaston-Louis Vuitton for Ernest Hemingway made specifically to hold his collection of books. Trunks like these were perfect for Rose, as their many compartments allowed her to pack several weeks' worth of clothing and jewelry for her trips abroad.
David S. Rose, her eldest son, explains how after Joanna Rose died, the family decided that the world is divided into two types of people: those who had ever met "JSR" in person, and those who hadn't. Doyle hopes that for those who did not know her, this beautiful treasury of Louis Vuitton pieces can offer an insight into her extraordinary life.
By Maggie Reinfeld, edited by David S. Rose
Luxury Travel: The Louis Vuitton Sale
Auction Tuesday, June 21, 2022 at 1pm
Exhibition June 18-20