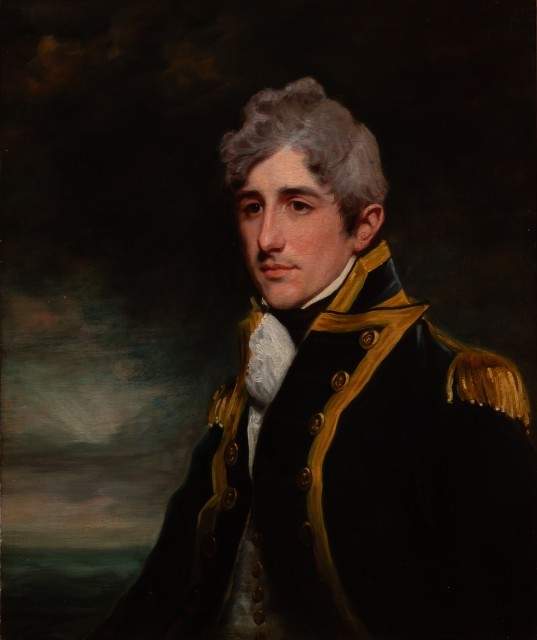 NEW YORK, NY -- John Hoppner (1758-1810) was born in London to German parents in the service of George II. His father was a physician, his mother a lady-in-waiting to the widowed Princess of Wales, Augusta of Saxe Coburg. Augusta's eldest son ascended the throne as George III in 1760, when Hoppner was two years old.
His parents' association with the Royal Family gave Hoppner a number of advantages. He was brought up as a choirboy in the Chapel Royal, receiving an excellent education in the choristers' school at St. James's Palace. When his gift for draftsmanship became apparent he was allowed to study the drawings in the Royal Collection; later he was granted a living allowance to help him establish himself as an artist.
Hoppner's rise in his chosen profession was rapid. In 1775 he entered the Royal Academy School, where in 1778 he won a silver medal for life drawing. He began to show his work at the Academy exhibitions in 1780, and in 1782, was awarded the Academy's highest honor, a gold medal for history painting. Although he had hopes of being a landscape painter, he soon turned to portraiture as a more secure means of making a living. He was successful almost immediately, soon receiving commissions from distinguished sitters from the court, including the Prince of Wales and the Duke and Duchess of York, as well as from other wealthy and well-connected patrons.
An early portrait of an unknown gentleman attributed to Hoppner, probably dating to the 1780s — judging from the style of the sitter's wig — will be offered at Doyle on January 21 (Lot 67). Here we can already see the qualities that would later distinguish the artist's mature portraiture: brilliant color, contrasting smooth and textured brushwork, and a vivid sense of the sitter's living presence.
During the 1790s, Hoppner's career flourished. In 1792 he was commissioned by the Prince of Wales to paint a portrait of the Austrian composer Franz Joseph Haydn, who was visiting the English court. In 1793, he was appointed Painter to the Prince of Wales, a position previously held by Sir Joshua Reynolds. He was also engaged to paint the likenesses of a number of prominent military figures, including Colonel Arthur Wellesley (later the Duke of Wellington); Admiral Horatio Nelson; and a portrait of a rising star in the Royal Navy, Captain — later Rear Admiral — John Sprat Rainier, which will be offered at Doyle on January 21.
John Sprat Rainier (1777-1822) was a nephew of Admiral Peter Rainier, commander of the Royal Navy in the East Indies — after whom, incidentally, the explorer George Vancouver named Mt. Rainier in what is now the state of Washington. John Rainier served as a lieutenant on his uncle's flagship in 1794, was promoted to captain in 1796, and in 1819 to rear admiral. He commanded various ships during a series of battles with the Dutch in the East Indies and took part in the British seizure of several Dutch possessions there.
This portrait of Captain Rainier, in which he is shown in naval officer's dress, can be dated with some precision. It can have been painted no earlier than 1795, since it was in that year that the Royal Navy first introduced epaulettes to its officers' uniforms. The fact that Captain Rainier's dark hair has been powdered gray, however, suggests that this likeness was painted before 1800, by which time well-dressed young men in Britain had given up powdering their hair in preference for their natural hair color. Since by the late 1790s Hoppner was one of the most sought-after portraitists in Britain, this painting would have been commissioned at considerable expense, very likely on the occasion of Rainier's promotion to captain in 1796. At that time he would have been only 19, and so may have deliberately followed the slightly old-fashioned practice of powdering his hair to suggest a maturity and experience beyond his years.
Although a British naval officer's uniform of the 1790s did not give the artist many opportunities to display his gifts as a colorist, Hoppner has made the most of his subject. The juxtaposition of the smooth surfaces of the face with the rough impasto of the hair is particularly elegant, as is the flat blue of the wool coat with the coarse textures of its gold braid and the starched ruffle of the shirt. Captain Rainier's expression is thoughtful; he seems to gaze into the middle distance as if looking into a future of heroic accomplishment. And, notably, his figure is set against a brooding seascape under an overcast sky, the powerful elements that will shape his destiny.
This affecting likeness is a particularly fine example of John Hoppner's mature work. We feel as if we know this young man, his pride in his position, and his hopes for the future. It is this capacity to convey a sense of the inner life of his subjects that made Hoppner one of the great portraitists of the Georgian period.
Old Master & 19th Century Paintings & Drawings
Among the highlights of the sale of Old Master & 19th Century Paintings & Drawings on January 21, 2021 are a portrait of Rear Admiral John Sprat Rainier by John Hoppner and a portrait of a gentleman attributed to John Hoppner, both property from the Estate of A. Edward Allinson, Palm Beach.