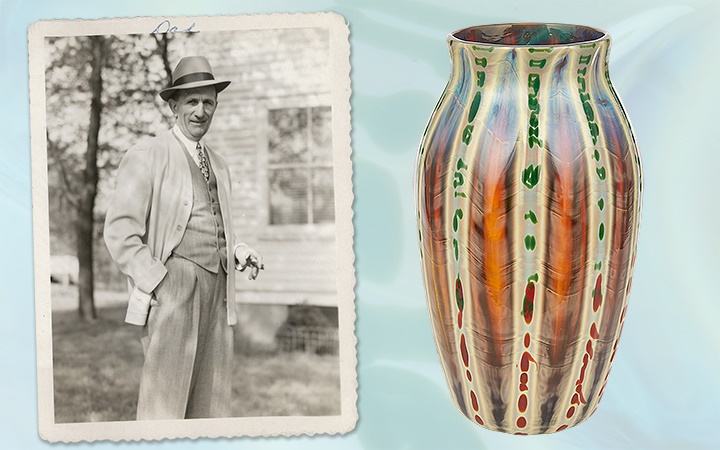 The personal life and professional career of Louis Comfort Tiffany (1848-1933) is very well documented. Much less is known, however, about the contributions and involvement of the many other individuals employed by Mr. Tiffany. Certainly, there were myriad talented men and women during the course of the firm's decades-long existence, who helped in the design and making of items at the Tiffany Studios, including the specially commissioned ecclesiastic and secular leaded glass figural and landscape windows, library lamps, chandeliers, wall sconces, Favrile art glass, pottery, enameled wares and bronze desk accessories, for which the company was justly famous. Not surprisingly, these beautiful and artistic objects are still universally cherished and widely collected to this day. Unfortunately, many of the original company records, catalogs and archives have not survived leaving scholars, museum curators, collectors and dealers to piece together a comprehensive chronology of the company's creative and artistic output and patronage.
In recent years, Clara Driscoll (1861-1944) is a name that has come to light and garnered much attention. Ms. Driscoll was director of the Tiffany Studios firm's Women's Glass Cutting Department. In 2005, a cache of letters in the collections of Kent University and at the Queens Historical Society belonging to Ms. Driscoll came to light and brought forth new information concerning her pioneering artistic vision and important contributions to the Tiffany firm. The letters prompted the traveling exhibition, A New Light on Tiffany: Clara Driscoll and the Tiffany Girls, curated by Martin Eidelberg, Nina Gray and Margaret K. Hofer, which opened at the New York Historical Society in the spring of 2007. Until then, Louis Comfort Tiffany was largely credited for designing many if not all of the firm's popular leaded glass and bronze lamps. As a result, Clara Driscoll is now credited for some of the firm's most iconic and original Art Nouveau designs for leaded glass lamp shades. Inspired by nature, she designed the Dragonfly, Poppy, Arrowhead, Geranium, Daffodil and Wisteria shades.
It is fortunate that a new figure has now come to light in the person of Julien Joseph Cuny. The son of immigrants from Alsace Lorraine, he was born on July 11, 1891, in Union City, New Jersey. His father, also named Julien, was a glass and mirror manufacturer who had come to America in the 1880s with his wife, Marie Bouvray.
Julien Jr. began his career at the young age of twelve as an apprentice at Tiffany Studios in the decorating department. He married Elsa Anna Schultz, also a native of New Jersey, and together they had three children: Julien Edward, Florence Anna and Roy Charles. Julien Jr.'s hard work, determination and skill allowed him to rise in the ranks at the still expanding Tiffany Studios firm until he became a highly skilled decorator, specializing in church and private commissions. Julien Joseph Cuny died in August 1973 in New Jersey.
Doyle's Belle Epoque auction of June 8, 2016 offers property from the Collection of Julien Joseph Cuny. All of the items were acquired by Cuny directly from the Tiffany firm for his own appreciation and personal enjoyment. They comprise a magnificent Agate glass vase (lot 470) and several bronze desk items, including a clock (lot 467), several lamps (lots 465, 468, 469), a pair of bookends (lot 466) and two photograph frames (lot 463). The pieces have descended in the family through successive generations to the current owner.
Tiffany Studios and its successor, Tiffany Furnaces, made a variety of bronze and etched metal accessories for the well-appointed desk. Utilitarian, beautiful and fashionable, these affordable objects enjoyed great popularity with the public. Woodrow Wilson, who served as President of the United States from 1913 until 1921, had a desk set in the Grapevine pattern on his desk, which is now on display at the Woodrow Wilson House Museum in Washington, DC. President George H.W. Bush had desk items in the Zodiac pattern on his desk in the Oval Office.
Tiffany desk sets included lamps, clocks, blotter ends, rocker blotters, inkstands, pen trays, pen brushes, pens, calendars, stamp boxes, bookends, paper racks, pad holders, reading glasses, photograph frames, match stands, paper knives and scissors. These could be purchased individually and were available in various patterns and finishes. In some instances, the pattern name is historicizing and evokes a bygone era, as in the Byzantine, Ninth Century and Heraldic patterns. Other desk set pattern names are suggestive of faraway places and exotic cultures, such as the Nautical, Spanish, Italian, Venetian, Chinese and American Indian patterns. Twenty-three desk set models are currently known. Four of the most popular and frequently found patterns are Zodiac, Grapevine, Pine Needle and Abalone. The Cuny Collection includes rare items in the scarcely found Italian pattern. This is perhaps because it was only introduced into the marketplace around 1929, presumably prior to the Great Depression, and it may very well have been the last desk set model introduced.
As in Julien Cuny's day, collectors today find it immensely fun and gratifying to assemble desk sets in patterns they find alluring, and as an added bonus, collectors are simultaneously able to maintain a stylish and well-organized desk.