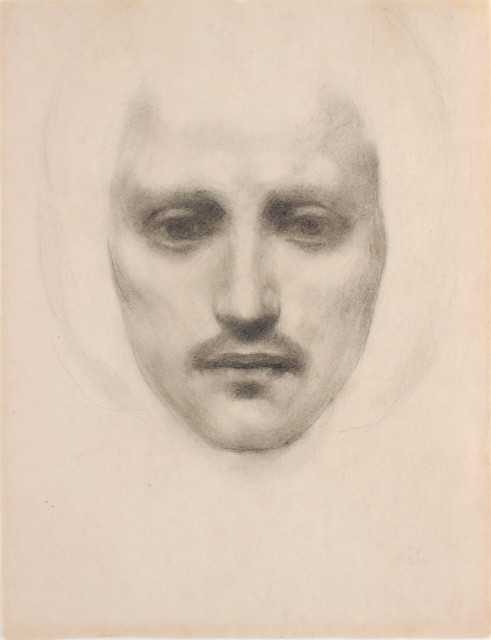 NEW YORK, NY -- When, in 1923, the publisher Alfred Knopf issued The Prophet, written by the Lebanese-American author Kahlil Gibran, Knopf had little idea of the popularity that work was to enjoy. Two thousand copies were issued, a respectable-enough edition for a book of inspirational verse by a comparatively little-known author, and of those, somewhat more than half the edition sold that first year. By the standards of poetry publishing, this could be judged a modest success. However, the following year that first printing sold out, a second was called for, and the demand increased almost exponentially thereafter. By 1926, the book was in its eighth printing, and Knopf issued an edition de luxe that same year.
Part of the appeal of the book came from its illustrations: Gibran was a trained and accomplished artist, with a style that harkened back to the French symbolists. The haunting frontispiece portrait of the prophet Almustafa (lot 12), in part an idealized self-portrait of Gibran, unquestionably had some bearing on the continued lure of the work. Knopf himself was perplexed with its enduring popularity for, as the years went by, it became a very profitable mainstay of his publishing house. When, long after Gibran's death in 1931, he was asked why it remained so popular, he responded bemusedly that he had no idea, reportedly saying, "It must be a cult."
This was in the sixties, and cults were very much in the air, but Knopf well knew that the book had sold well through the Great Depression, through the War years, and the fifties, not a decade that's normally associated with spiritual quest. Indeed, to date approximately nine million copies have been issued in English alone, and The Prophet has been translated into more than forty languages. By any reasonable calculus, the book is now one of the most popular works of poetry ever published, on a par with the Sonnets of Shakespeare and ahead of most other canonical works of English verse.
All of which begs the question, who was Gibran?
Born in 1883, Gibran emigrated from the area that is modern Lebanon (in what was then the Mount Lebanon Mutasarrifate) with his parents and siblings, settling in the South End of Boston. The Boston publisher and photographer F. Holland Day funded his education, encouraging him to read Whitman and study the drawings of Blake. As early as 1898, some of Gibran's drawings were published as binding designs; his first art exhibition was held in 1904 in Day's studio. In the intervening years, he had returned to Lebanon and studied at al-Hikma, a Maronite-run preparatory school and college in Beirut, during which time he started a student literary magazine and made a reputation for himself at the school as a poet. He returned to the United States in 1902.
Already an accomplished artist, from 1908-1910 he studied at the Académie Julian in Paris. At the same time, his literary interests blossomed. He was broadly influenced from the time of his Beirut studies by the writing of the Syrian writer Francis Marrash, whose works dealt with many of the themes of love, freedom and spirituality that were to become Gibran's hallmarks. Most of his earliest writings were in Arabic; he was an influential member Arab-American League of the Pen (al-Rabita al-Qalamiyya), a group of expatriate writers then active in New York, often referred to as "al-Mahjar," issuing numerous newspaper articles, poems and several books.
In 1918, Gibran published his first book in English, The Madman, a collection of seven parables, and several English-language works, some with his illustrations, followed this before The Prophet was published by Alfred Knopf, and he achieved a broader literary fame. Sadly, after the publication of his opus work his life was not altogether happy. Though acclaimed, his health declined, and he apparently took to drinking, often quantities of arak, the powerful anise-flavored liquor popular in the Middle East. His formidable charisma remained undimmed, but he appears to have been haunted by the sense that another great work remained, unfulfilled, within him.
In short, he seems to have suffered from a more or less severe case of writer's block, by no means the first author to be reduced to that condition by literary success. He produced a number of pleasant but relatively minor works, and in 1931, Gibran died, still rather young. Whether the proximate cause was years of drinking (The New York Times, in its obituary, said that he had been suffering from cancer of the liver, which might have been a polite euphemism for cirrhosis, or a bald statement of fact), possible tuberculosis, or some more profound complaint, the great work for which he had hoped died with him. What endured was The Prophet, his first success, which outlived Gibran, outlived its publisher, outlasted the sixties in which it achieved a near-oracular fame, and which remains consistently popular today nearly a century after its first publication.
Rare Books, Autographs & Maps

Auction Tuesday, November 13, 2018 at 10am
Exhibition November 10 - 12
Featured in the auction is a group of works by Kahlil Gibran.


Image:
Lot 12
GIBRAN, KAHLIL (1883-1931) [Almustafa, The Prophet].
[1923?] or after. Graphite on Dartmouth Bond paper (with watermark), 10 x 7 5/8 inches, initialed in pencil K.G. (l.r.).
Provenance:
Kahlil Gibran to Barbara Young
by gift to Madeleine Vanderpoel
by descent to her son, Wynant D. Vanderpoel.
Estimate: $20,000-30,000