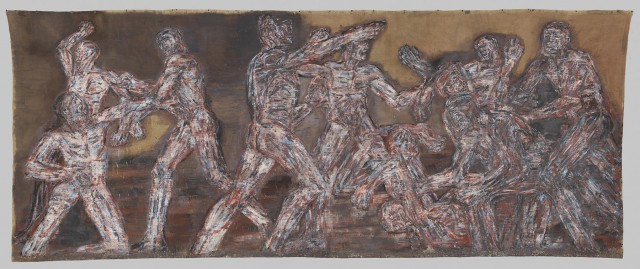 NEW YORK, NY -- Opening this week at the Met Breuer, Leon Golub: Raw Nerve is not the full retrospective Golub's career warrants, but is nevertheless a powerful and necessary selection of works spanning his lifetime. Golub in many ways is a case study of the much-maligned nature of figurative work in American Postwar Art. A part of the "Monster Roster" collective of figurative artists hailing from Chicago, Golub, along with his wife Nancy Spero and fellow World War II veteran HC Westermann, were the first in a group of somewhat loosely associated movements of artists that came to be collectively known as the "Chicago Imagists." Later incarnations that followed the Monster Roster included the Hairy Who (Jim Nutt, Gladys Nilsson, Karl Wirsum and others), as well as artists such as Roger Brown and Ed Paschke. Beyond a geographical connection, these artists were largely alumni of the School of the Art Institute of Chicago and exhibited at the Hyde Park Art Center. Their work ignored the prevailing art world trends of the time, instead drawing influences from Art Brut, comic books and Surrealism.
Gigantomachy II, one of two important gifts to the Met and the centerpiece of this exhibition, overwhelms the viewer upon entrance to the gallery. Spanning nearly 10 x 25 feet, the painting is Golub at his best – enveloping, violent and confrontational. A group of men fight, pulling and gnawing at each other – but it's cruelty and horror bereft of context. The figures in their nakedness provide us no clues. There is no clear protagonist, no side to take, no historical moment within which to place it. And in this is much of the intent of Golub's work: the horrors of war, the cruelty of man. These notions are timeless; we have been both victims and aggressors since creation. Yet, even with the grotesque nature of Golub's figures, the poses recall classic Roman and Hellenistic art, grand and imposing.
Golub's technique was often as violent as his works – assaulting his canvases, piling up pigments and scraping away at sections, often employing a meat cleaver as a scraper. His process created rough textures by scraping away, and in so doing, burying pigment into the canvas weave, building up the surface. The rawness and often free edges of his canvases imply that we are only viewing one moment, one scene, as though the canvases were cut down from a larger narrative – that as much horror as we're witnessing, there's so much more kept secret from us, just out of view. Often times Golub would cut away chunks of the canvas so they appeared as animal hides or fragments, pieces of a larger dialogue. Typically working on unprimed canvas, Golub employed heavy earthen tones and blacks, mixed in with blood reds. The expanses of unpainted canvas create further unease in their precarious balance with his palette. Throughout his work, whether the subject matter is seemingly timeless, as in the aforementioned Gigantomachy II, or incredibly specific, as seen in the lithograph 1985 – S. Africa, Golub's work speaks to the barbaric cruelty of masculinity.
Returning from France to the US in 1964, and becoming heavily involved in the anti-Vietnam War movement, led Golub to create two new series, Napalm and Vietnam, which confronted brutality and questioned power. The second of the two works gifted to the Met included in this exhibit is Vietnamese Head, which for all intents and purposes could be the aftermath of Eddie Adams' infamous "Saigon Execution" photo. A severed human head lies on bare canvas, reduced to an anonymous piece of meat, representing the abominably casual nature of death in war.
Golub was ignored throughout the 1970s, as the prevailing trend of the time was Minimalist and Conceptual art. His rejection during this period led to great self-doubt, and he destroyed much of his mid-70s work. His portraits of political figures followed this period, and resulted in a large output of over 100 portraits, including Ho Chi Minh, Fidel Castro, Richard Nixon and others. These portraits of dictators and despots are failures in the typical sense of political portraiture, in that these paintings serve to make the sitter appear neither noble nor deified, but instead are intentionally depicted as hideous and vile as their policies. Included in Raw Nerve from this series is a group of portraits of General Ernesto Geisel, the former President of Brazil, who, among other horrors, imprisoned, tortured and murdered countless political enemies and protestors along the Araguaia River Valley. In Golub's depictions, Geisel appears doddering and weak, a veiny mess of neck meat straining a too-tight collar.
While Golub's depictions of violence throughout history may be most prevalent, it would be incorrect to say this was the whole of his work. But even with a seemingly innocuous painting not depicting physical violence, as in Two Black Women and a White Man, there's still a sense of foreboding. The three figures appear to not want to share this canvas together. The rough-hewn walls behind the figures share their rawness, as if both setting and subjects have been attacked with blunt objects. Have we missed what just happened, or is a transgression about to occur?
Again, Leon Golub's body of excellent, visceral work demands a fuller exhibition than a single floor of the Met Breuer can provide. Golub's collaborative work with wife Nancy Spero, herself an important artist no less challenging or confrontational than Golub himself, also requires representation. However, this selection of works is an important exhibit. Many years after Golub's passing in 2004, he is still able to affect us. This exhibition, a timely reminder that we must stand up to tyranny, with artwork telling not only stories of atrocities and war crimes, but of an artist who made activism and resistance a lifelong practice.
The Met Breuer

Leon Golub: Raw Nerve
On view through May 27, 2018
945 Madison Avenue at 75th Street
New York City
MetMuseum.org
Image captions:
Leon Golub (American, Chicago 1922-2004 New York)
Gigantomachy II, 1966
Acrylic on linen, 9 ft. 11 1/2 in. x 24 ft. 10 1/2 in. (303.5 x 758.2 cm)
The Metropolitan Museum of Art, New York, Gift of The Nancy Spero and Leon Golub Foundation for the Arts and Stephen, Philip, and Paul Golub, 2016
Leon Golub (American, Chicago 1922-2004 New York)
Vietnamese Head, 1970
Acrylic on linen, 24 × 18 in. (61 × 45.7 cm)
The Metropolitan Museum of Art, New York, Gift of Dan Miller, in loving memory of the artist, 2016
Leon Golub (American, Chicago 1922-2004 New York)
General Ernesto Geisel (1976), 1977
Acrylic on linen, 17 3/4 × 12 5/8 × 1 in. (45.1 × 32.1 × 2.5 cm)
The Metropolitan Museum of Art, New York, Intended gift of Jon Bird
Leon Golub (American, Chicago 1922-2004 New York)
Two Black Women and a White Man, 1986
Acrylic on linen, 120 x 163 in (305 x 414 cm)
Courtesy Ronald Feldman Gallery, New York
All images © The Nancy Spero and Leon Golub Foundation for the Arts/Licensed by VAGA, New York, NY