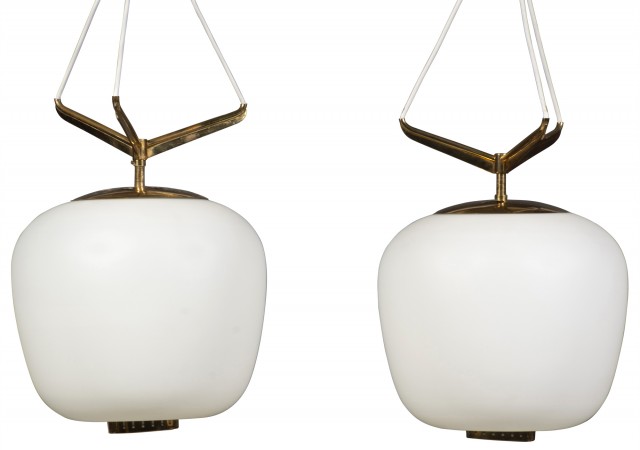 NEW YORK, NY -- With an artistic history stretching back millennia, Italy has long exerted a disproportionate influence on global design movements. Nowhere is this more evident than in lighting created during Italy's design heyday from the 1950s through the 1980s. This tremendously productive period encouraged experimentation and collaboration in an exuberant post-war environment that brought together designers, artists, manufacturers and craftsman working with new materials, such as acrylic, as well as the most ancient materials, such as marble. Looming large in this scene is a group of Italian design luminaries such as Stilnovo, Gino Sarfatti, Angelo Lelii, Afra and Tobia Scarpa and Mario Botta, some of whose work we will explore below.
Italy faced the daunting task of rebuilding itself at a time of limited means following World War II. Furniture and lighting designers in this period, many of whom were prominent in the late Deco era, updated their designs in a restrained manner, emphasizing clean lines, tapered forms, and high-quality-but-traditional materials such as brass, glass, natural stones and wood. Rare examples from this period are brass and glass ceiling fixtures manufactured by Stilnovo (Lot 67). The inverted tripod design, with three cords stretching to the ceiling, brings an architectural quality to these pieces. While an Italian Gothic chandelier may have used heavy wrought-iron chains, the Stilnovo design, with its cleverly hidden power cord, feels light and airy, with an almost floating quality.
If the 1950s ushered in tasteful restraint, the 1960s embraced radical experimentation, a seemingly inevitable outcome of a period marked by youthful rebellion and social unrest. Designers displayed their wit, embracing new technologies and materials that opened the door for a completely new design vocabulary. They often infused pieces with a Pop sensibility, embracing color and rounded forms as opposed to the rectilinear designs from the 1950s. A rare and playful piece from this period is a pair of Model 541 table lamps designed by Antonio Macchi Cassia for Arteluce in 1968 (Lot 123). This lamps consists of two orbs that are held together magnetically, so the pieces can arranged in an endless number of combinations. The upper orbs seem to resemble an eye, giving these the feel of little robots. As Saarinen's Tulip chairs eliminated multiple chair legs, this design reimagined what lamps could be, eliminating separate bodies and necks and replacing them with a simple orb. This stacked ball motif was a signature for many lamps in this period. Italian designers explored this form using a variety of materials, including plastics as well as Murano glass.
The Model #584 table lamp designed by Gino Sarfatti and produced by Arteluce exudes the influence of Pop (Lot 115). The domed acrylic shade was made in many colors, lending this simple form a whimsical edge. The hexagonal neck contrasts with the circular form of the shade and base, and the exaggerated finial makes this lamp look portable.
Postmodernism exploded onto the scene during the 1970s and 1980s. Though short-lived, the Memphis Group continues to exert a tremendous influence on the design world. The auction market reveals increased demand for Postmodern designs. Fine examples of Postmodern lighting are these "Shogun" sconces designed in 1986 by Mario Botta for Artemide (Lot 111). Gridded bent metal shades create an exoskeleton of sorts, defining these playful sconces – which also feature intersecting arches. The graphic look of the metal and the rounded forms are characteristic Postmodern features.
As tempting as it is to fit each piece into a specific era, Italian designers continually pushed boundaries, with one eye toward the future and another toward the past. Two chandeliers in the sale were designed in the 1950s but defy easy categorization. The black disc chandelier by Giancarlo Simonetti and Giovanni Corradini (Lot 81) echoes the Stilnovo fixture discussed above, but the perforated black disc gives it a more futuristic flair.
The model #212 chandelier by Angelo Lelii (Lot 73) is very rare on the market. It presages subsequent movements in Brutalism, with its heavy black grid, and Postmodernism, with its asymmetrical shades and whimsical red square.
Such is the influence of mid-century Italian lighting that contemporary lighting design in the 21st century frequently references these post-war designs. For the collector, designer, or architect, a single piece of superb Italian lighting can deliver a big punch to any interior. Given the prodigious output from this era, we expect the market to continue to appreciate these iconic designs well into the future.
Doyle+Design

Auction Wednesday, December 7, 2022 at 10am
Exhibition Dec 3 - 5
Featured in the December 7 is a selection of exceptional examples of lighting by prominent Italian designers.