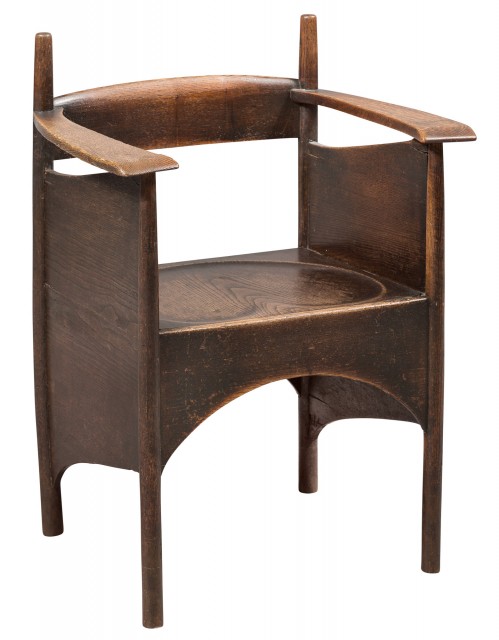 NEW YORK, NY -- Scottish artist, architect and designer Charles Rennie Mackintosh (1868-1928) is justly recognized for his extraordinary contributions to the development of Britain's Modern Movement. His innovative and unique "new" style at the end of the 19th century and beginning of the 20th century soon influenced and impacted design and architecture in Europe and the United States.
Mackintosh was invited to participate as an exhibitor at the 8th Vienna Secession Exhibition in Vienna in 1900. Four years earlier, in 1896, Mackintosh submitted a design and won an important competition for a new building for the Glasgow School of Art. Today, this building is recognized as his masterwork and most prestigious commission. One of the building's most dramatic interiors was the new library, completed in 1909.
Mackintosh is perhaps better remembered and celebrated for the four Glasgow tea room interiors he designed either exclusively or in collaboration with other noted architects and designers between 1896 and 1917 for his influential Glasgow patron and businesswoman, Catherine Cranston (1849-1934), popularly known as Miss Kate Cranston or Miss Cranston.
Cafés and coffee houses had become popular social centers in Glasgow during the 1880s and 1890s. The Glasgow tea room movement was partly a response to the temperance movement and offered an alternative to male-centered pubs and drinking establishments. Kate Cranston opened her first tea room, the Crown Luncheon Room, in 1878 at No. 114 Argyle Street, Glasgow, which was later renamed the Crown Lunch and Tea Rooms. It was a popular success and helped pave the way for three other tea room establishments in Glasgow.
A novel and popular feature of Ms. Cranston's tea rooms were separate ladies only and gentlemen only rooms, as well as luncheon rooms where both sexes could mingle, dine and socialize. The smoking and billiard rooms were provided exclusively for men and were enjoyed at the multi-leveled tea room on Argyle Street. Here, in Argyle Street, tea rooms were located on the ground floor, luncheon and additional tea rooms were located on the first and second floors, and the billiard room, reading room and smoking room were situated on the third floor and in a spacious attic.
Miss Cranston's second tea room opened in 1886 on Ingram Street. It consisted of a variety of interconnected rooms or apartments on the ground floor, including a gentlemen's tea room originally called the Pioneer Suite, which was later remodeled and renamed the Chinese Room. In 1896, work was already well underway on Miss Cranston's third tea room establishment, on Buchanan Street, when she was introduced to Charles Mackintosh. The Buchanan Street tea room opened the following year in 1897.
The last of her establishments, The Willow Tea Room, opened in 1903-04 on Glasgow's fashionable Sauchiehall Street. Unlike the other three establishments, this tea room was completely designed by Mackintosh in collaboration with his wife, Margaret MacDonald (1864-1933), including the interiors, furniture and fabric as well as the structure itself. The predominant motif and interior design scheme of this tea room was based upon the willow leaf, in keeping with the street name, Sauchiehall, which derives from an old Scottish word meaning "street or alley of the willows."
Mackintosh designed a variety of furniture for Miss Cranston's four tea rooms, including dramatic high-back chairs, low-back armchairs, built-in settees, games tables, dining tables, benches, stools, screens and coat and umbrella stands as well as electric light fittings, wall murals and cutlery.
In 1896 or 1897, Miss Cranston commissioned Mackintosh to design furniture as part of a redesign and remodeling of the tea room at No. 114 Argyle Street. The furniture was delivered in 1898 and 1899. It was made by the firm Francis Smith & Son, in Glasgow. A contemporary photograph of the Smoking Room at the Argyle Street Tea Room from around this date shows some of the Mackintosh-designed furniture, including three examples of the low-back oak armchair on offer here. An illustrated article by J. Taylor titled Modern Decorative Art at Glasgow: Some Notes on Miss Cranston's Argyle Street Tea House, published in The Studio in October 1906, also features rare contemporary photographs of some of the interior room schemes and furnishings of the Argyle Street Tea Room, including the Luncheon Room, Smoking Room and Billiard Room. A photograph of the Billiard Room portrays six of the rare low-back oak lounge chairs, like the example in the September 17, 2018 Doyle+Design auction, which are raised on a low platform and set against a geometricized painted wall. A photograph of the Smoking Room shows at least two more of these chairs.
For a closer in-depth examination and discussion of Miss Cranston's Tea Rooms, see Thomas Howarth, Charles Rennie Mackintosh and the Modern Movement, 1952, 1997, pp. 121-147.
For more about the Argyle Street Tea Room, see J. Taylor's article, Modern Decorative Art at Glasgow: Some Notes on Miss Cranston's Argyle Street Tea House," in The Studio, Vol. 39, no. 163, October 15, 1906, pp. 31-36.
For more about the architecture of Charles Rennie Mackintosh, visit mackintosh-architecture.gla.ac.uk
Doyle+Design

Auction September 17, 2018
Exhibition on view September 14-16
Lot 136
Charles Rennie Mackintosh Red Lacquered Costumer
For the Chinese Room at the Ingram Street Lunch and Tea Room, circa 1900-12
Height 6 feet 6 1/2 inches, 20 inches square.
From a Private Collection of Important Design
Estimate: $8,000-12,000


Lot 137
Charles Rennie Mackintosh Stained Oak Armchair
Designed for the Billiard and Smoking Room, Argyle Street Tea Room
Made by Francis Smith & Son, Glasgow, circa 1897
Height 33 inches, width 24 inches, depth 16 1/2 inches.
From a Private Collection of Important Design
Estimate: $40,000-60,000